The Cost of Hair Restoration Surgery
One of the most common questions we get asked is 'how much does a hair transplant cost?'. We will try to answer this as accurately as possible below. Cost is a very important factor when considering hair restoration and Smileworks are always up front about the price of your procedure. In this article we'll attempt to give you the best possible estimation of the cost so you know whether it's something you can afford. Most patients pay for their treatment using patient finance and the cost can be very low indeed if you choose to spread the cost over time.
To see our main article on Hair Restoration or to book a consultation follow the link here: Hair Transplant Liverpool.
The Importance of a Consultation
Let's face it, the Hair transplant industry here in the UK is full of unscrupulous sales people promising one thing and delivering another. This is the main reason Smileworks is so successful, we are transparent about our prices and what you get here is always 100% what you wanted. So we understand how many men don't want to go along for a consultation just to have some salesperson promise the world and take their money.
[google-reviews-pro place_name='Smileworks Liverpool' place_id=ChIJYcxahCghe0gRzAq3iKInT8E auto_load=true rating_snippet=true min_filter=5 view_mode=slider nofollow_link=true]
However, consultations at Smileworks are not about sales. We need to assess the levels of your hair loss and scientifically estimate the number of grafts and the time it will take to restore your hair. the condition of the donor area is also highly variable from person to person. You may have thick follicles in the donor area that might reduce the cost. Thinner donor hair requires more work and will increase the cost slightly. These are factors you simply cannot tell with our professionals looking at your head.
This is the importance of a consultation and although this article will do a great job of giving you a 'ballpark figure' there's no way it is ever going to be as accurate as an appointment with our highly talented Trichologist. Your Trichologist appointment is different from the consultation with our Surgeon. Following the Trichologist appointment you will be booked in with the Surgeon.
Hair transplant cost calculation during your consultation
We've itemised the ball-park figures for your procedure below and you'll be surprised at how affordable the treatment is becoming. If you're someone who cares about the way they look and value the skills and time that we will invest in you, then the cost is certainly worth it.
The reason you need to come for a consultation is because without looking at your individual hair loss patterns it's very difficult for us to give you an accurate quote. During the initial consultation you will meet our Trichologist who will look at the follicles using specialist tools and estimate fairly accurately the cost.
It would be pointless for us to say it's going to cost you £1,000 and then for you to come in for a consultation only to find that it's actually a £5,000 treatment. Likewise if we told everybody that their transplant is going to be £5,000 then people who can afford the treatment might think they can't and miss out on a potentially life-changing procedure. At Smileworks we care about our patients and want what's best for you. This means finding a solution that is affordable.
How we calculate the price
Calculating the cost is dependent on a number of factors. Like any surgery, it is highly dependent on the condition and characteristics of your individual hair loss. However, there are certain things you can use to get a guide cost before you come in to see our trichologist for your initial consultation. The cost is based on how many individual grafts you need for the FUE procedure.
Looking at the image of the Norwood-Hamilton Scale of hair loss below you can calculate roughly how many grafts your procedure might require: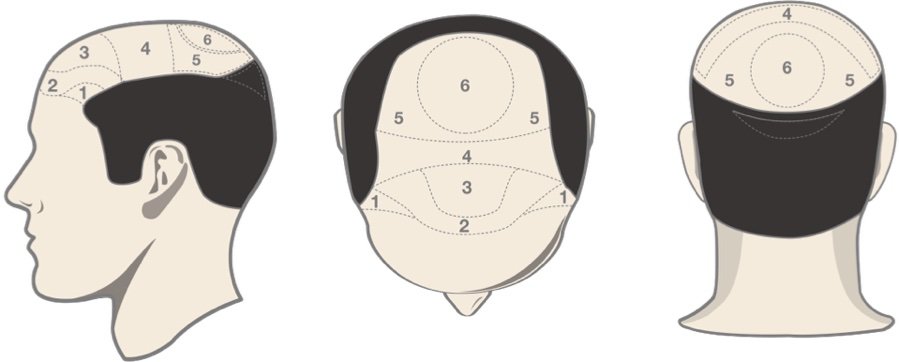 As you will see, the more grafts you get, the cheaper they become. This is because of economies of scale involved in carrying out larger procedures and to keep the cost competitive.
Norwood 1-2 (1,500-2,000 grafts at £2.75/graft) from £4,125
Norwood 1-4 (3,000-4,000grafts at £2.40/graft) from £7,200
Norwood 1-6 6,000+ grafts at £2.25/graft) from from £13,500
Norwood 1, 2 and 6, 2000 grafts at £2.40/graft from £4850
We have looked at the average costs of our hair restorations over time and here's more information to help you calculate and get an idea of costs.
500 grafts = £1,450
1200 grafts = £3,300
3000 grafts = £7,150
5000 grafts = £11,250
7000 Grafts = £15,750

Take a look at the price and finance calculator here and work out your monthly repayments:


What about cheap hair transplants?
We don't do cheap hair transplants or offers here at Smileworks. We are a clinical establishment with a history of excellence. To maintain the extremely high standards of patient care we cannot offer budget surgeries. Our prices are competitive but please do not expect us to engage in bidding or negotiating.
There are places to get a cheap job done but you must understand that the results may look cheap or it could look obvious you've had a hair transplant. This is certainly not the result we are looking for. If cost is your primary concern then it is likely to also be the surgeons primary concern. How would you feel if you knew that the surgeon was paid the least of all his peers, using the cheapest possible equipment and being supported by the minimum possible support team? Doesn't sound great does it? This is why you shouldn't be shopping on price.
A less expensive treatment for people who want a certain look is scalp micropigmentation which is a form of medical tattooing. You can read about Smileworks medical tattooing here.
It's true that hair transplant costs are not affordable for everyone. Here at Smileworks we don't want to waste any of your precious time with empty promises at this early stage. If you want the very best at a fair and competitive price and to be looked after before, during and after your procedure by consummate professionals, then you're in the right place and should book in for an appointment.
It is possible to go abroad for cheaper hair restoration but in our experience this is never as good an idea as it might initially seem. Hair restoration costs here in the UK are also becoming less expensive and competitive with the prices you will get quoted abroad. For more information or to book your consultation give the office a call on 0151 236 5166 or fill in the form below and we'll get straight back to you.