Bucharest University of Medicine and Pharmacy. PGCert Implantology, 2011
Universitatea De Medicina Si Farmacie 'Carol Davila'. DMD Dentistry, 2010
Anca is our Oral Surgery Specialist here at Smileworks.  Although she can place and restore dental implants, her scope of practice is centred around impacted or surgical extractions or extractions of impacted wisdom teeth, surgical exposure of impacted canines, management of trauma, bone augmentation, apicectomies and frenectomies.
Anca is an extremely talented oral surgeon and her absolute devotion to her patients and their care is what sets her ahead of many in her field.  The procedures she carries out can be daunting  for patients and her confidence and calm approach (from years of experience with hospital trauma cases) makes her an excellent choice for a wide range of indications.  It's not all supre-complex though and she also sees patients for front tooth fillings using composite materials for a lifelike and beautiful answer to the problems of tooth decay.
Anca's patients love her and frequently amaze us by saying they look forward to their extractions!
"Absolutely fabulous dentists! Never been excited to get teeth taken out before considering i used to be terrified of going the dentist! Looking forward to getting my braces fitted now. Would definitely recommend them!"
Want to make a referral to Anca?  Take a look at her PDF printable Biography here.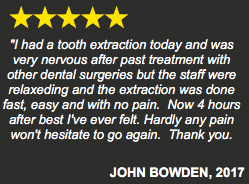 Are you a specialist with some seriously special talents?  If so why not apply to join Anca on team Smileworks by visiting our specialist dentist jobs page.