FRONT OF HOUSE & TREATMENT COORDINATOR
Mimi is our resourceful, charming and unflappable front of house manager at Smileworks.  She is in charge of making sure the reception and concierge services are running smoothly and is also involved in looking after our facial aesthetics patients having extensive knowledge of Plexr and our wide range of aesthetic treatments.
She comes all the way from LA and is an asset to our team having had her own businesses and managed teams of people over in the US. She is a calming influence has a great sense of humour and has become a trusted confident and friend to patients and the team in the years she's been with us.
She loves her job here and wrote on International women's day:
"I have a career I love that means something to me and I know if I work even harder I can achieve greatness here at Smileworks. History shows that it wasn't always this way for women. This is an issue very close to home for me because I'm from Vietnam where women don't have the opportunities we have here.  So I 'm very grateful for this day…"
Mimi also likes to have treatment at Smileworks and has been known to indulge in some of the more exciting things we do here: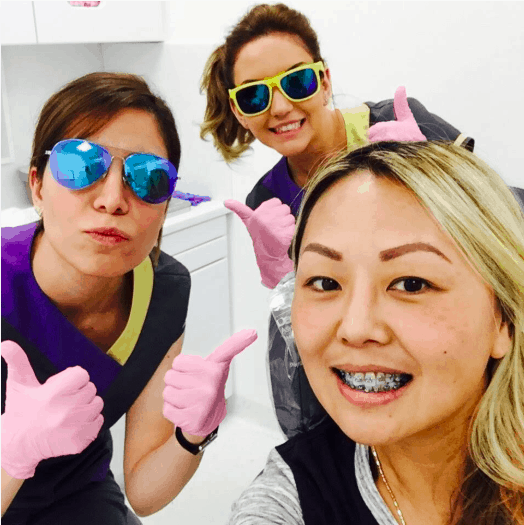 Let's face it, Mimi is one in a million, but if you think you've got what it takes to work the Smileworks front of house then apply here for dental reception jobs.
Watch our video or go back to dental services, or facial aesthetics
[google-reviews-pro place_name='Smileworks Liverpool' place_id=ChIJYcxahCghe0gRzAq3iKInT8E auto_load=true rating_snippet=true min_filter=5 view_mode=slider nofollow_link=true]