Special interest in Endodontics and Implantology
BDS MSc PGCert
GDC: 181875
European Master in Endodontics, International University of Cataluña, currently studying.
Master of Endodontics, International University of Cataluña, 2019.
Post Graduate Certificate in Teaching and Learning in Clinical Practice, Edge Hill University, 2019
IV Sedation Course, Manchester Sedation, 2017
Master of Oral and Maxillofacial Surgical implants, University of Toulouse, 2014
Diploma of Endodontics and Microscope, University of Valencia, 2011

Bachelors in Dentistry, European University of Madrid, 2009
Patri is a hard working perfectionist with a special interest in Endodontics and Implantology.
Patri spends most of her time at Smileworks in surgery
recovering teeth by treating root canals
. She also provides our patients
beautiful new implants
.
Patri is always looking for a challenge to grow as a dentist and that's why she never stops learning. Patri has studied in a great deal of prestigious universities all around Europe and was recognised with the "Best exam in Msc Implantology" award in 2013.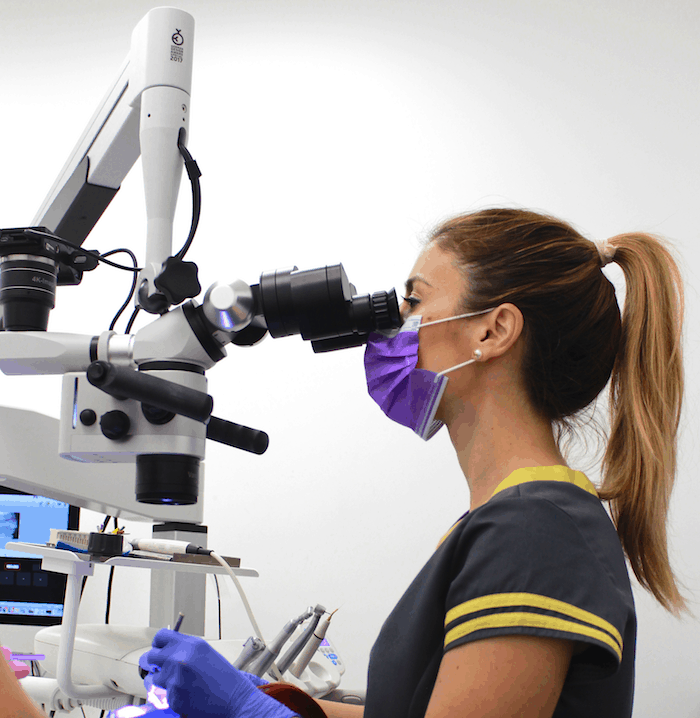 …and all this hard work reflects on her remarkable job with our patients;
"I recently had a root canal treatment done by Patri and Ewa and it was absolutely fantastic. I used to be extremely nervous at the dentist and the thought of having this procedure done had scared me senseless.


The staff at Smileworks are all super friendly and had a great deal of patience for me. They explained each step of the process and made sure I was comfortable from the moment I got in the chair. I couldn't believe the whole experience was completely pain free even after the anesthetic had worn off. This is no exaggeration and I am still surprised at how painless it was.

Patri and Ewa have done an outstanding job and I highly recommend anyone to visit this place for any kind of dental work even if you are anxious. They have changed my mind about dentistry and put every other dentist Ive had previously to shame. I will definitely be going back to get the rest of my teeth done here. Thank you!!"

Terence C, |  5 Stars  |  September 2019


Patri is really committed to her work and her studies. However, not everything is work, she still has a bit of time to enjoy keeping herself healthy swimming or dancing and discover new cultures travelling. She regularly competes in the great Smileworks bakeoff with some of the best cakes the world has ever seen.


If you think, as Patri, you want join Smileworks, apply for our dentist jobs.