Here at Smileworks we are active in the fight against budget, poorly trained and downright rogue practitioners ruining the faces of the lovely people of Liverpool.  Save Face are a government approved register of practitioners and have an easy to use search engine that will tell you the best places to get treatment wherever you are in the UK.
Not only are they accredited by the Professional Standards Authority but their register is recognised by the Government , the Department of Health and NHS England. They basically have a simple mandate:  to ensure you get quality treatment at a decent price in a safe and clean environment where everyone is who they say they are.
Another interesting (and our favourite) part of what they do is their clandestine undercover operations into rogue practitioners claiming to be doctors, dentists and all sorts of medical professionals in breach of all the rules.  This often involves brave individuals potentially putting themselves in harms way for the good of patients all over the UK.  This is one of the reasons we have a great deal of respect and admiration for this most worthy of enterprises.
If you've had a bad result and need help with facial aesthetic complications then follow the link to complications and fillers gone wrong here.
Here's one of their latest sting operations involving a very unfortunate lady who suffered a potentially life-threatening complication following supposed botulinum toxin (Botox®) treatment from one such rogue practitioner posing as a doctor.  Click some of the images below to see the videos n full.  You'll be redirected to the Save Face webpage so be patient… It's worth it!
If you've had an adverse outcome or need help to dissolve your filler with hyalase or correct a bad lip job then follow the link.
Busted by Save Face (you aren't sorry – you're sorry you got caught…)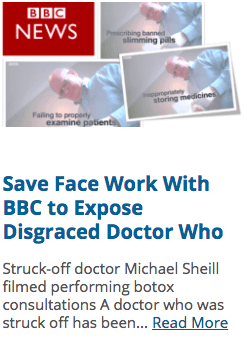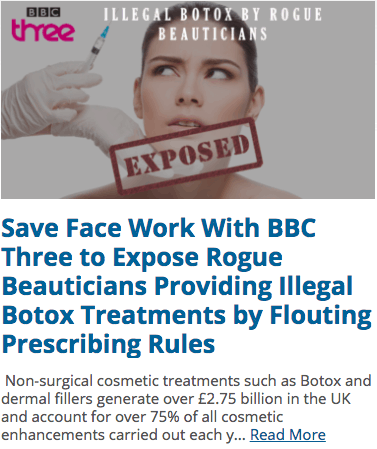 If you have had a really bad experience at the hands of a practitioner in Liverpool they also have a log of aesthetic complaints that you can visit to make a complaint about a practitioner with save face.  You may feel alone and like nobody can help.  But they can.
 More on Save Face
Whenever you Visit a Save Face Accredited Practitioner you are assured that the person treating you
Is who they say they are
Is a registered healthcare professional 
The qualifications they claim are genuine and relevant
The training they have received is appropriate
Is insured
Undertakes regular training updates
Complies with Health & Safety Legislation
Is clean
Has the necessary equipment and facilities to provide the treatments safely
The products and equipment used
Are genuine
Are appropriately licensed
Are evidence based
Are sourced from legitimate suppliers
Are appropriately stored and maintained
Smileworks are registered with Save face and you can visit our profile by clicking the image below: