PGCert Medical Education. Manchester University, 2021
MClinDent Orthodontics. BPP University, 2020
PGCert Endodontics. Chester University, 2019
CUBS Civil Expert Witness Certificate in Aesthetic Medicine. Cardiff University, 2019
MSc Aesthetic Medicine (distinction). Queen Mary University of London, 2016
MJDF. Royal College of Surgeons, 2011
BDS Dentistry. Manchester University, 2009
BSc Biomedical Sciences. Manchester University 2004
Dr MJ Rowland-Warmann is the lead clinician and co-founder of Smileworks.
Although a highly qualified dentist, MJ's passion is aesthetic medicine. She's been active in the industry for a decade and is known for her treatment results in dermal filler, toxin and other minimally invasive interventions. She has a thriving complications practice where she uses the latest techniques and technology to treat filler complications. A pioneer in facial ultrasound, she is one of few practitioners in the UK using technology to manage complications but also improve treatment outcomes, using guided injections for precision and safety.
MJ is in high demand in the media (see press features), and appears on radio and TV interviews discussing patient safety, raising standards in the aesthetic industry and improving training for medical professionals. She's a key opinion leader and trainer for Sinclair Pharma and is the founder of the Smileworks HUB, a boutique aesthetic training academy.
The best way to learn what Dr MJ does is by following her on instagram @dr_mj_smileworks
Dr MJ is one of the leading aesthetic medicine trainers in the UK and trains dentists in aesthetic medicine at the Smileworks Aesthetic Hub. To learn more about her courses click here: Aesthetic medicine courses.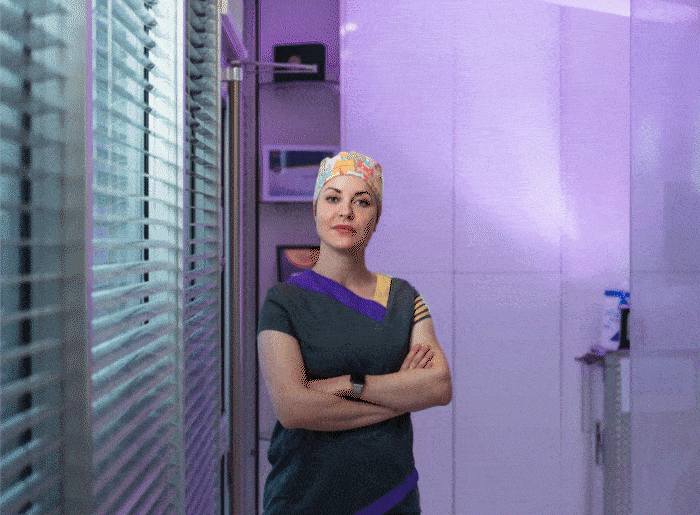 *Most Popular Aesthetics Treatments*
Botox Liverpool | Dermal Filler | Eye Lift | Lip Fillers Liverpool | Non Surgical Nose Job. | Teeth Whitening
If your fillers or aesthetic treatments have gone wrong or you've been botched, then MJ can help you. Follow the link here to our page where you can learn how we dissolve filler with hylase.
Follow the link here for online consultations with Dr MJ.
Dr MJ originally qualified as a dentist and has done extensive training in Orthodontics at BPP University where she is about to qualify with a Masters Degree. In dentistry, she spends her time straightening teeth with braces and delighting our patients with fabulous results.
Patients describe MJ as a "perfectionist", "master" and a "genius", and although she has more degrees than a thermometer, it's her attention to detail and unwavering pursuit of greatness that sets her apart from the competition.
Patients are calling MJ's practice the 'best clinic in Liverpool for aesthetics' and saying 'I'd put my life in her capable hands'.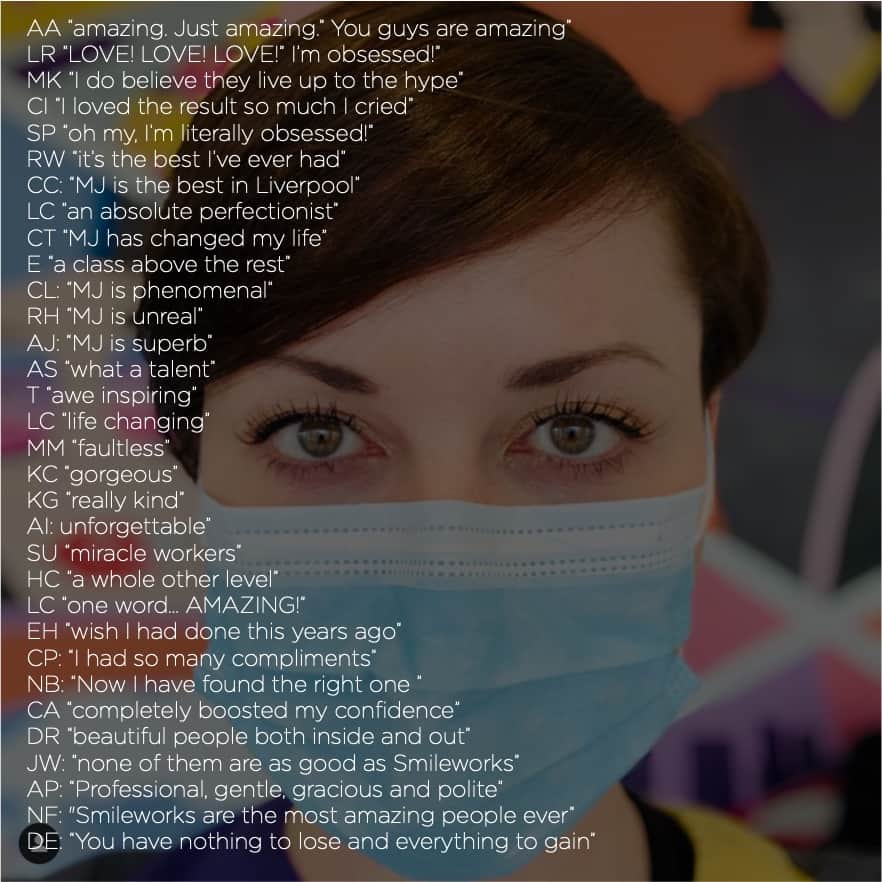 There's never a dull moment in MJ's surgery and she's been frequently overheard handing out original compliments to her patients – and if you possess beautifully shaped ear-lobes or aesthetically perfect elbows, you'll likely hear about it from our one-in-a-million, super talented and extremely enthusiastic captain MJ. If you want to hear more about what MJ gets up to, head over to her Instagram page @dr_mj_smileworks