Nose Reshaping in Liverpool
The non surgical nose job (or rhinoplasty) is one of the most sought-after procedures here at Smileworks. Patients visit our Liverpool practice from all over the UK to see our master aesthetician, Dr Rowland-Warmann in search of the perfect nose.

10 July 2018
I don't know what to say MJ you are a miracle worker. My non surgical nose job (Sounds drastic but wasn't) is amazing. I have always hated my nose. But there are some parts of it that are 'me'. I left MJ to it after researching thoroughly I knew she was THE lady for the job. I love It!

Thank you so so much. xxxx

– Sarah Peerless
Our patients say this procedure has literally changed their lives bringing them happiness, confidence and success. So if you're looking for a non surgical nose job in Liverpool then you've come to the right place.
Nose filler is risky and complications can be serious. To keep you safe Smileworks use ultrasound guided injection techniques with every patient. This is included in the fee.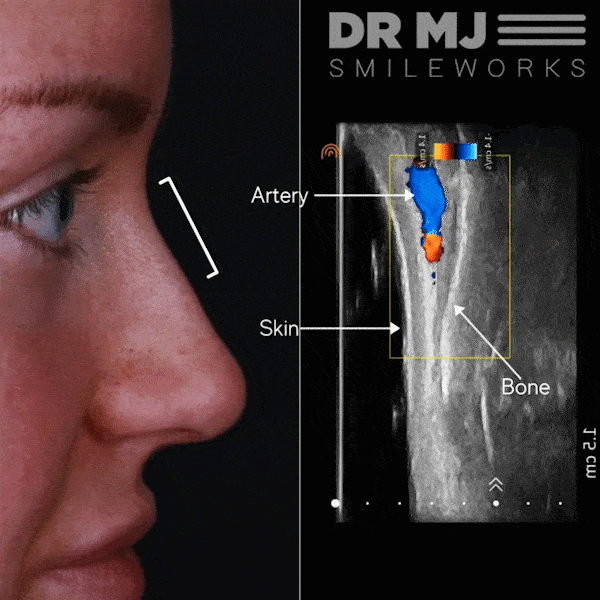 Non-surgical nose jobs are carried out with dermal fillers. If you're looking instead for treatment for volume loss or anti-ageing filler treatments then see our main dermal fillers page.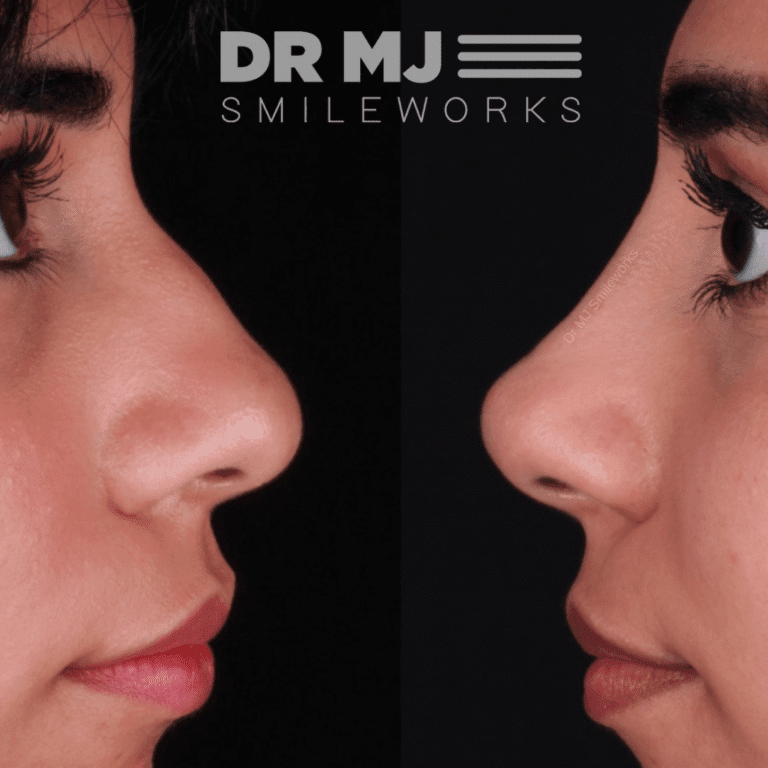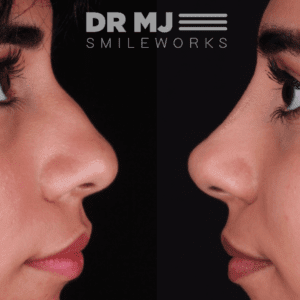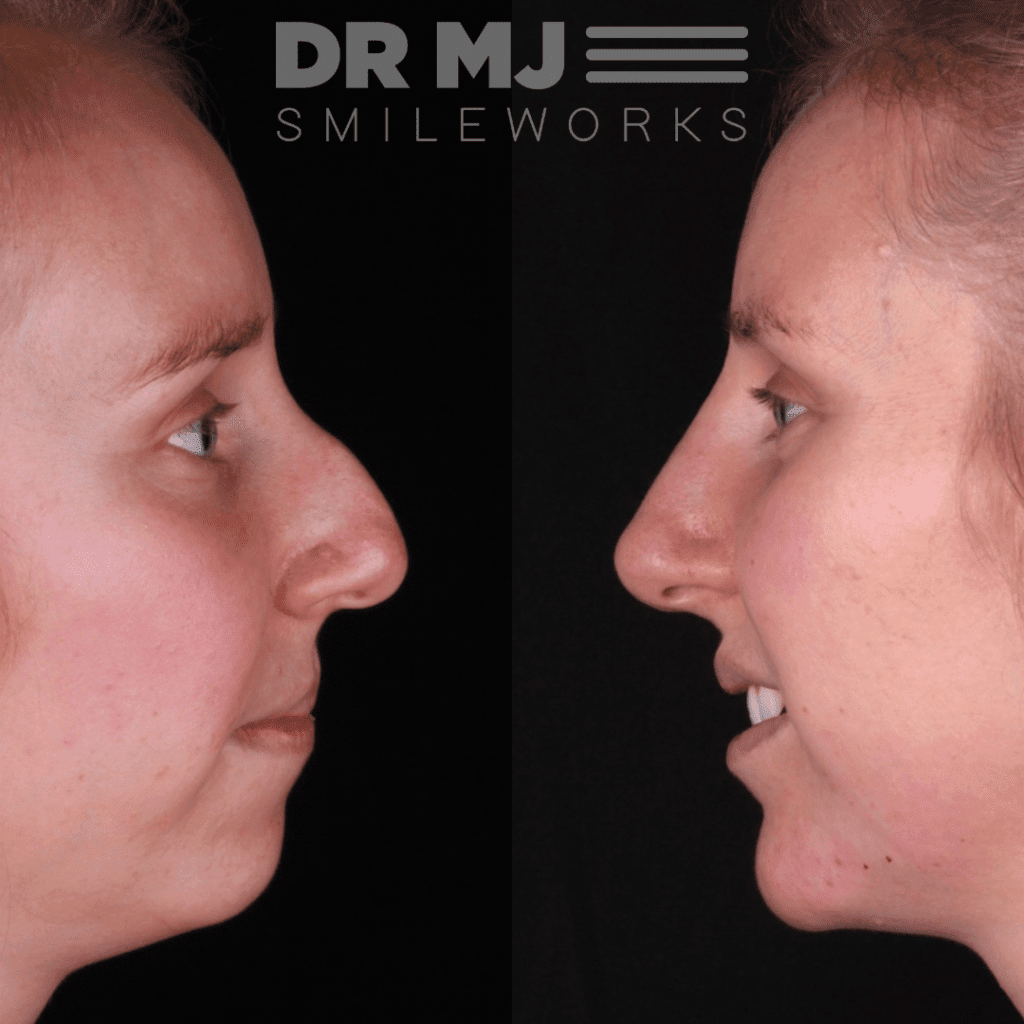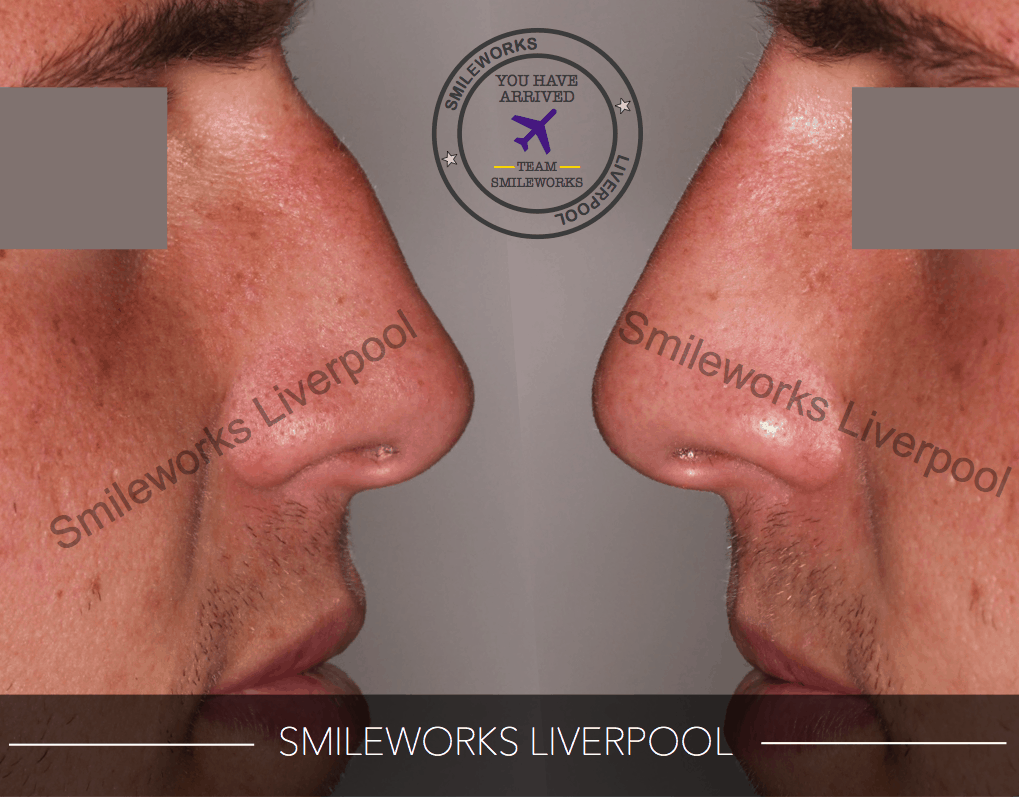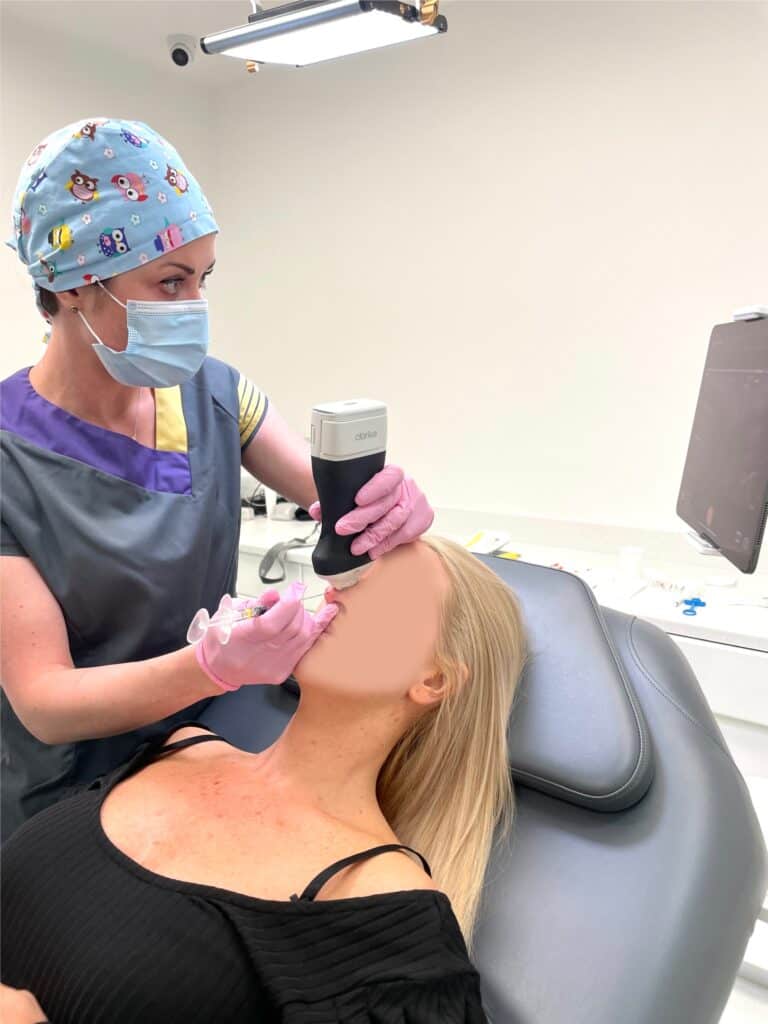 Dr Rowland-Warmann is a master of this treatment having undertaken the MSc Aesthetic Medicine (with distinction) fro the Queen Mary University of London, in 2016. She uses ultrasound guided injecting for added safety so that complications can be avoided.
She has been asked to write for Aesthetics Magazine on this complex procedure and has also advised the Daily mail. The nose is the focal point of the face and women in particular rank it as one of their most disliked features. Women will typically complain of lumps, bumps, asymmetry or the crooked appearance of their nose whereas men typically dislike its size and shape.
Many do not know that simple fillers can correct a multitude of aesthetic issues making this one of our most popular treatments. Click on the video to see MJ in action or scroll down for more before and afters of both men and women.
Not loving your nose can have a detrimental effect on your confidence and here at Smileworks we love treating the nose because patients say treatment literally changes their lives for the better and brings them confidence they've never had before. Until recently there was no alternative to surgical rhinoplasty which is an invasive and risky procedure that involves breaking the nose with a surgical implement similar to a chisel.
The non surgical nose job uses Hyaluronic Acid fillers injected safely into the nose to reshape, contour, rebalance and correct its aesthetic appearance. Nose fillers are a revelation in medical aesthetics because it's a fast, non-invasive, considerably safer and much, much cheaper alternative to surgery. In recent years the British Association of Aesthetic Plastic surgeons has reported a significant decline in the number of surgical nose jobs and this is likely down to the rise of injectable nose reshaping that can achieve truly breathtaking results.
Dr MJ has an average 4.5 out of 5.0 stars based on 112 reviews from Google, Trustpilot and Facebook. Here are some of our favourites.
[
I can't recommend dr MJ and the smile works team enough. They're extremely professional and provide the kind of patient centered care that one would expect. Dr MJ explained the process of how lip filler works and we discussed the desired look I

...

would want to achieve. I'm so glad I came across smile works because I wouldn't trust anyone else for facial aesthetic procedures. It's a 5 star rating from me thank you Dr MJ for making me feel comfortable and safe in your hands ! 💓💓💓

read more

brianna cerisola
10:28 15 Jan 22
Dr MJ is a genius, genuinely! Second time having lip filler and although I was a bit anxious, the fact she uses ultrasound to check where blood vessels are really put my mind at ease. And the result is even better than I'd imagined - a really

...

natural enhancement. First time round I brought some images of what I like, and this time I didn't need to - MJ knows exactly what will suit your face without looking 'done'. I wouldn't go anywhere else now for treatments, you're in the best hands here!

read more

I registered as a model for Smileworks and received Botox and filler treatments. The process was super easy and procedure was faultless. Dr MJ was on hand the whole time with the delegates. I would definitely volunteer again.

Blazenka` Kovacevic
18:03 30 Dec 21
From booking my consultation to treatment to review, MJ and her staff were professional, welcoming & friendly. This was my first time getting lip fillers so I was naturally nervous but MJ explained everything, it was painless (almost relaxing?)

...

after the numbing injections, and I love the results SO much!! 😍😍😍

read more

Goddess Scarlette
08:19 05 Dec 21
As always it was a great easygoing experience Mj did a great job thats why I keep going back .Cheers.

Michael Malone
14:23 17 Nov 21
I am a dentist and have just completed Dr MJ's incredible two day foundation botox and lip filler course. It has been incredible!!! The quality of teaching is second to none and to have been taught by a master injector and such a well respected

...

clinician in the field of aesthetic medicine fills me with so much confidence to start treating patients on Monday. I cannot recommend this course enough. My own models from start to finish! Yes….models…plural! None of this 1/4 of a lip nonsense! I have wasted money on aesthetic training from other providers, and then not felt confident to start treatments. I leave Liverpool feeling confident, energised and inspired! I would not consider going anywhere else. Thank you MJ!! 😘

read more

Diane Bastian
21:15 12 Nov 21
I've had filler in my nose, lips and chin by both Dr MJ and Dr Clare, and couldn't have had a more positive experience on both occasions. The results are fantastic and I felt extremely safe and assured. The facilities are extremely clean and the

...

whole team are very pleasant and well-trained!

read more

Jessica White
09:50 03 Nov 21
Dr. MJ is the best!! my lips look amazing and I was well taken care of at smileworks. Will definitely be going back!

Camille Duvall
15:44 02 Sep 21
I am a customer of Smileworks and recommend the place to everyone.All the staff are professional kind and helpful.Ive had my braces fitted today by Eduardo and Ashleigh and i'm over the moon with their work.Also big thanks to Marnie for arranging

...

everything and making it a smooth journey.Ive also had some aesthetic work done recently by Dr MJ and i will never let anyone else near my face again. Amazing place - love it xxx

read more

haseena khan
19:10 25 Aug 21
The nose is a high risk injection site and many complications and risks are present. To learn more about treating complications or how you can get help if you've had a bad outcome, follow the link here and learn what to do with nose fillers gone wrong.