Nose Reshaping in Liverpool
The non surgical nose job (or rhinoplasty) is one of the most sought-after procedures here at Smileworks. Patients visit our Liverpool practice from all over the UK to see our master aesthetician, Dr Rowland-Warmann in search of the perfect nose.

10 July 2018
I don't know what to say MJ you are a miracle worker. My non surgical nose job (Sounds drastic but wasn't) is amazing. I have always hated my nose. But there are some parts of it that are 'me'. I left MJ to it after researching thoroughly I knew she was THE lady for the job. I love It!

Thank you so so much. xxxx

– Sarah Peerless
Our patients say this procedure has literally changed their lives bringing them happiness, confidence and success. So if you're looking for a non surgical nose job in Liverpool then you've come to the right place.
Non-surgical nose jobs are carried out with dermal fillers. If you're looking instead for treatment for volume loss or anti-ageing filler treatments then see our main dermal fillers page.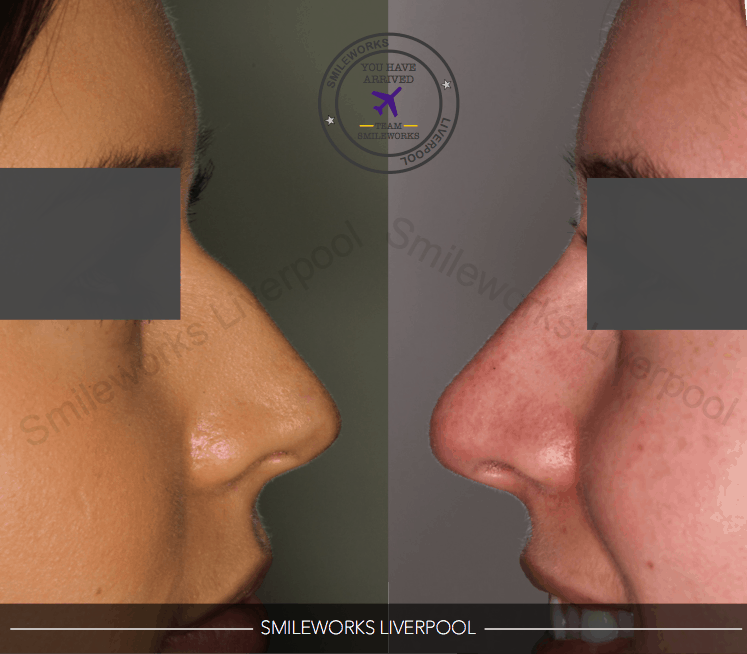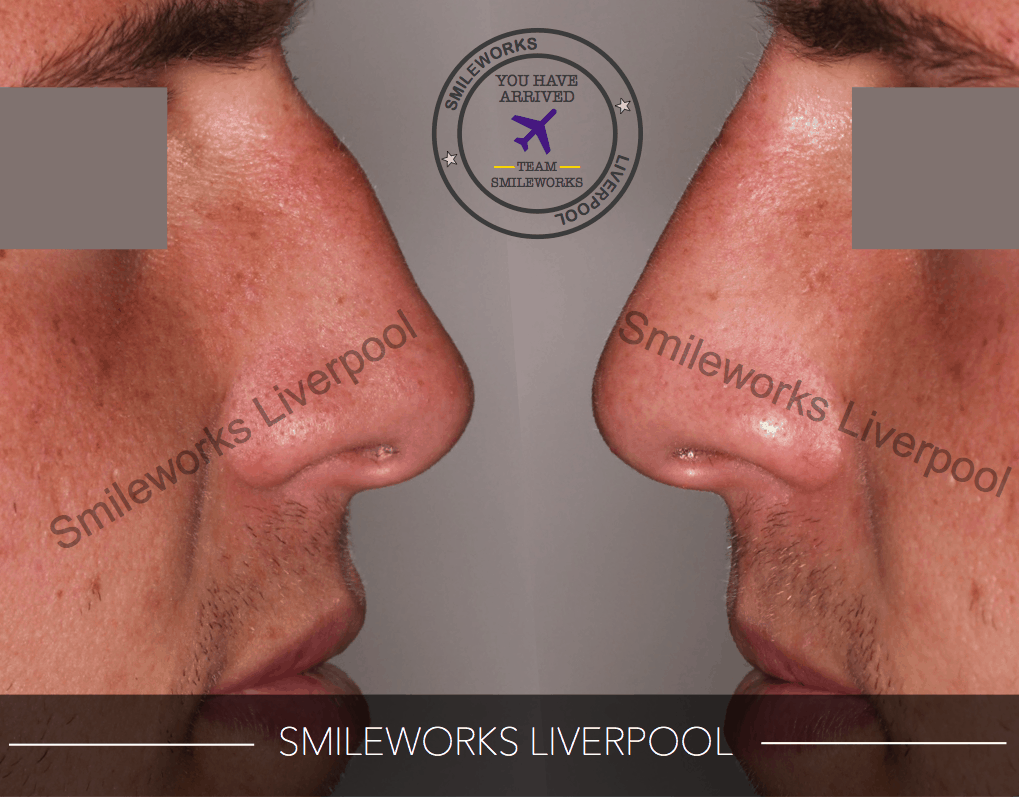 Here is a perfect example of Dr Rowand-Warmann's expertise and technique creating a perfect result for this patient who previously had broken his nose and was unhappy with the shape. Dr Rowland-Warmann is a master of this treatment having undertaken the MSc Aesthetic Medicine (with distinction) fro the Queen Mary University of London, in 2016.
She has been asked to write for Aesthetics Magazine on this complex procedure and has also advised the Daily mail. The nose is the focal point of the face and women in particular rank it as one of their most disliked features. Women will typically complain of lumps, bumps, asymmetry or the crooked appearance of their nose whereas men typically dislike its size and shape.
Many do not know that simple fillers can correct a multitude of aesthetic issues making this one of our most popular treatments. Click on the video to see MJ in action or scroll down for more before and afters of both men and women.
Not loving your nose can have a detrimental effect on your confidence and here at Smileworks we love treating the nose because patients say treatment literally changes their lives for the better and brings them confidence they've never had before. Until recently there was no alternative to surgical rhinoplasty which is an invasive and risky procedure that involves breaking the nose with a surgical implement similar to a chisel.
The non surgical nose job uses Hyaluronic Acid fillers injected safely into the nose to reshape, contour, rebalance and correct it's aesthetic appearance. Nose fillers are a revelation in medical aesthetics because it's a fast, non-invasive, considerably safer and much, much cheaper alternative to surgery. In recent years the British Association of Aesthetic Plastic surgeons has reported a significant decline in the number of surgical nose jobs and this is likely down to the rise of injectable nose reshaping that can achieve truly breathtaking results.
Dr MJ has an average 4.5 out of 5.0 stars based on 112 reviews from Google, Trustpilot and Facebook. Here are some of our favourites.
[
I have been a Smileworks patient for two years- firstly for dental work with Ahmed who replaced my old broken veneers with beautiful new crowns. I was so impressed with the whole practice that I now have all my aesthetic treatments with MJ and

...

regular appointments with Hannah who is working miracles on my skin. I cannot recommend them all enough- the customer service is second to none and all the staff so helpful and friendly. I look forward to my appointments and would never go anywhere else 🙂

read more

Elaine Davies
16:47 11 Jun 21
Booking by phone was easy, and the online system to complete forms in advance is brilliant - why don't more places do this?!Smileworks is beautiful to visit, incredibly clean and just a lovely place to go.Dee was brilliant at the reception, so

...

friendly and welcoming to put you at ease, and MJ was amazing. She really took the time to explain the treatment, find out what I wanted, explained the risks and process, but very fully to make sure I actually understood, rather than a cursory explanation like you might get in other places. She's so professional and skilled and made you feel like you were literally the most important patient of the day - even though I know she's insanely busy with so many patients!I was also so impressed to be given a follow up appointment as guaranteed!I really couldn't recommend Smileworks enough, it's the best experience.

read more

Sarah Louise Hanson
21:19 07 Jun 21
An absolute gem DR MJ is, I have went to her numerous times and she has always surpassed my expectations. I was provided with the highest quality care in all of England, DR MJ has taken good care of me :).I was also had the pleasure of having

...

Clare for my treatments, she is exceptionally talented and I am very happy with my results.I look forward to seeing you soon.

read more

DARIJA DARIIA
20:32 25 May 21
I have been to Smileworks twice now and both times have been impressed by the friendliness and professionalism. I have always been impressed by the honesty of MJ when consulting on a treatment

Samantha Lawrie
09:48 21 May 21
Excellent service. Professional. MJ is the at the top in her field, dentistry and facial aesthetics. I would highly recommend Smileworks Liverpool.

Had another treatment with the lovely Hannah at Smileworks yesterday. I had under my eyes micro needled. Can't recommend the place enough. I always get a warm welcome and whoever it is I've seen - MJ, Hannah or Paula, I've walked away pleased with

...

the results. The place and the people who work there are amazing..

read more

Absolutely amazing service, would not trust anyone else near my face. Hannah done my Morphus8 treatment and really put me at ease. Could not recommend MJ and her team more,. Professional, believe me they know there stuff.

elizabeth carr
16:01 13 May 21
I had my first consultation at Smileworks with Dr MJ who was lovely and comforting, I'd previously had a negative experience when it came to medical treatment so I was feeling quite anxious but She put me at ease straightaway and was very

...

informative. On her advise I decided to have fixed metal braces that I had tightened once a month for 7 months by Rebecca. Rebecca was brilliant start to finish! She answered all of my questions, made sure my check-ins were done to fit in around my tight work schedule and always made me feel comfortable. Rebecca done an absolutely fabulous job, my teeth not only look far better but my gums are also far healthier and my teeth look spotless. Receptionist staff are also really lovely! Thank you Smileworks team for allowing me to actually smile without feeling self conscious for the first time in forever! Would highly recommend and will be returning in the future!

read more

Lauren Roberts
11:29 12 May 21
Had an aesthetics appointment with Dr MJ. I was really nervous but she put me at ease straight away. Explained everything to me and made sure I understood what she was going to do. I felt really at ease and she done an amazing job. Wouldn't have

...

gone to anyone else as she is the best. Really professional and friendly. The place looks and smells amazing too!! My lips are so natural looking and I am so happy with them. Thanks MJ!

read more

Alexandra Crane
08:11 12 May 21
I had a Morpheus8 treatment with Hannah after watching the virtual launch with the amazing Dr MJ.I admit to being slightly nervous but Hannah immediately put me at ease with her warm personality and obvious passion for what she does.I have booked

...

my second appointment so I think that says it all!

read more

I had my lips dissolved here, Mj made me feel so comfortable and put me at ease as I was so nervous about the whole thing! For once i'm excited about getting my lips done from her now as i actually felt no pain whatsoever when I normally do. I would

...

recommend highly. such a safe, clean and comfortable environment to be in!

read more

I had my lips done by Mj and i couldn't be happier. My first time ever having this treatment and Mj was fantastic. I felt at ease and talked me through the whole process. I feel much more confident, thanks Mj. The whole Smileworks team are highly

...

professional and so welcoming too. Can't wait to come back!

read more

Abbie Tunstall
08:56 29 Apr 21
My experience with Smileworks has always been amazing for both aesthetics and dentistry. I have been going to Smileworks since 2014 and I would not go anywhere else. I was recommended by my sister and she also recommended my mum and other family and

...

friends. Always made to feel at ease, like being with friends.MJ is extremley talented and I have recently had amazing experience with Paula, Jess and Brian, Tasmin. All reception staff are so lovely and will do anything for you.Been having skin care support and regular facial peels with Hannah. I love each facial, Hannah is so nice, and she has helped me saved loads of money from letting me know the right skin products to use. Before Hannah I would buy all kinds of different products without no real understanding of what to do with them. I have subcribed to the skin care package which has helped me keep ontop of this at home. Seen so many improvements already, wish I had met Hannah sooner!! Look forward to each appointment and feel lucky to have her advice and knowledge. Thank you Smileworks

read more

Marcelle Jones
05:36 26 Apr 21
After doing loads of research my friend and I chose Smileworks, and in particular MJ, for our first Botox treatments a couple of years ago.MJ really couldn't of been any more welcoming, lovely, patient or knowledgeable about aesthetics and the

...

products she uses, she explains everything, the how's and why's. I have full confidence in MJ and trust her completely with my face! She is THE best in her field. I'm now a loyal customer and I have also had some mid face, and lip filler, which has rejuvenated my tired looking face and boosted my confidence no end.I've also more recently started to have some skin treatments at Smileworks with the lovely, gorgeous and hilarious Hannah Taaffe. She is also extremely knowledgable and explains everything in detail. Hannah knows exactly what my skin needs and treats it accordingly. Both Hannah and MJ have given me loads of brilliant advice and recommendations for products for my skin, also, Udder cream! Amazing!I'm 35 and honestly I've never been happier with my face and skin thanks to these lovely people and their expertise! Thank you Smileworks xxx

read more

Emily Alexander
13:27 18 Apr 21
Amazing atmosphere and amazing work! Dr MJ is so lovely and an exceptional professional in everything she does. So happy with the work I had done and would recommend 100% to anyone looking! Can't wait to return x

Brandon Bosanquet
16:49 02 Apr 21
Even after leaving home in plenty of time to make my appointment with MJ the traffic on the last 7/10's of a mile made me late by almost half an hour, I rang to explain my situation and the receptionist said to keep the clinic updated and get there

...

as soon as I can, they were aware of the traffic problems on the Strand. Needless to say I eventually arrived very late but the staff couldn't have been more sympathetic. My appointment with MJ was a revelation, none of the expected platitudes, she was professional and detailed in her assessment of my desires and the realistic possibilities of them. I would recommend MJ and the clinic in general for the most courtious and honest health professionals I have ever encountered. Thank you.

read more

Margaret Mills-Denton
16:16 31 Mar 21
I was a model for the Aesthetics training hub. Under the watchful eye of Dr MJ I had the lovely Sue administer my Botox in 3 areas. She was very professional and her attention to detail meant no more inquisitive eyebrow!! I would only ever have a

...

dentist administer Botox for this reason. Best of all I had no bruising whatsoever. Thank you so much.

read more

Donna Haggas
18:09 21 Mar 21
I have been going to Smileworks for several years now seeing MJ. Always a very positive, informative experience. Most recently I have had appointments with Tom, Paula and Jess again a very positive experience. Very professional and caring. I would

...

recommend Smileworks.

read more

margaret rowlands
10:19 26 Feb 21
Amei a Dr. MJ ela é linda e extremamente profissional , sincera , educada e atenciosa, eu estou muito feliz , meu labios ficaram maravilhosos , eu amei ..... eu fiz preenchimento de labios eu a recomendo. Muito obrigada .

Danyele Lo-Bianco
21:42 04 Feb 21
What can I say ... MJ you are simply AMAZING... I had Botox 2 weeks ago and oh my word what a difference ! My confidence has grown so much and I feel like me again.MJ is so professional, gentle and such a perfectionist ... it really is a unique

...

experience ... thank you so much for helping me get my sparkle back ! X

read more

Gillian Evans
21:33 02 Feb 21
I have had a few visits to Smileworks, once with the lovely Claire and one with MJ. I have had Botox before but always came away not getting exactly what I wanted, but Claire really listened to my concerns and what areas I was worried about and I

...

can honestly say she was wonderful and I am thrilled with my results, hence the reason I have been back for more treatment off MJ who is just amazing 🤩 everyone at Smileworks are so friendly and I just would not go anywhere else now.

read more

Karyn Hansen
10:27 27 Jan 21
Spent an hour with MJ this morning and she was amazing. Incredibly personable and puts you at ease straight away. Her ability to explain your options was really clear and her shinning personality makes it easy to ask questions, without feeling you

...

are being stupid. It was my first visit and I would recommend anyone to book a consultation - the team are super friendly. Thank you again MJ for all your advice today...see you soon.

read more

Had my facial aesthetics appointment today with Dr MJ, I was so nervous for my treatment as the last time I had it at another clinic I was in so much pain during, but honestly the whole procedure was painless I was so surprised, I'll definitely be

...

returning to Smileworks in the future now I know I have nothing to worry about! Thank you !

read more

I couldn't recommend Smileworks highly enough, I've had braces and composite bonding done and the end results are incredible. Massive thanks to Paula and Ashleigh for their amazing work and making sure I was okay throughout the whole process (as

...

well as Rebecca and MJ who have also previously worked on my teeth!). The girls on the front desk are also friendly and welcoming. Would highly recommend Smileworks to anyone looking for dental treatment.

read more

Michael Smith
20:22 23 Dec 20
Been for a consultation today with MJ & Joanna for braces. What a pleasant experience being at the dentist. I felt so comfortable, they are very professional and I felt at ease from the start. MJ explained about the different braces available and

...

what would be best suited for me. I was told about the different payment plans, so I'm all set to go. Thank you so much, can't wait for the process to begin and getting my lovely smile!

read more

Wouldn't trust anyone else to do my lips but Dr MJ, even recommended her to my sister and she's obsessed aswell! Don't have to worry about anything going wrong because of how qualified MJ is compared to a lot of aesthetic injectors, would recommend

...

to everyone to get your lips done by her

read more

jess cummins
09:19 06 Dec 20
I had some aesthetics done at Smileworks by Dr MJ and I could not be happier with the results! The service from start to finish was amazing, the team is so friendly and knowledgeable about everything aesthetics! I am so happy with the service and

...

the results and I wouldn't go anywhere else!

read more

Harriet Hudson
16:20 02 Dec 20
I can't recommend Smileworks enough. I got my nose filler done in October and thought nobody could fix the large indent and bump in my nose, but Dr MJ is amazing. She is super professional, really knows her stuff and was so good with me despite my

...

huge fear of needles. I'll never go to anyone else. SO happy!!! Thank you MJ for showing me what it feels like to be confident 🙂

read more

Allie Davies
15:00 02 Dec 20
So lovely to finally speak with the lady behind all the fabulous instagram posts. Knowledgeable and no BS like some practitioners who just want your cash and not your custom. If you want a professional with good results who isn't just using you as a

...

cash cow Dr Mj is your lady!!

read more

I had a online consultation this morning with Dr MJ, what a breath of fresh air to talk too she is very warm and has a genuine empathy towards clients. She gave me excellent advice on the issue I have. If I go ahead with treatment I would feel 110%

...

confident in her.

read more

I attended Smileworks today for an appointment with MJ for derma filler in my lips. I had much faith in MJ after she did an excellent job of my brace.Had been thinking of getting my lips 'done' for a while, but was always scared because I wanted

...

the natural look, and didn't want them huge.I had a lengthy consultation, which put my mind at ease, and I have to say, even during the procedure , I was thinking to myself, am going to hate them, but why did I ever doubt that MJ wouldn't do a fantastic job? Am thrilled!!! Just look like my lips, better shape, slightly fuller and fresher. Even my mum( who really didn't want me to get them done )was like, wow she's done such a good job! That's the best review you can get! I wouldn't go anywhere else .Thanks MJ for slightly plumper smile 😃

read more

Kiri Dickson
20:53 21 Nov 20
Lovely friendly very professional staffMJ is great and done an amazing job

dawn dacosta
18:10 17 Nov 20
Staff are very polite and welcoming. Dr MJ is absolutely fantastic. I got exactly what I wanted out of my treatment, she's a pro!

If there was a way of giving more than 5 stars I would. MJ has been such a delight and wonderfully knowledgable in her treatment. She was able to answer all of my questions and gave a lot of care in ensuring I got the results I wanted. Could not be

...

happier!

read more

At 52 i finally decided to go for braces as my teeth were pretty bad.Straight away M.J at Smileworks made me feel relaxed and i knew i had made the right decision.I had poor gum health at the start and after a hygiene treatment with Paula i was

...

reassured that this problem would be solved and it was.Don't get me wrong it has been a long journey 16 months but it has been so worth it.But Paula and MJ are brilliant and made it a great experience .I absolutely love my new teeth and have so much more confidence.I even went for bonding and whitening which has made a huge difference.I can't recommend Smileworks enough. The whole team are fantastic and professional and so nice.I would never go anywhere else.Thankyou Smileworks

read more

dawn evans
08:47 13 Nov 20
I think I have pretty much tried the menu at Smileworks! I've had aesthetics with Dr MJ, a root canal from Patri and monthly peels with Hannah. Every treatment has been an absolute delight, it feels as if I'm coming to see my friends to have a

...

treatment. Every member of staff is friendly and professional, and the covid safety measures in place are second to none.And the results are amazing!Dr MJ really takes time to understand what you are looking for and isn't afraid to tell you what you don't need either!My skin is now the best it ever has been thanks to my monthly peels from Hannah, and I cant wait to try more :)And my root canal was completely amazing, it required several appointments, but was clear how thorough Dr Patri was being. The end result is perfect, and didn't take long to recover from at all - I even did a conference call with work a few hours after!I'm booked in for several more treatments at Smileworks and I cant wait come back each time.

read more

Joanna Nixon
10:58 20 Oct 20
After being in severe pain, I was booked in to see Dr. Patri who immediately diagnosed my issues and gave me all my options of treatment. Dr. Patri was very professional and caring. She immediately got me out of pain. My appointment was relaxing,

...

pain free and she was able to save my tooth with root canal treatment. Thank you Patri, Nicola and Kerry for the amazing service. I would definitely recommend Smileworks to my friends and family.

read more

Ste Glover
19:04 18 Oct 20
I found Smileworks and Dr Mj through research/Instagram. My consultation Dr MJ covered everything I needed to know and it was then made very clear she is one of the best! I have been in today for filler in my nose after being so unhappy for the

...

last 3 years with my appearance due to this. I felt so comfortable and at ease during my procedure and so happy with the Instant results I already feel a lot more confident. Such a lovely place with the nicest staff. Thank you Dr MJ you work miracles ☺️

read more

Connie Ellis
18:04 30 Sep 20
After a dreadful experience with my NHS dentist, I decided to try Smileworks and I'm so glad I did. Clare is an amazing dentist, I'm so pleased with the work she's done and Tasmin does a great job assisting her. Everyone is so professional and

...

friendly, from Dr. MJ to all the girls on reception. I wouldn't go anywhere else now. Highly recommended.

read more

caroline jones
19:13 26 Sep 20
Nicky.OK, so I've never had an aesthetic treatment before. Before contacting Smileworks I spent months researching clinics trying to find somewhere trustworthy for my first treatment. I chose Smileworks because of the amazing reviews and also

...

because Dr MJ has a great reputation in her field, from what I've read online.I wanted Ellanse cheek fillers which was due to the long-lasting results and again, the online endorsements.To say I was nervous was an understatement. My main fears were having an adverse reaction to the procedure and the treatment being painful. Also, I was worried about visiting a clinic at this time, concerned about whether the treatment area was thoroughly cleaned before I attended.I have to say that when I attended the clinic everybody I saw was extremely professional. Also, I didn't need to be concerned about cleanliness as the premises were immaculate, with social distancing measures and PPE use apparent throughout my visit.Dr MJ did a great job of putting me at ease. I would say she is definitely an expert in what she does if my treatment is anything to go by. I did feel a little discomfort but nothing major and the results were immediately visible. The effects of Ellanse are continual so I hope to see further improvements along the line.One of the things I was particularly impressed about is that there was no hard sell, even when I visited for a check-up a couple of weeks after my treatment. Had another treatment been pushed onto me there is a likelihood that I would have opted to book in for another treatment. That alone speaks volumes about Smileworks in my opinion.

read more

Rippin Marvelous waxing
20:02 23 Sep 20
Had lip fillers today for first time feel amazing very professional MJ makes you feel so good she's fabulous 😊

Julie Smith
16:54 23 Sep 20
Never been so excited to go to a dentist before! Dr Ahmed and Lacy are AMAZING and very very nice <3!! + Dr. MJ is awesome, professional and friendly !! happy with all the treatments

sooli khalid
11:44 04 Sep 20
Had an appointment today with MJ and Georgina, excellent service, I felt completely at ease (not like dentists I have been to in the past!!), MJ explained everything in detail, very easy to talk to, I have decided to have a brace fitted, went

...

through some payment options with Kerry who was really helpful, and Marnie on reception is also extremely helpful, very satisfied with the service and professional conduct of the staff, also the hygiene in these difficult times was amazing.

read more

Caroline Lamont
17:05 18 Aug 20
Dr MJ provided amazing care and after care. So pleased with my results!

Hannah Lavelle
21:46 21 Jul 20
Could not recommend MJ enough for lip filler, I always leave very happy and I keep wanting to come back ! Also, every other member of staff I have come into contact with is super welcoming and professional <3

Had a non surgical nose job today. Was very nervous but Dr MJ was so reassuring and put me at ease. Literally got the safest hands! So happy with my nose x

I could not be happier with the results of my non surgical rhinoplasty. MJ and all of the staff at Smileworks are very friendly and professional. I would strongly recommend MJ for any aesthetic work as she truly is amazing and i am thankful I found

...

her.

read more

I had a virtual consultation with MJ and she was amazing, very knowledge and enthusiastic about the treatment I enquired about. She has gave me confidence in proceeding with her for treatment.

Gina Bagan
22:05 07 Jun 20
I had the most wonderful virtual appointment with Dr MJ today, her knowledge is immense and honest to the point view, helped me clearly decide, that after researching and enquiring for a long while with other practitioners that treatment with

...

Smileworks was the only option for my peace of mind and the result I want, that I'm confident I will receive. Can't wait !

read more

Suzie Murray
18:16 28 May 20
Today I spoke to Dr. MJ about getting a non-surgical nose job done and I must say, she really is so friendly and lovely! Dr. MJ knows a lot and explains everything in depth. I have been wanting to get a non-surgical nose job for quite a long time

...

now and I was doing a lot of research until I found her instagram and did more research. I am so glad that I spoke to Dr. MJ today! She really did put me at ease and I actually got to know about more things. Thank You Dr. MJ 🙂

read more

MJ you're amazing!! So great to catch up virtually and just love the service. Got lots of great advice as always and everything makes perfect sense. Hopefully see you soon. 🤗

Yvonne Gilmartin
10:18 23 May 20
I had a consultation with Dr MJ and she was incredibly helpful, knowledgeable and honest. She really took the time to understand my concerns, and was able to advise me on various options to move forward. Dr MJ was incredibly easy to talk to and it

...

was overall a very enjoyable experience. Highly recommend!

read more

Fantastic skin review today for my daughter who has been suffering with acne, she came away feeling listened to and MJ was able to demonstrate her amazing knowledge of how the skin works at a level she understood. Looking forward to starting the

...

treatment plan. Thank you

read more

Zoe Hussin
11:05 01 May 20
So sad to be leaving Smileworks as a patient due to moving away. These guys have turned my confidence to smile around with my braces! MJ also managed to resolve my TMJ pain at the same time, which 3 previous dentists had neglected to do. Very

...

friendly team, especially the reception girls who were great at fitting my many adjustment appointments around my shift hours/rota so that I didn't have to leave my own patients in the lurch. Also shout out to Bambi and co who amazingly handled my wriggling during deep cleans. Thanks so much! Couldn't recommend enough

read more

Charlotte Pollard
13:37 24 Apr 20
I went for filler in my nose and chin to balance my profile, it was something I had been thinking about for years but never got the guts to actually do it until I found MJ's instagram 'dr_mj_smileworks'. Her work really speaks for itself, and

...

everyone I spoke to throughout the process was incredibly kind and helpful, especially MJ! She is so lovely and explained everything in detail so I knew exactly what to expect, so by the time I went in for the procedure I was excited and not nervous in the slightest! I can't recommend Smileworks enough and I would never trust anyone else with my face!

read more

Hannah Davies
12:22 04 Mar 20
Absolutely amazing service, I was against getting braces but after my initial very thorough consultation I decided it was the best way to get my perfect smile. Everythng was explained in detail including xrays which were very helpful. Ive had my

...

ceramic braces for about 7 months and my teeth look perfect already! The place is very clean, Rebecca and MJ make me feel relaxed in every appointment and girls on reception always greet with big smiles! Highly recommend!

read more

Zymante Ivanovaite
07:15 04 Mar 20
I was booked in for a skin consultation by Kerry who was fantastic and so helpful to see Dr. MJ. She was very informative and very reassuring about the treatment I was interested in. Couldn't praise the pair of them enough and look forward to my

...

next appointment.

read more

Denise Glover
15:32 27 Feb 20
I've recently started to come to Smileworks and I can honestly say it's the best dentistry I've been to by far! The staff are so friendly, helpful, and very professional at what they do! Kerry the clinical manager & treatment Coordinator & Dr MJ are

...

lovely girls they made me feel at ease about getting a top brace fitted! I would highly recommend Smileworks and I'm so excited to see the end result and gain my confidence back 🙂

read more

Andrea Leonie
12:17 23 Jan 20
Dr. MJ is a genius, her knowledge and professionalism are second to none! All staff are super friendly, would highly recommend Smileworks!

Having a Smile makeover, by the incredible Smileworks team. Braces and teeth straightened by MJ , Inlay and composites by Clare , Scale and Polish by Zoë and today a root canal by Patri and Jess , brilliant friendly professional practice, can't

...

recommend them enough 😁

read more

Jayne Peters
19:30 16 Jan 20
Had Plexr treatment today with the lovely MJ. Friendly and professional service from all the staff, was made very welcome and was put at ease.Looking forward to the end result😊

Andrea 0407
17:48 11 Jan 20
Bambi, MJ and the team are patient and attentive. My experience with Smileworks was excellent. Thanks guys.

Mark Zimmerman
07:52 10 Jan 20
Went for plexr treatment at smileworks and I must say the service and professionalism is outstanding.Mj is fantastic and a credit for her work

Richard Carter
19:05 05 Jan 20
Amazing!Smileworks is the best!Friendly front desk team, very professional and caring. Felt at ease throughout my whole experience.I cannot recommend Dr MJ Rowland - Warman enough, she literally is the aesthetic fairy god mother! Her work is

...

subtle yet has a great impact as she knows exactly what she is doing.I feel 100% better when looking in the mirror now and that's all thanks to MJ. I hardly felt any pain as she is very gentle and careful.Honestly, just ring up and go for a consultation, you will not regret it.

read more

sophie waite
09:07 05 Jan 20
The staff here are always very helpful. I wouldn't go anywhere else for facial aesthetic or dental work. Dr MJ is incredibly knowledgeable and I personally wouldn't use anyone else. I felt very well looked after and listened to. My outcome on both

...

occasions has been nothing short of amazing. Would highly recommend. In very safe hands.

read more

Michelle Barrow
21:39 04 Jan 20
I am beyond happy with the service! Had my lips done by MJ and she did a fab job. Looks super natural and everyone is so welcoming and sweet!

If I could give Dr MJ a 20 star rating, I would.After years of walking around with botched, solid, painful, lumpy lips and year of reaching out to 'aesthetic practitioners' for help, I finally found the most knowledgeable and confident Dr MJ on

...

Instagram.On my first consultation, Dr MJ gave me a detailed account of what was wrong with my lips and how to fix them, 2 weeks later on my next appointment, I was finally lump and pain free!Recently, I had my lips redone using filler for the first time in nearly 5 years and I am overwhelmed with my results to the point where I nearly walked out of the room holding the mirror!As the days have gone on my lips have settled into an even more beautiful shape and I genuinely couldn't be happier!Dr MJ has restored my faith in aesthetics and although I live 50 miles away, I will not be going anywhere else.Thanks MJ!!!!

read more

Rachael Stansfield
10:06 20 Dec 19
Where do I start .... firstly the staff are absolutely amazing they are friendly, understanding and super polite. I have spoken to a Rihanna today and in the past Marnie, Abbey, Davina... especially Marnie she is my Little Rock star... xxxDr MJ

...

has done an absolutely remarkable job she is fabulous and fantastic she knows how to talk to her clients and put them at ease. I am sooo proud of the final results of my nose. She has simply made my day, month and year. She is super super awesome... please follow here on @dr_mj_smileworks.All the staff make u feel like family very happy. Love you guys. 💛

read more

hannah bhatti
14:19 18 Dec 19
It was my first time visiting and had a brilliantly warm experience. The staff are very welcoming and professional, and Dr MJ is fantastic at what she does. She's a hoot! I highly recommend Smileworks.

Kella Colton
22:34 17 Dec 19
MJ is extremely professional and competent. I feel she went above and beyond my expectations. She is also able to make you feel relaxed with her honest and all round lovely approach. The Smileworks environment is very welcoming and friendly, an

...

ultra modern approach to everything they do. I would highly recommend MJ and Smileworks to anyone!

read more

Fiona Smith
19:56 17 Dec 19
I highly recommend Smileworks. It's the one stop place to go for the best in dental, aesthetics and skincare. I know because I use all of the services! Kerry and Mimi are professional, honest and kind. They arrange the best plans for treatment and

...

organise appointments that suit my working schedule. Nothing is ever too much trouble! Dr MJ's work is phenomenal! A big Thank You to all the staff at Smileworks. It truly is a pleasure to visit x

read more

Fuming Scousers
20:30 16 Dec 19
I originally came to Smileworks to get botox in my jaw to alleviate pain caused by clenching my teeth. I saw Dr MJ who did a full exam and recommended that instead of temporarily treating my symptoms with botox, I see Dr Laurence, a specialist in

...

orthodontics. Dr MJ refunded my deposit, despite spending almost an hour chatting to me and examining my jaw, and transferred it over for a consultation with Dr Laurence. A few weeks later, I saw Dr Laurence and his lovely team, and discussed the problems I had been experiencing. Dr Laurence talked me through exactly what was going on with my teeth/jaw and recommended a specific treatment plan. I had been to my NHS dentist multiple times regarding my jaw pain and was told there was nothing they could do, so I was resigned to suffering with excruciating pain for the rest of my life, or expensive botox treatments which only last for 1-2 months. I am so glad to have found Smileworks, I feel confident that my pain is taken seriously and will be remedied through my treatment. As well as the great treatment I have received from Dr Laurence, their front of house team, particularly Davina and Rhianne, have been fantastic; they call you to check how your appointment went, ask if you have any questions, and do anything they can to help you. I would highly recommend Smileworks to anyone who wants a professional, thorough and caring treatment from experts in dentistry!

read more

Amy Hughes-Stanley
21:08 15 Dec 19
My 1st visit here a month ago, such a professional experience from the staff at reception and of course and Dr MJ who has done and absolutely amazing job on my lips.... I love them!! Would totally recommend to anyone thinking of having any kind of

...

aesthetic work.

read more

Had lip fillers For the 2nd time on Saturday by MJ and they are amazing! I'm so so happy with them. Didn't think my lips could look this good. What a talent. Thanks again x

Amanda Samuel
19:38 09 Dec 19
Always a great experience from start to finish!All members of staff are friendly, helpful and professional, the whole process is very easy.MJ is fantastic and always makes you feel at ease, she's very knowledgeable, personable, a good laugh and

...

highly skilled.Highly recommended!

read more

Great experience! MJ was calming, reassuring and knowledgeable, definitely put me at ease and guided me through my procedure.Staff were always helpful and friendly. I would thoroughly recommend smile works for anyone, they will take care of you

...

100%!

read more

Recently had some aesthetic work with MJ.Consisted of fillers to mid and lower face, chin and lips . This woman is an absolute genius. She really takes her time discussing your expectations and what you would like to achieve . She is highly

...

professional and really good fun. I never felt rushed and the results are amazing...actually better than I'd hoped. She is a true artist .Discomfort during the procedures was minimum to none.The staff are friendly and make you feel at ease .I highly recommend this lovely lady.Thank you so much

read more

What a lovely practice. Smiley helpful receptionist. Practice looks amazing, fun plane design waiting area.MJ is lovely. Came after reading all the amazing reviews. I was not disappointed.MJ is great at what she does. Answered all my questions. My

...

Botox was painless. Definitely the practice to visit.

read more

Kelly Jones
15:59 02 Nov 19
I've been coming here for a few years for aesthetic treatment and I've noticed the reception staff are very eager to book appointments, which I understand to try and keep the business going. but when I had to cancel my appointment last minute due to

...

personal reasons, rhianne the receptionist put the phone down on me as I was trying to apologise! it's only because I like MJ who does my treatment, I'll return, but people canceling happens and shouldn't be taken seriously by staff!

read more

spider monkey (4everliverpool)
05:01 24 Oct 19
MJ is amazing and a big thank you to her. Her aesthetic work is second to none and she is extremely professional and is willing to spend a lot of time making sure she does the best job. All the staff are exceptionally friendly and I would highly

...

recommend Smileworks.

read more

Janet Clare
13:58 16 Oct 19
I recently had facial dermal filler procedure undertaken by MJ and I couldn't recommend MJ any higher. Clearly very knowledgeable which resonates from true passion of her medical discipline. The filler is subtle but makes a remarkable differences to

...

my face and reasonable priced for the quality of expertise you are receiving. The practice is clean, staff are always friendly and willing to help. Additionally, I have had dental work done at the practice and compared to previous dental experiences the service was next to none!

read more

Fleur Dewison
17:32 13 Oct 19
Excellent Experience and Spot-on TreatmentHad my treatment with MJ, the result is amazing. Will visit again

Had filler done by MJ Love my results so natural would definitely recommend going to smile works wouldn't go anywhere else MJ makes u feel so comfortable and relaxed and u no ur in good hands ☺️

Vanessa Samuels
10:21 02 Oct 19
I absolutely love this place. Staff are amazing. And what can I say about the wonderful MJ....Try it yourself, I guarantee you wont be disappointed.

pamela Bretland
13:30 30 Sep 19
I've been coming here for a few months for various treatments; fillings, removals, scale & polish, composite bonding to fill gaps, a composite veneer. All the staff I've had dealings with have been very professional and helpful, (Billal, Georgie,

...

MJ, Eva, Zoe, Laurence, Abd, Kerry, all the reception staff). Very happy with the results! Wouldn't go anywhere else now.

read more

I couldn't be more delighted with the aesthetic work completed by MJ. The outcome surpassed my expectations and I was constantly reassured during the process. The service provided by Smileworks is faultless and included a follow up call the next day

...

to check that I was ok, happy with the work and whether I had any questions. Really, if you're going to put your face in the hands of anyone, make them MJ's

read more

Michelle Murphy
13:00 22 Aug 19
Smileworks are an incredible company with incredible people working for it. I used to have gaps in my teeth which I was extremely self conscious about and I always felt like I couldn't smile in case people saw my teeth. I really wanted to do

...

something to get rid of the gaps in my teeth so I looked for the best reviewed dentist near me in Liverpool. Smileworks definitely had the best reviews and wasn't far from me at all. I decided to book in for a consultation for dental composite bonding. In my initial consultation, I saw Dr Billy who was very lovely. He asked me what I wanted for my teeth and what I envisioned. I told him of my plans and he looked at my teeth and measured them for me. He told me how much it would cost to do but informed me that my teeth were of perfect ratio and if he were to perform dental bonding then it would make my teeth look bigger. He suggested braces as he felt that they would be more suitable for me and asked if it was okay if he called MJ in to have a look at my teeth. MJ came in and had a quick look and confirmed that it would probably be better but it was my decision. Following this, I had a free consultation with MJ to look at braces as an option to close the gaps in my teeth.MJ is a really, really lovely woman with a vast amount of knowledge of what she is doing. She has the ability to make you feel comfortable and I'm always smiling when I go for my check ups. MJ has the ability to make everyone smile and feel welcome. On my initial consultation, MJ looked at my teeth and I had an X-Ray taken. We talked through in detail what could be done for my teeth and my different options. I was initially reluctant to get braces as I felt it would draw more attention to my teeth but MJ reassured me fully. I queried about having the white "train track" braces and MJ advised that she thinks the metal are more suitable as the clear stain so easily and are more expensive. She was always very honest with me and it was refreshing to see that she would suggest what was best for me as a patient and would not encourage the more expensive option in order to gain more money. I decided I would like to have braces and a treatment plan was made for me which included all the information I required from payments, what exactly I was paying for and on average how long it would take. I also had a 20% discount off the full price of my treatment using an offer they had on at Christmas time. MJ fitted my braces for me and fitted my top row first and gave me a little break before my lower teeth as she was aware it would be painful and I might struggle if I had both done at the same time which I was particularly grateful for!In every consultation, MJ ensured to keep me well informed about my treatment and always let me know what her intentions were. The time frame was extended slightly (at no extra cost) but I had no issues with this as I knew MJ was doing the best for me and did not want to rush my treatment as this could jeopardise the outcome. All in all I am absolutely THRILLED with my teeth and have the confidence to smile for the first time!I just want to thank absolutely everyone in Smileworks. It was really lovely going in for my appointments and being greeted by my first name by the girls at reception as I walked though the door. The girls were all so lovely to me and always asked about how everything was going on and always remembered things I had previously told them. Everyone is so professional and they really do what is best for their patients. The environment is so relaxed and friendly and I always look forward to my appointments at smileworks. The whole theme is also very fun and makes it all the more exciting.The biggest thank you of all, however, is to MJ for giving me my best smile and for always being so welcoming, professional and lovely.I would 1000% recommend Smileworks to anyone looking for treatments whether they be dental or aesthetic!

read more

Lauren Morgan
18:17 08 Aug 19
I loved going to smileworks mj is very professional I was very pleased with the service I will definitely be going back again thanks you very much.

Daisy Playz
22:33 16 Jul 19
MJ has been my face doctor for the last 5 years! I am always thrilled with her incredible work. This lovely lady made turning 50 bearable!!! MJ is just about to make becoming 51 feel absolutely fabulous!! Thank you so much!

...

😘😘💕

read more

Laura Holmes
14:12 10 Jul 19
Had been thinking of getting my lips done for years, it wasn't a decision I rushed into as i was really set on the sort of look i wanted to achieve and wanted to find somewhere that I had confidence in. From start to finish the entire team were

...

fabulous, really informative & helpful, i was put at ease from the moment of submitting an interest on the website. I had a little difficulty locating the surgery but again the team were so helpful on the phone directing me. I arrived and the premises were immaculate, once again i was met with smiling faces the girls at the front desk couldn't have been more helpful. Then came MJ , she brought me in for my consultation and was a amazing, spent at least 20-30 minutes talking to me about what i wanted to achieve, what my options were, risks involved, what the procedure would involve, what products / methods she thought would hep me achieve the look i was going for. After a proper discussion and some very light hearted chatting too, she asked if id like to proceed with the treatment, when I agreed she did everything she could possibly have done to make me comfortable and the treatment felt very professional, constant cleaning and logging of products etc. From start to finish she did everything right! I wanted to keep the natural shape of my lips but wanted more volume. I wanted my lips noticeably bigger but not fake looking. She got then absolutely spot on and i was so relieved that i wasnt leaving with fake looking lips which my partner was also concerned about. Aftercare has been brill, a review was booked for 2 weeks later to check everything was as it should be, i got a phone all the next day to check everything was okay and i had no concerns. Honestly cant stress how impressive this place is they really manage to grasp the importance of professionalism and client care, especially in a cosmetic/dentistry field, far too many beauticians doing bog standard unqualified treatments almost like a conveyor belt in and out for a quick £100. Not these guys, if you want a really exceptional experience and absolute confidence in who is working on your image you really need to go to these guys, YOU GET WHAT YOU PAY FOR! I wont even consider anywhere else in future over than here and thats regardless of the fact that I have to drive 70 miles to get there, its really worth it. Thanks to all the team at smileworks you're doing an incredible job.

read more

Karah Hewson
15:52 18 May 19
Would just like to say a massive thank you to MJ she is fantastic, and definitely a miracle worker . I went there today and had a non surgical rhinoplasty (nose job) i had a huge bump on my nose , it was amazing I went in hating my nose hated

...

getting my pictures taken and was so paranoid about it but walked out feeling fantastic , I now have a perfect nose thanks to MJ .The place is great all the staff are so lovely and friendly. I can not recommend this place enough . Definitely worth a visit !

read more

Donna Brady
14:00 16 May 19
First of all I wanted to say a big thank you to all the staff at Smileworks for making me feel very welcome.I also wanted to say a huge personal thank you MJ for her complete transparency through the consultation period. The honesty demonstrated

...

was so valuable to me and helped me make what I believe is the best decision.I have upcoming teeth whitening treatment and wouldn't recommend anybody else other than Smileworks.

read more

MJ and the team brilliantly combine top professionalism with warmth, caring and friendliness. Great value for money. I would highly recommend them and would not go anywhere else x. MJ SAVES THE

...

DAY!!! So my daughter got married recently and days before started with an enormous cold sore! Our MJ went more than the extra mile to help! After treatment from MJ no cold sore on the wedding day! So relieved and happy for my lovely daughter, and great smiles and photos thanks to our MJ! X LOVE MY BROWS - Delighted with my new eyebrows thanks to the lovely Hannah!! She painstakingly took the time to create the best shade and colour brows for me and I recently had the top up! Both visits were relaxing and fun and Hannah made me feel welcome and valued! We had a laugh too!

read more

Anne Quadrio
19:28 15 Mar 19
Absolutely amazing care.I rang up after exhausting all NHS dentists, from the first call to see if an appointment was available on a Saturday to leaving, I cant praise this practice enough.When my partner rang up the lady on the phone was really

...

helpful and explained there procedures. We were given a 12.30 appointment and paid the £50 check up fee.On arrival I was in severe pain from a painful wisdom tooth, they were very sympathetic and helpful and so friendly, after a very short wait in there quirky airplane waiting room, I was seen promptly by the dentist and nurse. He diagnosed my problem straight away and was given an xray and then removed my tooth. I'm a very nervous patient and didn't even no my wisdom tooth had been removed . I was amazed when they said it was out.the dentist and nurse were so kind and caring and very professional in there work.After the extraction they let me rest in the chair for a while till the bleeding stopped and were so chatty and made me laugh as they explained what they had done.The dentist then took me to reception where we chatted to the lovely Australian girl on reception who again was amazing happy friendly The other lady who first saw me when I came in came up and asked me how I was aThe pair of them were amazing and both made us feel relaxed.I cant reccomend this practice enough and will now be going back to them for future check ups and any work needed.

read more

Tracy Carrison
22:29 02 Mar 19
Thoroughly fab experience; MJ is amazing at what she does and all the girls who work there are lovely as well. Thank you!

Molly Dowling
12:00 15 Feb 19
Visited here today staff were so warm and friendly! I had an aesthetic appointment with MJ she made me feel so relaxed and at ease. I would highly recommend Smileworks!

I had my lips done here in November and a quick check up in December... I was amazed at how professional it was and I love the aesthetic of the office too. MJ made me feel a home, as did the rest of the team, and I will definitely be returning when

...

I need to!

read more

Danielle Piper
20:12 20 Jan 19
First time for lip fillers, so obviously a little nervous on the outcome but I am over the moon. A natural yet full look could not recommend smileworks anymore. MJ is unreal at what she does and puts you at ease within a few seconds of the

...

consultation whilst also giving all the right info and questions. Excited for another ml already!

read more

Rosa Horsley
12:13 26 Nov 18
Absolutely great, professional, friendly, top .I had dental treatment with Dr. Zoe and assistant Emily, thank you guys, it's perfect.I had also Botox treatment with MJ, thank you MJ, you are amazing.

Molly Sarcast
12:27 19 Nov 18
I came to MJ for lip treatment, before I didn't really have a top lip and MJ was so lovely and did an amazing job! So impressed with the results that i cried lol, thank you MJ for the best birthday present!

Mia J Armer
13:21 17 Oct 18
Very pleased with the dermal fillers administered by MJ and the semi permanent makeup from Hannah. Both took the time and effort to ensure I received the best options for treatment. In addition, the reception staff were very polite and welcoming

...

which added to my positive experience. Would definitely recommend.

read more

I Have visited MJ for two treatments and had amazing results with both.MJ is fun to go and visit but also very professional.I would now not go to anybody else for treatment.

Michelle Lord
06:16 24 Aug 18
I cannot recommend Smileworks enough! All the staff from the receptionists, the dental assistants/nurses and the dentists are exceptional and provide a first class service. I had a routine visit at the end of July and it was soon discovered further

...

work was required to rectify a pre existing issue. Due to going on holiday days after this appointment I had concerns the work could not be completed in time. However Dr Akman, MJ and Dr Arshad went above and beyond what I expected to complete the work and send me on my holidays with a perfect smile. Thank you guys and keep doing what you do!

read more

Absolutely made up with Dr MJ's work on my lips! I'd recommend to anyone 😊

Karina Walker
22:36 04 Aug 18
I don't know what to say MJ you are a miracle worker. My non surgical nose job (Sounds drastic but wasnt) is amazing. I have always hated my nose. But there are some parts of it that are 'me. I left MJ to it after researching thoroughly I knew she

...

was THE lady for the job. I love It! Thank you so so much xxx Sarah

read more

Sarah Peerless
11:09 10 Jul 18
Can't rate highly enough. MJ is amazing 💋

Tanya McCormick
10:28 27 Jun 18
I went to Smileworks two weeks ago for lip augmentation and honestly, couldn't be more pleased with the result. I had very little lip to begin with and hated how they looked. Now they look fabulous and I LOVE them! MJ is an angel and couldn't

...

recommend her or the team enough.Thanks everyone! X

read more

Laura-Jayne Capener
15:56 08 Jun 18
MJ is an asset to Smile Works. Her and the team there are so friendly, professional and willing to help however they can. I've been going to MJ for nearly a year to get lip fillers after going to other places in town and being disappointed. MJ

...

really listens to what you want to achieve and is an expert of enhancing your features rather than making you look plastic which some places do. I would recommend this place to anyone, especially if you're a little nervous about getting a procedure done. You really do feel in safe hands in Smile Works!

read more

A very positive experience. Friendly and professional staff: MJ, Eva and the receptionist. I am happy with the advice. Thank you!!!

Malgorzata Wojcik
21:01 05 Apr 18
I had been thinking of having my lips augmented for a long time , but couldnt quite summon the courage to do it . I did some research on line and thought Smileworks was the right choice for me . Im so glad i made that choice! All the staff are

...

extremely polite and engaging , put me at ease straight away. MJ is very careful to explain the pros and cons of the procedure before doing it . A local anaesthetic is used so there is no pain whatsoever . I experienced very little swelling or bruising and im beyond happy with the results which are very natural. MJ has performed a miracle , have already booked in for my next treatment 😃

read more

samantha mcleod
16:14 05 Apr 18
Great value for money and a slick operation ! MJ and the rest of the staff including Kerry can't do enough for you ! Ive had top and bottom braces including whitening and I went for the face brace option my braces where on and off in just five

...

months ! Incredible !! I'm also in the military and they managed to work around my ever changing schedule ! My smile is perfect and I'm made up with the results I look essence now haha smile works is boss

read more

Tony Horrigan
19:24 03 Apr 18
Had my first visit a few weeks ago to discuss renewing old veneers and crowns. Couldn't be happier with the service I have received so far from MJ and Pinar.Anyone that is slightly nervous or feeling that they're too old to have their smile

...

improved should look no further than this brilliant dental practice.

read more

Jackie Bethel
18:54 01 Apr 18
Treatments always amazing with MJ, looked after by all the staff, would recommend to all my friends and family 🙂

Paula Reed
18:58 28 Mar 18
What an amazing experience !So a week ago I booked for a consult with Dr MJ , the girls on the reception couldn't help more or be any more polite and understanding... after meeting with MJ and being fully informed of my nose augmentation/ filler

...

treatment I decided to go ahead ! .Today I received my treatment and did not experience anything like I expected... there was no pain and no problem !After 16 years of having constant confidence issues with my side profile I can now smile at 360 degrees and not just fave on...I would highly recommend this very professional and pleasant practice and look forward to my next visit, MJ has changed my life! Thank you !!!!!

read more

chris thompson
10:05 28 Mar 18
I was initially nervous and apprehensive. I hadn't visited this practice before but I had done my homework and went here on recommendation. I booked with MJ and went to have some work done with my upper lip & facial aesthetics. She put me at ease

...

completely and I was expecting pain. It was so easy, straightforward, and I will definitely go back. I was a little tender the day after, but there was no discomfort on the day of treatment and it was much easier than having a dental filling 🙂 My result has been fabulous and I am very happy and would certainly recommend.

read more

Angela Jones
18:32 27 Mar 18
Recently had dermal filler in my nose to help reshape. I am very pleased with outcome, staff very friendly and made me feel at ease. Would definitely have it done there again. Very professional.

Marie Sheen
20:43 19 Mar 18
5 stars is not enough for Smileworks it should be much more !Fantastic staff , lovely and friendly. Reception did ring me day after my treatment to ask me how do I feel - they look after their patients like mother look after a child:-)

...

❤️❤️❤️❤️I always wanted to get rid of "gummy smile" but I was so scared... but dr MJ did it so well to explain everything before the treatment and she is my star the best in the world !!!!! I am so happy 😁 I can smile and use my favourite lipstick because my smile looks amazing !!!! x

read more

I've recommended Smileworks to a few people now, as I've had nothing but good experiences within the past 6 months. I decided to get my braces fitted here because I thought, with all the good reviews, I couldn't go wrong. I'm so glad I braved it

...

because the results, only 5 months into the treatment, are amazing!!! MJ and Georgi are absolutely lovely. They're so friendly, and really just make you feel so comfortable there, which is a massive plus for nervous patients, as I was to begin with.The waiting area and reception is so fun. It makes a really nice change to what you usually see in a dentists waiting room.So, if you're thinking about going to Smileworks, do it! They're fantastic 😀

read more

Sadie "electricwitch13" H
21:05 04 Feb 18
A very welcoming, warm, friendly and professional atmosphere. I Felt very relaxed and at ease whilst I had my treatment which was a 1ml of lip filler. MJ was very informative and listened to what I wanted and personalised my treatment. I am super

...

happy with the results and could not have asked for a better practitioner whilst receiving this procedure. Fantastic company and would highly recommend anyone to go here!

read more

My experience with Smileworks has been my first experience with privately funded dentistry and I am pleased to say that I am delighted with the high level of professionalism that I have received at every level of interaction with the Smileworks

...

team. Never before have I received such dedicated care or met staff with an exceptional desire to ensure that every aspect of every visit is easy, carefree and enjoyable. The facilities are unlike anything I have ever experienced from nationally subsidised dental practices and I've never had to rearrange my week just to go to the dentist, a suitable time has always been available. A special mention also to my orthodontist MJ, she filled me with confidence during my consultation and this has only grown as the treatment has progressed, I have never known a dentist of any kind with such a desire for their profession and it was a refreshing experience. When I first considered private dental work I was concerned about the cost and with several options in Liverpool I didn't know which one to choose, Smileworks had the best reviews and I'm delighted that I picked them, trust the British public, the service is superb and you won't be disappointed.

read more

Andrew Clarke
22:04 19 Jan 18
It's been 2 weeks since my third PLEXR treatment and I literally can't believe my eyes. Anybody considering PLEXR I say go for it. You will need patients through the healing process which involves swelling, scabbing and redness. This was all

...

explained to me in a straight talking conversation with MJ as she made me fully aware of the 'down time' involved. I chose Smileworks for my treatment as I've had other procedures there and wouldn't entertain the idea of going anywhere else. Having been to other aesthetic clinics in Liverpool Smileworks is by the best I've been too and leaves the competition miles behind. The clinic is sleek and stylish, the atmosphere is welcoming with a nothing is too much trouble attitude and they really mean it! MJ is SUPERB you can explain what results you're looking for and she will give you the very best advice to get there. I now feel like the best version of myself.Thank-you MJ and all the Smileworks team. X

read more

Annmarie Jones
19:07 18 Jan 18
Smileworks are by far the best dentist I've been too!! So friendly and welcoming, the waiting area is fun, the receptionist are very helpful and informative, the dentists are highly skilled and make you feel comfortable and are very reassuring. I

...

have had metal braces before when I was younger and feared getting them again but I am happy I went with Smileworks MJ and Bambi who have both been my dentist are fab as well as each assistant that supports them. I actually enjoy going each month and finding out what stage I am at and what's to come next I never feel anxious. I've actually referred two people here, worth every penny 🙂

read more

Emma Gillespie
16:53 04 Jan 18
I felt so welcome and comfortable here! I admire Dr MJ very much, because I did root treatment, which I thought was painful and complex. But it only took 1 hour and I did not feel a little pain. I trust them so much that I feel sleepy! And the

...

reception girls are energetic and full of smiles. This is a wonderful place to make your smile beautiful and confident!

read more

Had my lip filler done here as well as a non-surgical nose job and couldn't be happier with the results. Such friendly staff who are all amazing at what they do and give me all the information I needed prior to my treatments. I wont be going

...

anywhere else in Liverpool other than Smileworks!

read more

Lauren Thompson
13:05 26 Dec 17
I've had two procedures done at Smileworks. The first one was an emergency sedated extraction of a very infected and abscessed tooth. For this procedure, My dentist was Krishan. Even though I am a very anxious person, Krishan was very kind and

...

patient and made me feel at ease. He played my favorite music for me and that's pretty much all I can remember! The procedure was successful and by the next morning I was surprisingly ok! The second procedure I had done was the removal of the root of a very infected tooth. My dentist for this procedure was MJ. MJ and her assistant were really great as well, keeping me calm throughout, playing music to ease my anxiety, and assuring me constantly that everything was going to be ok. When MJ gave me the injections to numb the area, I was initially worried that it would hurt as it always does, but to my surprise, I didn't feel a thing! This really came as a shock to me, as usually, this is something that worries me and sends me into panic mode as the injections are usually quite painful. As soon as the numbness wore off, I felt perfectly fine; very very little soreness. Afterwards, the lovely receptionist Mimi called me the next day to see how I was doing. All in all, I highly recommend Smileworks, they really take great care of their patients, before, during, and after any procedure. Thank you!! 🙂

read more

Zaina Shihabi
11:32 12 Dec 17
teamI'd like to provide you with some feedback on my treatment to date:After 1:1 advice and guidance with the smile-works team, I recently attended for my first treatment (root canal). I was greated and treated professionally throughout,

...

experienced no pain, and was informed and entertained by MJ, whom I found to be extremely reassuring, competent and also hilariously funny. Withought hesitation I can fully recommend this practice, and I am so excited about completing my planned course of treatment, which is bespoke and excellent value for money, just in time for Christmas !My second visit:Please accept my thanks for my recent treatment - Bambi explained everything she was doing throughout and Fran was really calming and reassuring and the results are amazing. I'm so pleased and really grateful to Bambi for her expertise and to Fran, who make a perfect team :)Kindest regardsDave

read more

nicola jonnes
10:30 30 Nov 17
Wow what an absolute amazing experience said no person ever going to the dentist. Well until now...Had severe pain due to a Wisdom tooth and couldn't sleep the night before and knew I had to finally face my fear and go to the dentist and get this

...

sorted. Sat up all night due to lack of sleep watching and reading horror stories on having a Wisdom tooth removed and was dreading it more and more as time went on.Called Smileworks at 9am Saturday morning to get an emergency appointment and was given one within 3 hours. When i arrived I was greeted with cheer into what could only be described as the coolest dental reception area of all time. The receptionist (forget her name) automatically put my mind at ease.Normally my experience at dentists was sit and wait for an absolute age to be called. Not at Smileworks. MJ came into the reception area so cheery and got me and brought me to the room which was something out of a futuristic movie it was absolutely amazing.From start to finish MJ kept my mind at ease telling me every step of the way on what was happening and what the plan of action was. We even meditated over the removal of my wisdom tooth which really calmed me down. MJ was absolutely amazing in the removal and I had built up such a hype and horror pictures of what was going to happen. The exact opposite happened.This had made me build up my confidence in a dentist again and I would highly highly highly recommend Smileworks to anyone.

read more

5 Star service and quality! Had my lips done for the first time and couldn't be more happy with them! MJ works wonders, would recommend 100% !!

Davina Peterson
14:10 25 Nov 17
I did went Saturday morning as an emergency customer. No previous contact with them in the past. I was extremely happy of what I found. The place itself & location is great. But even better the staff; They were very understanding and helpful. MJ who

...

finally attend my case did work the extra mile (and extra time too :)) so later than 17:30 Sat. Quick/Nice/Effective & Reliable. So far the best dental clinic I have been.Definitively I will recommend & use them again.

read more

The most welcoming and friendly staff I have ever experienced anywhere, let alone a dentist. I felt in safe hands from the get-go and was so happy with the staff arranging appointments for me even outside of the practice. The creative and clever

...

practice design (airplane) topped the fun experience off! Thanks MJ, Georgiana and Heloise.

read more

Sean Donohue
22:03 03 Sep 17
Great Team! MJ gives a lot of advice and the treatments are pain free, highly recommended!

Fabrice Allard
17:00 15 May 17
Absolutely great find. Friendly staff and MJ who treated me was professional, reassuring and positively fantastic about what my needs were and what I was looking for. There was no pressure on anything and she spoke in depth about full details on

...

every procedure without any rush in me in making an option. I will definitely be visiting again. Thank you once again!

read more

Samina Mubarak
20:02 06 May 17
I received some high level dental treatment from the amazing Dr MJ and the incredible Kerry last week. I am very critical and selective with regards to who gets to work on my teeth and they were very caring and professional in their work. I only

...

have great things to say about the amazing team at Smileworks and would recommend MJ and her team to my own friends and family!

read more

Shirin Moslehi
21:04 02 May 17
So happy with my braces,can't wait to see my teeth at the end of this exciting journey!! Thankyou MJ and all the guys at Smileworks,the friendliest dentist I've ever been to and would definitely recommend these guys to anyone considering dental

...

work,it's really worth every penny xxx

read more

Nicola Wright
20:26 07 Apr 17
Don't know how many ways I can say "Amazing". Marvelous! Incredible! Fantastic! Fabulous! MJ is a master in her field I would put my life in her capable hands. All the staff are extremely friendly and welcome you with open arms, nothing is too

...

much trouble. What more can I say smileworks you are simply the best!!

read more

Kerrie Victoria
16:20 07 Apr 17
MJ, Yannis and Kerry – in fact, all of the staff at Smileworks – have been amazing; I couldn't rate them enough. I have never been to a dental practice where the staff look genuinely happy to be there – and to see their clients.From my very first

...

appointment, I have always been made to feel comfortable and relaxed – even when I was very nervous for one of my treatments! MJ and Yannis are absolute experts in everything they do – their knowledge, manner and reassurance is exceptional.In my opinion they are the best dental practice around and I'm looking forward to continuing my journey with them.Thank you very much for being so lovely!

read more

Carly Lunt
11:49 05 Apr 17
Recently had braces fitted at Smileworks after shopping around other orthodontists. Couldn't have chosen a better place, MJ and her team are amazing and made me feel confident &a comfortable with the entire process. Would highly recommend them to

...

anyone. Thank you all ☺️☺️

read more

Sam Gibbon
12:07 10 Mar 17
So glad I found smileworks! MJ and Bambi have literally saved my teeth. I had gum problems and was in danger of losing lower front tooth and this was spotted by MJ on a braces consultation. After careful monitoring, amazing treatments, regular check

...

ups and cleans my tooth is saved. I have now been able to have fast braces to fix my gappy teeth, I am so happy now.If you are after professional service, sound advice and a dentist that will go you the extra mile go to these guys. I will literally never go to another dentist.

read more

susan skarratts
09:48 01 Mar 17
What more can i say other then an amazingFantastic environment, friendly welcoming staff and experts in there fieldhad a skin peel and Botox here and the results were wonderful. MJ is superbly professional and makes you feel very comfortable

Gemma Davies
13:57 27 Feb 17
I had dental work and a procedure on my top lip.I was really nervous on my first visit but the staff are truly lovely and put me at ease straight away. I loved the quirkiness of the waiting room- very different from any dentist/doctors waiting room

...

I've been in.The treatment rooms are very clean, love the design and layout.I also loved the patients photo smiles on the wall!! straight away I relaxed and I could feel the friendliness of the staff.MJ really listened to my fears and listened to what I required, she understood completely my views and the treatment I received was given exactly as I requested!!They really want to help you and they're interested in what you have to say - they love their job!!! I've made a follow up visit and will continue to use them. I've also recommended Smileworks to my friends and will continue to do so.

read more

Nicci Richards
20:11 26 Feb 17
I phoned up regarding teeth whitening where the receptionist was very helpful and professional, and booked me in with Shrin Moslehi (22nd Feb 2017 @ 6.30 – Tiger) She was also very professional, helpful friendly and also recommended a sandblast for

...

my teeth. They look amazing. I therefore will be changing my dentist to Smileworks. I have just started my 2 week course of teeth whitening myself, and already my teeth look 7 shades lighter and I feel great about it. MJ Rowland Warmann was extremely friendly, bubbly and put me in a great mood. A big Thanks to the Smileworks Team and I would defiantly recommend all <3Lovely Team Thanks (If I could I would give more stars) :-)

read more

tiger ubhi
22:38 25 Feb 17
First time visiting Smileworks this year and can safely say i will be recommending the practice too everyone. MJ and all of the staff are so welcoming and really put you at ease, the treatment and aftercare are incredible. The enviroment is modern

...

and spotless, can't thank them enough!

read more

Erin Edwards-Rice
00:53 19 Feb 17
Wouldn't go anywhere else for my lips. MJ is the best 💋

Katie Campbell
21:24 21 Dec 16
Very nice people easy going and not too expansive highly recommend thanks Dr.Mj and dkety

Both me and my girlfriend have been coming to smileworks for over 2 years and the level of service and quality is great. Better value for money than anywhere else I know. Would recommend everyone using smileworks for either cosmetic procedures or

...

dental. Thanks to mj and all the team you do a great job.

read more

Michael Noorzadeh
17:07 25 Nov 16
Currently having an ALF treatment and Im amazed! From previous experience with other orthodontist, I've been a little nervous but MJ and her team make you feel welcome, comfortable and definitely know what they're doing 🙂

Natasha Humphreys
02:29 06 Nov 16
I have been coming here from the beging , before the expansion , the new staff , when it was just MJ and Ed . Iv watched this buisness grow to a huge sucess and am not surprised why . I couldnt go any where else . Iam always over the moon with my

...

treatments here . They are more then just a practitioner. They actually care about you and the goals you want to achieve . Well done Smile works team . May you continue to grow and expand . Also Ellie is an asset to the team xx

read more

Kirsten Davis
20:11 04 Nov 16
Genuinely can't recommend this place enough, after years of being unhappy with my teeth I finally decided to look for a brace treatment and couldn't be happier I came here. Every single member of staff is guaranteed to bring a smile to your face and

...

put you at ease with their friendliness and MJ and Bambi (as with everyone else here) couldn't be nicer, more skilled or informative. I started out with a few fillings which I'd been dreading and was so relaxed from such a good job I could have fallen asleep in the chair 😄. Hand on heart can't think of anything at all that could be improved on and think finally making the jump is one of the best decisions I've ever made upto now. Initial consultation was so much more in depth and serious value for money than I'd expected with no pressure at all and the level of organisation with appointments and helpful reminders still never fails to suprise me each time. Mimi even called the next day after the filling to make sure everything was still OK. After just a few visits you feel like you've known everyone for ages, I honestly couldn't be more grateful and really excited for the rest of the treatment now. Thanks everybody! 😊

read more

Justin Bell
20:05 10 Oct 16
Absolutely love my lips! Great place, fab and friendly staff, would highly recommend MJ to everyone

Lesley Gibney
18:32 08 Oct 16
Visited Smile Works Liverpool yesterday and had a really good experience. I was a little bit late but they didnt mind at all, i filled in all the medical documents and was seen right away. Before the procedure was carried out I was asked what I

...

wanted to achieve by having the juvederm lip fillers, and she told me what she thought would look good from looking at my lips beforehand. She firstly numbed my lips with local anasethic, this part was uncomfortable but prior to treatment i was worried about the pain, so i am glad they completely numb the area. Once i couldnt feel the lower part of my face the rest of the procedure was painless and comfortable. Despite not being able to feel my mouth and struggling to talk, she still managed to make me laugh, then giving me all the aftercare advise i needed. Today my lips are a little bruised but the swelling has gone right down, i am very happy with the outcome. Smile works gave me a call to see how they are doing which i thought was great. I would 100% return to this clinic to have follow up treatments in the future. The doctor who performed by treatment was MJ Rowland-Warmann.

read more

Sophie Clark
11:19 29 Sep 16
Fabulous friendly staff and amazing customer service! So happy I got my brace here Mj is amazing! Wouldn't go anywhere else.

Smile works had got to be the best dentist I've been to, I was actually terrified of dentists from bad experiences to the point where I never visited a dentist for over 6 years!! Mj and the team at smile works made me feel so comfortable and

...

treatments have been perfect and gave me so much more confidence already! I'm actually excited to visit the dentist now ! 😂Couldn't recommend more highly !

read more

Megan Melia
09:23 15 Sep 16
Been going for the past 2 years and wouldnt go anywhere else, mj is the best !

Samantha Roe
15:49 10 Jul 16
I can't praise Smileworks enough, lovely friendly staff. MJ was amazing, taking time to explain the procedure and putting me at ease, I'm extremely pleased with the results..many thanks ...Jayne

Jayne Case
16:36 02 Jul 16
I have been going to Smileworks for almost 2 years now. I initially went for a consultation on Fastbraces (on the recommendation of a friend). I was seen by MJ and she was so friendly, made me feel comfortable instantly and explained everything to

...

me in ways I could understand (as I am not the whitest tooth in the mouth... haha...!).I had the brace for around 7 months and I absolutely loved it (I actually miss it now). I thought I would hate wearing it, but MJ and Charlene made it so fun picking different coloured bands, like red & green at Christmas (we even tried to get glitter and glow in the dark ones), that it didn't make me feel self conscious or hide, in fact it became a great talking point, everyone was always asking about my brace! I also thought it would be really painful as I was only wearing it for a short amount of time and my teeth moved a lot but it really didn't!The reason I wanted a brace was because I was getting married and wanted the perfect smile. My teeth were never that terrible, they were just really, really small and a bit wonky and uneven. After the brace was removed, there was a massive difference already! I could not believe I had waited so long to get them done, I wish I would have done it sooner. MJ even made all my teeny, tiny teeth bigger and the same size by using composite - this is something I had never heard of before, but it worked perfectly, and is a great alternative to something more permanent like a veneer!I love everyone at Smileworks so much, they have become my friends and I look forward to every visit! I even made my sister go there (she had a small gap in between teeth and dentists she had been to were quoting loads of money for a tooth implant) and MJ fixed it with composite and it looks perfect!I even dragged my mum there! She has always hated her teeth, but never done nothing about it. She used to be a smoker and had all kinds of caps and fillings, but she was always too nervous and self conscious to go and get anything done. I even had to pay the deposit for her appointment so she wouldn't let me down! She had a consultation with Ioannis, MJ and Kerry and they made her feel so, so comfortable. They explained what her options were and sorted out a treatment plan for her. She has now got her temporary bridge in and its made her a new person! She is always smiling and its completely changed her face (and its not even finished yet!!).They are not just amazing at teeth - I have had some fabulous aesthetic treatments there and they have always made me look exactly how I wanted, as well as making you feel safe and well informed of the procedure options.I couldn't thank everyone at Smileworks enough, MJ, Kerry, Charlene, Ed and all the reception girls! You have changed my life and you are never getting rid of me hahahaha!Love Antonia x

read more

antoniajones1570
10:58 01 Jul 16
Went here yesterday, unsure of what I wanted for a better smile, after my teeth relapsed from a brace 18 years ago. MJ was very professional, and discussed my options, there was no hard sell, just felt like she genuinely wanted the best for me. Am

...

looking forward to my treatment ahead .

read more

Kiri Dickson
11:39 30 Jun 16
I visited Smileworks last year to have fillers put in my lips. It was my first time ever, so i was very nervous and scared of needles. MJ and the Smileworks team made me feel totally comfortable and I had a great experience whilst there! I was very

...

conscious of my lips as they were very thin! I have visited twice now and MJ did an amazing job both times and i have loved my lips ever since! Would highly recommend!

read more

Holly Corstorphine
14:23 10 May 16
Love my lips!! Excellent service! I had so many compliments about looking different but no one guessed what I had done. Will definatley be going back. Thanks MJ

Claire Pearson
20:26 06 May 16
I got my fastbraces at Smileworks MJ is the best dentist around she's is amazing. Her and the team are the happiest friendly people you will meet, they go out of their way to give you the best treatment and service. I was amazed how much they went

...

out of their way to make sure my smile was perfect. Couldn't be happier with my teeth worth looking like ugly Betty for 6 months. MJ also did my lips to match I had 0.5ml to top my pout up I get comments on how amazing they are everywhere I go and they have lasted so well. Won't let anyone else near my mouth now. I recommend them to everybody I speak to you and tell them how amazing they are.

read more

Natalie Gilboy
11:50 05 May 16
I have had my lips done here numerous amounts of times, love them, MJ and Ed are so friendly and put you at ease, highly recommend xxx

Stacie Leigh Bunclark
08:19 05 May 16
Had an accident with my veneers two weeks before going on holiday! With thanks to MJ st smileworks they were fixed so fast and look better than ever! The whole team are so professional and I won't see anyone else now! Definitely recommend 110%!

Rebecca Brannelly
08:18 05 May 16
I have been to smileworks a number of times and I can only describe them as AMAZING. Every appointment I have attended has been very professional but with bait of madness also as MJ and Ed are crazy but fab at everything they do. Would only

...

recommend them for any cosmetic or dental procedure xxx

read more

Rebecca Gallagher
21:02 04 May 16
I am very happy with all the treatments (which have been many) that I received at Smileworks . MJ is a very talented practitioner and the whole team is outstanding. Book with confidence!

Recently had my lips done , very happy with the outcome. Service was lovely and will always recommend MJ. Will definetely be going back soon!

Adele Nelson
16:26 04 May 16
My experience at smileworks was a great one, from phoning nervously up to ask how much things cost and directions to it... I was made to feel at ease n not silly for asking questions. I then proceed to book an appointment for a consultation which

...

you have to have, which I feel is a sign of a good place... I. Went along to my consultation n was greeted by a friendly receptionist, who offered me refreshments.. While waiting... I was then greeted by mj who was giving me my consultation n who would preform my lip enhancement.she explained clearly what the procedure would be and the good and bad things... I asked questions n received answers that I was happy with... So I then said yes I would like the derma 4 put into my lips 💋 to enhance them.i was booked an appointment for week later had the procedure it was comfortable and painless as it could be.. Lips were swollen as I was told would be.. After few days I was very happy with my results.. Smiles all-round 😀.mj invites you back a week later to make sure your fully happy with results and so if you have any questions or problems she will try to resolve them..but I was 100% happy with results and my experience there. Thanks smileworks and staff. X sue

read more

sue harmon
15:12 04 May 16
Fantastic Service,I have been going to Smile Works for the last 6 months and the service is amazing. MJ & Bambi are extremely professional and provide great customer service. In addition to customer service is the price and opening time. Its a

...

great place and I am very pleased I made the move.S

read more

Shaun Parnell
14:17 04 May 16
Visited smile works for a consultation, MJ was really nice and explained treatment very well, I was pleased with the explanation she gave me

Joanne Reeves-jones
14:01 04 May 16
Just simply amazing!!! Everything about smile works is top class. I simply wouldn't go anywhere else. MJ is fantastic made me feel so comfortable and relaxed, she is so knowledgeable and explains everything! The results speak for themselves of how

...

amazing she really is. Thank you smile works u made me feel a million dollars

read more

Kate Boylan
13:51 04 May 16
The team at smileworks are absolutely amazing! Extremely professional, happy and enthusiastic! I've had a diastema (gap in my front teeth) for 30 years and hated it but never had the £5000 spare to get braces, one appointment with MJ at smileworks

...

and the amazing team can fill my gap with a product called composite and whiten my teeth for Less than £500! I will now happily set a date for our wedding knowing that I've got a lovely set of gapless pearly whites for the photos!!!! Amazing service!

read more

Claire Magee
09:19 03 May 16
Absolutely amazing I wouldn't go anywhere else! I go to the fabulous MJ for lip fillers and I also had a non surgical nose job last year which has completely boosted my confidence!So happy with my results and the staff are so friendly they

...

completely put you at ease.Thankyou smileworks xx

read more

Charlotte Aldridge
16:18 28 Apr 16
Couldn't speak more highly of the team at Smileworks. I'd never had any cosmetic procedures before and was hugely apprehensive of the treatment - I did tons of research before and am so glad I made the decision to go with Smileworks. Beyond just the

...

amazing treatment, professionalism and overall next level of care they provide, the procedure (non-surgical nose job) made me not only feel better in myself, but gave me the confidence to pursue a new career (I previously been very self - conscious about my nose and this held me back). After years of considering rhinoplasty, within 30minutes MJ completely changed the way my nose looked! She also made me feel totally at ease throughout and I left feeling really amazing! You can really tell the team genuinely care about each of their patients and the after-care is great (even a phone call to wish you a happy birthday!) I wouldn't go anywhere else and I love the warm welcome, atmosphere and great results every time I visit. If you're considering any treatments, I would highly recommend Smileworks. X

read more

Sarah Eliza Matwiejew (sarahxposed)
12:17 28 Apr 16
I've tried Botox from numerous different locations in the city and found that none of them are as good as Smileworks (MJ). Absolutely fantastic results first time around, I would highly recommend Smileworks to anyone wanting Botox, excellent service

...

and amazing results.

read more

Joanne Whittingham
22:41 27 Apr 16
MJ is the best in Liverpool. The best of the best. I wouldn't trust anybody else with my face, a perfectionist and rightly so, had so many compliments and recommended her work to so many people

So happy with my experience at Smileworks! I was a little nervous about my treatment at first but Dr MJ made me feel really at ease. I cannot recommend the place enough. Excellent service from pre to post treatment!

Jayde Font
21:58 27 Apr 16
For 23 years I've suffered with small and thin lips. I've watched celebrities like Beyoncé and models like Campbell be graced with amazing, plumped lips. I decided that I wasn't going to let these bad ass MO FO's get all the lime light. I researched

...

for about 7/8 weeks consecutively, looking for the natural looking at not so dramatic fake lip, as for a guy you could imagine this was not easy. About 3 weeks ago I discovered Smileworks. After reading the reviews and having seen my colleagues lips in person I knew that this was the place to be. The staff are extra extra friendly and you always feel like you're special. The practitioner herself, MJ is phenomenal and works her magic wand to give you the best outcome for your face! The best part of the experience was the airline theme! I would highly recomend Smileworks. My lips are amazing!

read more

Callum Llewellyn
21:33 27 Apr 16
Recommend Smileworks to all!, Have had my juverderm lips done here a few times now and would never go anywere else, MJ just never fails!!!, all the staff are always so friendly and attentive to and i just cant wait for my next trip here 🙂 xxx

Steph Bennett
21:20 27 Apr 16
Excellent service provided by MJ and the team from the moment I arrived. I felt confident due to the high level of knowledge and professionalism I was provided with. Fabulous results, couldn't be happier! Will be visiting again.

Jennifer Clarke
21:15 27 Apr 16
Had my lips done 8 months ago and they are still perfect and plump, also done with amazing service. Always recommending MJ for the perfect lips!

ASHLEY MCEGAN
20:47 27 Apr 16
After a life time of working extremely hard and bringing my family up I decided it was time I did something just for me. That something was to give my face and smile a more youthful look but more importantly it had to look as natural as

...

possible.MJ has achieved that for me and I am absolutely delighted with my treatment!!If you are as anxious and nervous as I initially was I can assure you MJ and her team will make you feel totally relaxed and welcome as soon as you walk through the door.You have nothing to loose and everything to gain!!!

read more

Denise Evans
20:38 27 Apr 16
Had a non-surgical rhinoplasty with Smileworks recently and I am absolutely thrilled with the results!! MJ was great and gave a really thorough explanation of the procedure in my consultation, as well as doing an amazing job. Lovely, friendly staff

...

here - definitely recommend!

read more

Sian Bradshaw
19:40 27 Apr 16
I put my complete trust in Smileworks and MJ. I wouldn't trust anyone else. I took my mum tonight and MJ could have took my money and ran. She said she didnt think she would benefit for it and would just be a waste of money. So as well as being a

...

wizard at her craft she's honourable. Welcome by reception as an old friend. Highly recommended

read more

Pauline Ennis
19:37 19 Feb 16
All the staff at Smileworks are very pleasant and helpful. MJ is great at what she does. I would highly recommend.

Joanna McClelland
16:06 19 Feb 16
Love visiting Smileworks, staff are always very welcoming. MJ is the best at what she does, very highly recommended.

Lucy Winstanley
17:15 31 Jan 16
I would like to thanks MJ and all her team for looking after my smile who took the time to give a good clean, treat the pre decay and assess all my teeth with the Xrays. Special thanks as well to Dr Yanis for replacing my front dead tooth with a

...

brand new implant. I have regained my confidence to smile just on time for the Christmas and New Years.I really love the sleek airport like check in of the surgery with the welcoming receptionists.

read more

Nigel Chatwin
23:09 28 Dec 15
The nose is a high risk injection site and many complications and risks are present. To learn more about treating complications or how you can get help if you've had a bad outcome, follow the link here and learn what to do with nose fillers gone wrong.