Nose Reshaping in Liverpool
The non surgical nose job (or rhinoplasty) is one of the most sought-after procedures here at Smileworks.  Patients visit our Liverpool practice from all over the UK to see our master aesthetician, Dr Rowland-Warmann in search of the perfect nose.  

10 July 2018
I don't know what to say MJ you are a miracle worker. My non surgical nose job (Sounds drastic but wasn't) is amazing. I have always hated my nose. But there are some parts of it that are 'me'. I left MJ to it after researching thoroughly I knew she was THE lady for the job. I love It!

Thank you so so much. xxxx

– Sarah Peerless
Our patients say this procedure has literally changed their lives bringing them happiness, confidence and success. So if you're looking for a non surgical nose job in Liverpool then you've come to the right place.  
Non-surgical nose jobs are carried out with dermal fillers.  If you're looking instead for treatment for volume loss or anti-ageing filler treatments then see our main dermal fillers page.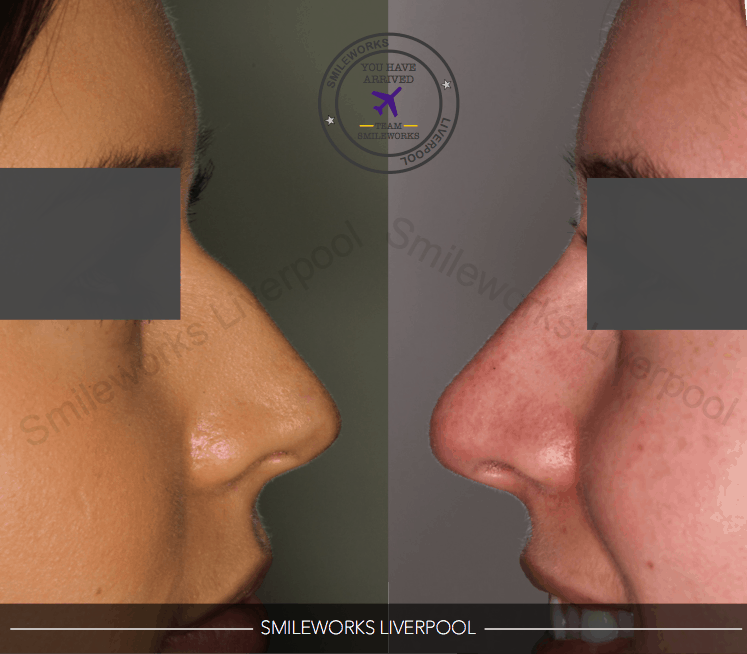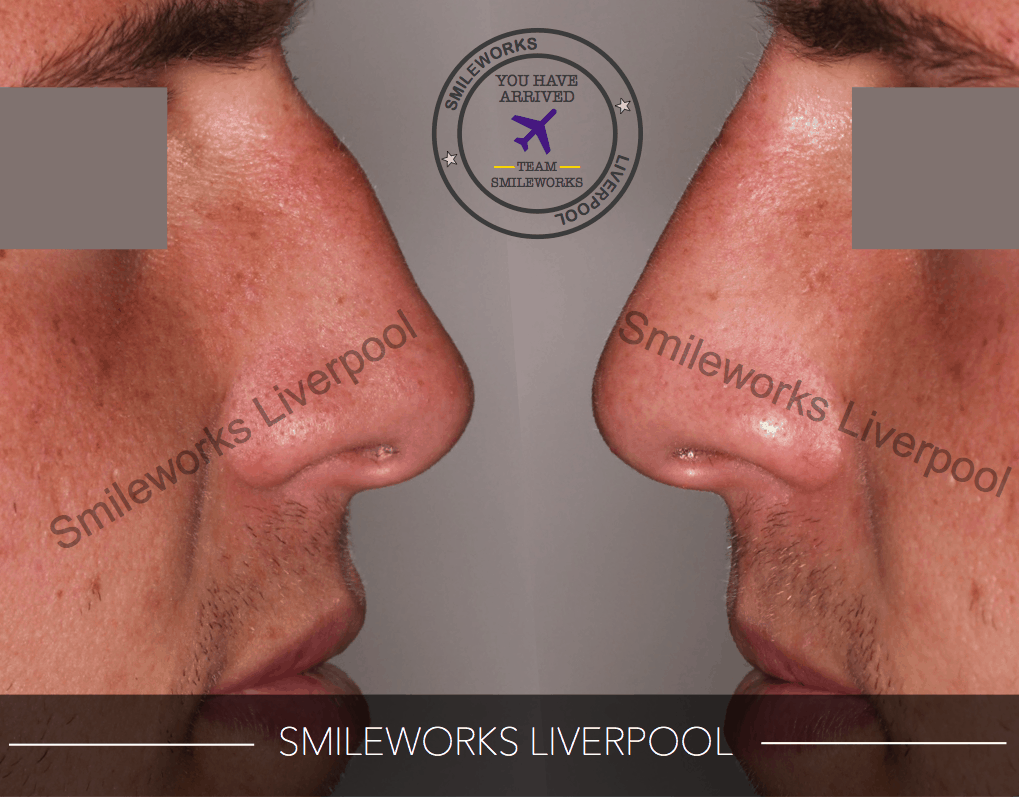 Here is a perfect example of Dr Rowand-Warmann's expertise and technique creating a perfect result for this patient who previously had broken his nose and was unhappy with the shape. Dr Rowland-Warmann is a master of this treatment having undertaken the MSc Aesthetic Medicine (with distinction) fro the Queen Mary University of London, in 2016. 
She has been asked to write for Aesthetics Magazine on this complex procedure and has also advised the Daily mail.  The nose is the focal point of the face and women in particular rank it as one of their most disliked features.  Women will typically complain of lumps, bumps, asymmetry or the crooked appearance of their nose whereas men typically dislike its size and shape. 
Many do not know that simple fillers can correct a multitude of aesthetic issues making this one of our most popular treatments.  Click on the video to see MJ in action or scroll down for more before and afters of both men and women.  
Not loving your nose can have a detrimental effect on your confidence and here at Smileworks we love treating the nose because patients say treatment literally changes their lives for the better and brings them confidence they've never had before.  Until recently there was no alternative to surgical rhinoplasty which is an invasive and risky procedure that involves breaking the nose with a surgical implement similar to a chisel.    
The non surgical nose job uses Hyaluronic Acid fillers injected safely into the nose to reshape, contour, rebalance and correct it's aesthetic appearance.  Nose fillers are a revelation in medical aesthetics because it's a fast, non-invasive, considerably safer and much, much cheaper alternative to surgery.  In recent years the British Association of Aesthetic Plastic surgeons has reported a significant decline in the number of surgical nose jobs and this is likely down to the rise of injectable nose reshaping that can achieve truly breathtaking results.  
I had a couple of 'tweakments' with Dr MJ, and she is simply brilliant at what she does- average is not in her vocabulary! She can make beautifully subtle but not TOO subtle transformations with her meticulous needlework- (and /or cannula!).Whilst some injectors may rely on marketing gimmicks and follow generic insta-fads- this is NOT the case at Smileworks- Dr MJ will give you the most balanced and beautiful version of your own face.Super happy 🙂
Went in for a deep clean with Zoe and Savannah, was made to feel very welcome as always. They also packed a dry socket from my wisdom tooth extraction for me- I was expecting Hell on Earth but they did everything with only minimum discomfort, can't recommend enough 🙂
The nose is a high risk injection site and many complications and risks are present. To learn more about treating complications or how you can get help if you've had a bad outcome, follow the link here and learn what to do with nose fillers gone wrong.