Nose Reshaping in Liverpool
The non surgical nose job (or rhinoplasty) is one of the most sought-after procedures here at Smileworks. Patients visit our Liverpool practice from all over the UK to see our master aesthetician, Dr Rowland-Warmann in search of the perfect nose.

10 July 2018
I don't know what to say MJ you are a miracle worker. My non surgical nose job (Sounds drastic but wasn't) is amazing. I have always hated my nose. But there are some parts of it that are 'me'. I left MJ to it after researching thoroughly I knew she was THE lady for the job. I love It!

Thank you so so much. xxxx

– Sarah Peerless
Our patients say this procedure has literally changed their lives bringing them happiness, confidence and success. So if you're looking for a non surgical nose job in Liverpool then you've come to the right place.
Nose filler is risky and complications can be serious. To keep you safe Smileworks use ultrasound guided injection techniques with every patient. This is included in the fee.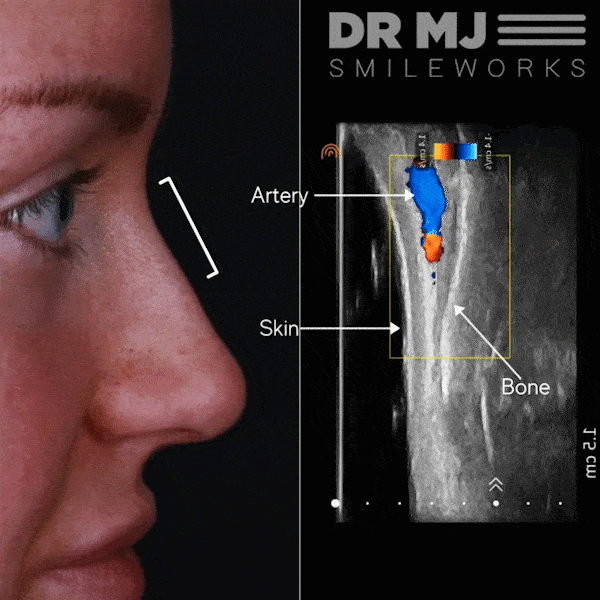 Non-surgical nose jobs are carried out with dermal fillers. If you're looking instead for treatment for volume loss or anti-ageing filler treatments then see our main dermal fillers page.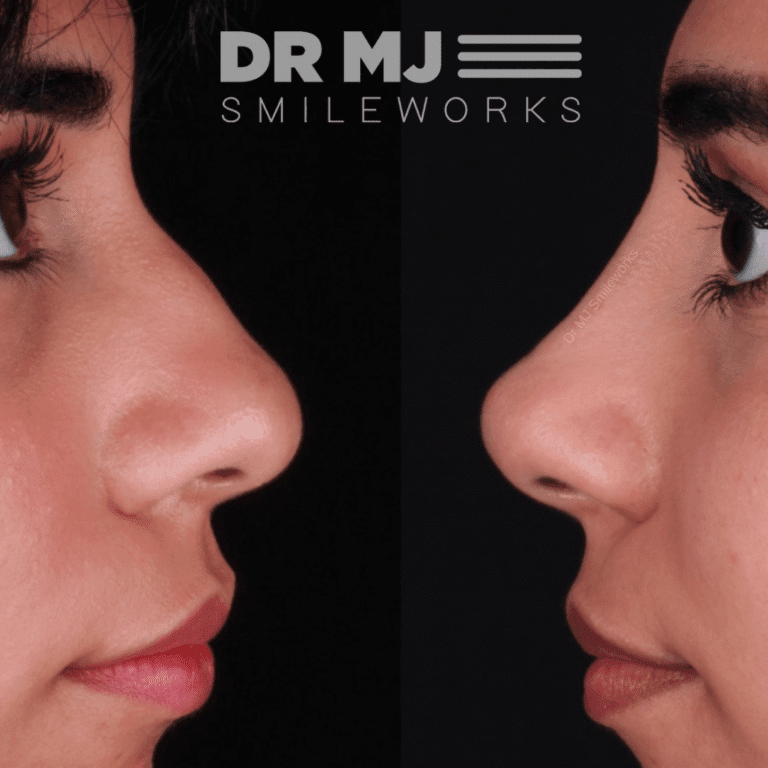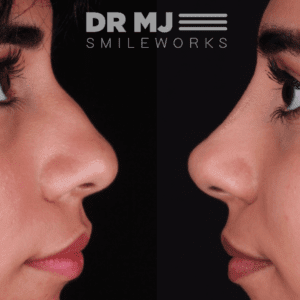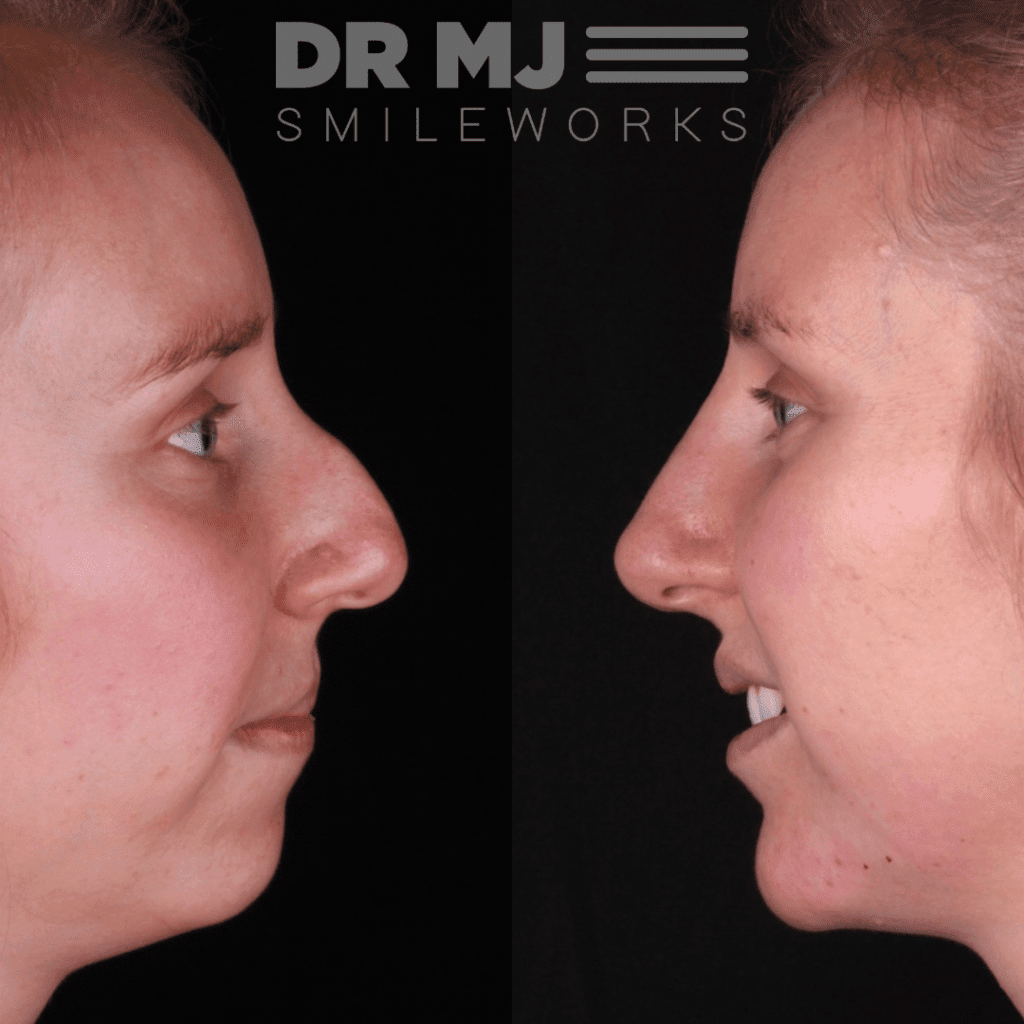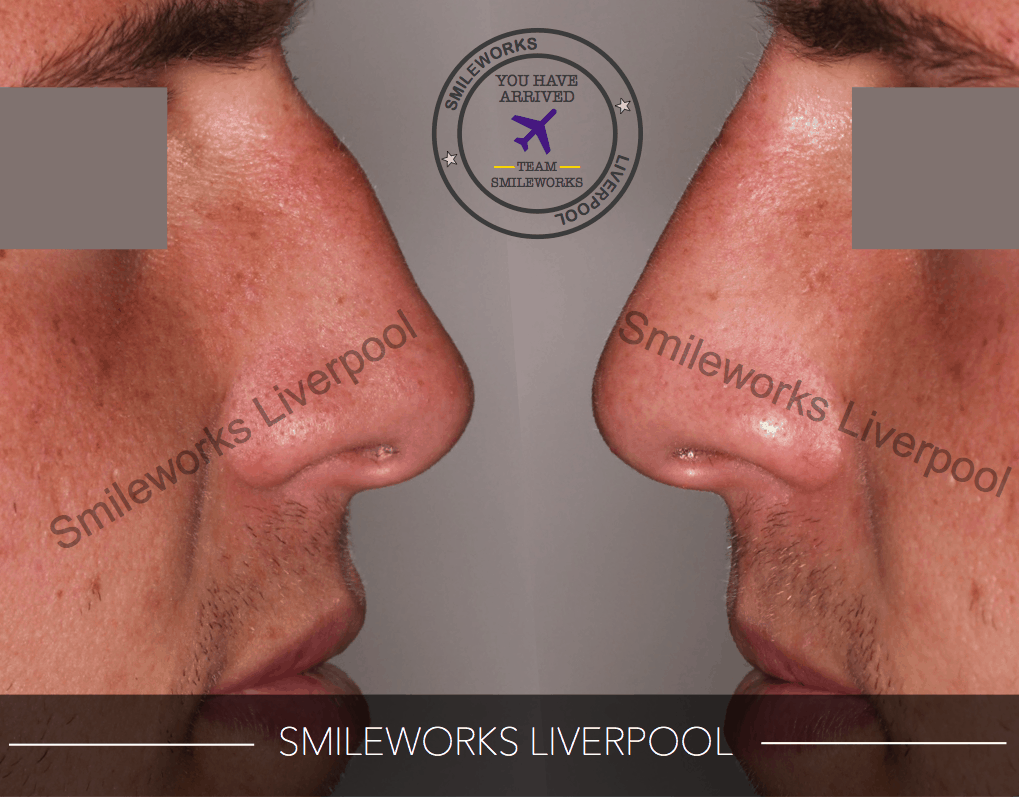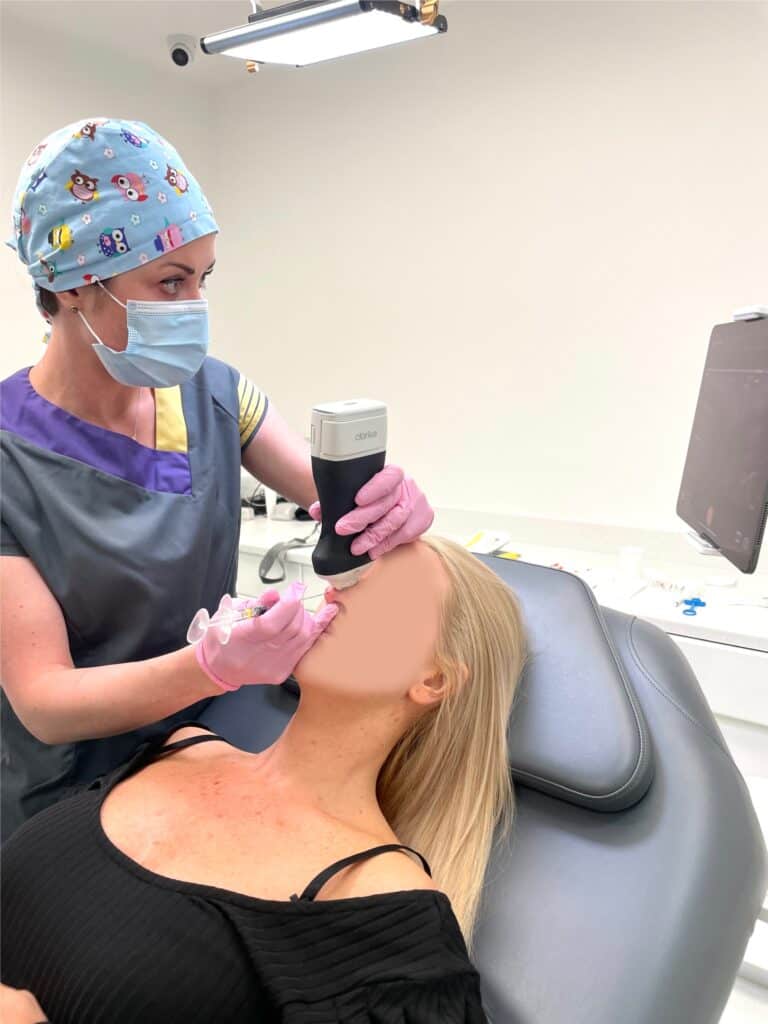 Dr Rowland-Warmann is a master of this treatment having undertaken the MSc Aesthetic Medicine (with distinction) fro the Queen Mary University of London, in 2016. She uses ultrasound guided injecting for added safety so that complications can be avoided.
She has been asked to write for Aesthetics Magazine on this complex procedure and has also advised the Daily mail. The nose is the focal point of the face and women in particular rank it as one of their most disliked features. Women will typically complain of lumps, bumps, asymmetry or the crooked appearance of their nose whereas men typically dislike its size and shape.
Many do not know that simple fillers can correct a multitude of aesthetic issues making this one of our most popular treatments. Click on the video to see MJ in action or scroll down for more before and afters of both men and women.
Not loving your nose can have a detrimental effect on your confidence and here at Smileworks we love treating the nose because patients say treatment literally changes their lives for the better and brings them confidence they've never had before. Until recently there was no alternative to surgical rhinoplasty which is an invasive and risky procedure that involves breaking the nose with a surgical implement similar to a chisel.
The non surgical nose job uses Hyaluronic Acid fillers injected safely into the nose to reshape, contour, rebalance and correct its aesthetic appearance. Nose fillers are a revelation in medical aesthetics because it's a fast, non-invasive, considerably safer and much, much cheaper alternative to surgery. In recent years the British Association of Aesthetic Plastic surgeons has reported a significant decline in the number of surgical nose jobs and this is likely down to the rise of injectable nose reshaping that can achieve truly breathtaking results.
Dr MJ has an average 4.5 out of 5.0 stars based on 112 reviews from Google, Trustpilot and Facebook. Here are some of our favourites.
[
I went to see Dr MJ for non surgical rhinoplasty ahead of my wedding, I had been insecure about my nose for a long time, always conscious of what angle I had photos taken at, so I didn't want to worry about how my wedding photos would turn out! Dr

...

MJ was brilliant from the start, she made me feel at ease even though I was really nervous, not having had any aesthetic procedures before. The result was noticeable immediately, my nose is much straighter and the bumps have been evened out, I couldn't believe it! All the staff at smileworks were lovely and I wouldn't hesitate to recommend them, thank you so much!

read more

Alison Jones
15:00 29 Jul 22
Firstly I would like to thank the lovely Dr MJ, I absolutely love my nose💗 I can't stop looking in the mirror!MJ is incredible!! You can tell she loves what she does. You feel so comfortable and you are definitely in safe hands! I would

...

highly recommend Smileworks. ☺️Lucy and Rhianne were also very friendly and welcoming. They made everything nice and easy for me when I came in for my appointment.Thank you all again and see you soon🥰 x

read more

Ella Hamilton
13:14 15 Jun 22
Oh my god 🤩 where do I start?! I was insecure about my nose for some time now but not in a level that I would ever consider surgery so I decided to try nose fillers . I researched a LOT! Please keep in mind that I've never done anything to

...

my face before. I made the decision to go to Smile Works because of the reviews and the photos I've seen. Boy did I make the right choice! I had my initial consultation with Dr. MJ and I left so sure that I am in safe hands. She was honest about what we can and we cannot do. The day of my appointment I was so nervous. Dr. MJ made me feel so comfortable and relaxed. Results were amazing! She is an absolute miracle worker but even more than that, she was listening to me, explaining every single bit and talking to me like friend and not like someone who is saying the same tape with everyone just to get paid and call it a night! She was making sure that I am not in pain and that she is gonna be there for me if I need her even after my appointment. She genuinely wants to make people happier!

read more

Stefania-Dimitra Kelesidou
19:38 08 May 22
I went to Dr MJ for non surgical rhinoplasty, this was my first ever aesthetics appointment & Dr MJ made me feel so safe & at ease. I will continue to return to Dr MJ for my treatment as she not only makes me feel 100% safe in her practice but she

...

is also a very nice person and a joy to visit. I would never consider going to anybody else for my treatment after meeting MJ.

read more

I write this review as a fellow dentist and aesthetic practitioner, and I cannot be happier with my choice to trust MJ with my face. She is everything anyone could want from a confident and excellently skilled injector. I was given a thorough

...

assessment, a separate treatment appointment and a follow up appointment to review the treatment outcome. MJ is a conscientious practitioner, incredibly smart yet humble, and an absolute pleasure to be treated by. I respect her highly and would have no hesitation recommending her and the fabulous clinic (with lovely staff and colleagues) she has set up. MJ is truly a credit to her profession and community.

read more

5 stars is not enough for Smileworks it should be more ! I would even rate 10 starsFantastic staff , lovely and friendly. Reception did ring me day after my treatment to ask me how I feel - they look after their patients like mother look after a

...

child:-) ❤️❤️❤️❤️I always wanted to get rid of "gummy smile" but I was so scared... but dr MJ did it so well to explain everything before the treatment and she is my star the best in the world !!!!! I am so happy 😁 I can smile and use my favourite lipstick because my smile looks amazing !!!! xA few weeks ago I also went for the emergency appointment to dr Brian and he is also amazing! no pain, no stress - his knowledge is amazing.

read more

If you're like me, and have spent a long time researching who to go to for fillers - let me save you the hassle…go straight to Smileworks!The service here is next to none, all of the staff are so relaxed and friendly and kept me feeling at ease

...

being a first-timer to any aesthetics work. I was quite nervous about the actual procedures, but I felt very reassured throughout. I am so happy with the results! Thanks to Dr MJ, I now have the confidence to walk down the aisle at my Wedding this summer. Thank you to Mia on reception too, who gave me the most wonderful welcome on a very dull and drizzly weekday.If I could give 6 stars I would. Thank you again!

read more

MESHA MCMANAMAN
10:53 08 Mar 22
Dr MJ is the best. I honestly can't recommend her enough. I would never go anywhere else now.

Sarah Selgjekaj
17:54 04 Mar 22
The best practice for dental and aesthetics treatment. I have had treatment from Emma, Zoe, Rebecca, Paula, Aniesa, Ewa, Clare and MJ. They are Phenomenal! Lucy from reception is super helpful xx

I can't recommend dr MJ and the smile works team enough. They're extremely professional and provide the kind of patient centered care that one would expect. Dr MJ explained the process of how lip filler works and we discussed the desired look I

...

would want to achieve. I'm so glad I came across smile works because I wouldn't trust anyone else for facial aesthetic procedures. It's a 5 star rating from me thank you Dr MJ for making me feel comfortable and safe in your hands ! 💓💓💓

read more

brianna cerisola
10:28 15 Jan 22
Dr MJ is a genius, genuinely! Second time having lip filler and although I was a bit anxious, the fact she uses ultrasound to check where blood vessels are really put my mind at ease. And the result is even better than I'd imagined - a really

...

natural enhancement. First time round I brought some images of what I like, and this time I didn't need to - MJ knows exactly what will suit your face without looking 'done'. I wouldn't go anywhere else now for treatments, you're in the best hands here!

read more

I registered as a model for Smileworks and received Botox and filler treatments. The process was super easy and procedure was faultless. Dr MJ was on hand the whole time with the delegates. I would definitely volunteer again.

Blazenka` Kovacevic
18:03 30 Dec 21
The nose is a high risk injection site and many complications and risks are present. To learn more about treating complications or how you can get help if you've had a bad outcome, follow the link here and learn what to do with nose fillers gone wrong.