We promise breathtaking results by responsible practitioners.
Lip filler is rocketing in popularity here in Liverpool as the best way to guarantee your confidence and beauty in 2023.  You'll be literally obsessed when you see the sensational results here at Smileworks.   Patients rave about our lip augmentations and the precision and breathtaking artistry of Dr MJ is quite remarkable.  Watch this one minute video to see what treatment at Smileworks is like:
To see why you should trust MJ with your precious face, take a look at her bio in the prestigious Aesthetics Journal or see her magazine and press coverage. Dr MJ is also a medical aesthetics trainer for Sinclair Pharmaceuticals where she teaches doctors, nurses and dentists to inject.  She is also pioneer where safety in the industry is concerned, working with Save Face and appearing in the national news and in medical publications.  You absolutely could not be in safer hands.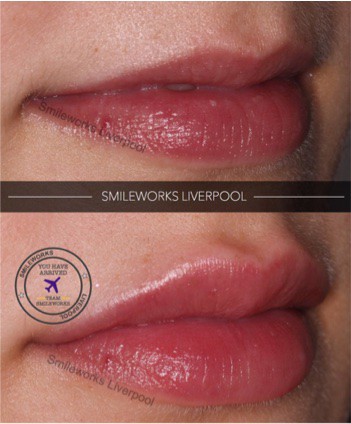 But it's not just a steady hand, decade of experience and encyclopaedic knowledge of facial anatomy and that sets MJ apart.  It's that she fully understands that treatment is about getting it right for you.  It's not about Instagram or Kylie Jenner but what you want and how the treatment can make you feel. That's difference maker. And that's the reason we're Liverpool's most popular.
Expect dramatic improvements in shape, definition and volume without looking 'done' or 'like a duck'. It's quick, minimally invasive and doesn't hurt because Dr MJ (a cosmetic dentist) uses dental strength numbing techniques so you literally won't feel any sensation duration treatment.
For a practitioner like MJ, lip shaping is more art than science.  She uses genuine Juvederm products and has perfected her art to create the most beautiful results you'll ever see.
Patients also love:
Volumising dermal fillers
Botox to lower the smile or define perioral region (Lip Flip)
Semi permanent lip blush to create a naturally beautiful look.
Composite bonding if your smile needs a little touch-up.