Here at Smileworks we believe that everybody has the right to feel beautiful when they smile.  Whether you're in the office or on the beach, your smile says everything about who you are.  But for many people, you can't enjoy life to the full because you hate your teeth.
Crooked teeth can affect the way you feel about yourself, and many of our Liverpool braces patients say they don't smile on photos, hide their teeth and constantly fee self conscious.  It's time to stop worrying and start thinking about getting braces today.  Watch our video to see what it's like to get braces at Smileworks:
Your talented Smileworks dentists and orthodontists have the technology to straighten teeth more discreetly than ever before.  We can do it in half the time giving you more choice about how to get the results you deserve here in Liverpool.  You may ask, 'how much are braces?' and the answers are below in our section on braces prices.
Remember all our braces all come with free retainers and free whitening so you'll feel like you've had a smile makeover with your new straight, white teeth.  Here at Smileworks Liverpool our patients say they "love everyone at Smileworks so much" and that we've "become friends." So come to the dental practice where you'll "look forward to every visit" and "never want to leave" by booking your braces assessment below.
Here at Smileworks we understand how fixing your smile can often mean fixing your entire life.  And we also understand that more smiles means more perfect days and more happiness.  So make an appointment with one of our dentists today and start living the life you imagined.  It's time to start believing in the beauty of your dreams.  It's time to start Smiling.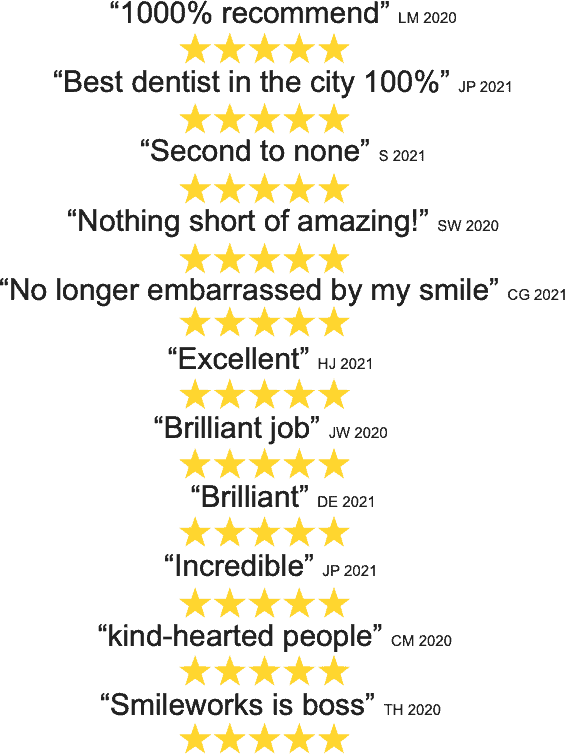 Dr Eduardo Banito's braces treatments have an average aggregate rating of 4.9 out of 5.0 based on 161 reviews from Google, Trustpilot and Facebook.  Here are some of our favourites.   
Very good service from faye and eduardo and very kind

ethan brabin
19:25 22 Nov 23
Incredible service! I've just started my braces treatment with Eduardo and Faye as my dentists team. They have always been so nice to me and very professional! Eduardo also speaks my first language and explained everything to me in my first... language. Great costumer service. I would completely reccommend!read more

Highly recommend going to Smileworks for dental treatment. All the staff are so lovely and helpful. Had braces fitted by Dr Eduardo and Martin and both were amazing and made me feel safe and comfortable throughout. Dr Eduardo is great and so... knowledgable. He takes time to explain everything and is non judgemental and genuinely cares. Big thanks for making going to the dentist not scary anymore ☺️read more

Maddie Barton
21:17 10 Nov 23
I got braces with Smileworks and every time I go in it's a great experience. I have been under the care of Eduardo and Martyn. They are both very professional and were making sure that I had the smoothest experience. Overall couldn't recommend... highly enough.read more

david jung
21:38 22 Oct 23
I got braces with Smileworks at the start of the year and every time I go in it's a great experience. Lucy on reception is always super helpful. Eduardo has been doing treatment and he's amazing to deal with, very professional but also has the... personal touch where we can talk about some surfing.Overall couldn't recommend highly enough.read more

Karl Schön
14:04 06 Oct 23
I Had fixed braces with Dr Ismail who is incredibly skilled at what he does. I always felt like I was in the best hands when going to my routine appointments, Thank you

I had a very positive experience getting my braces done at Smileworks. Dr Eduardo was very informative with every procedure. Would highly recommend 🙂

Yiyi Whitchelo
10:23 25 Sep 23
I have just had my braces removed and I am so happy with the results!! Eduardo is an amazing orthodontist and he has looked after me all the way through my brace journey. He is really friendly and puts you at ease. Eduardo has always answered any... questions I've had, taking the time to explain things to me as well (he was so good at explaining all the options to me at the beginning of my treatment). I live in Preston and did quite a bit of research before choosing where to get my braces. I wouldn't hesitate to recommend this clinic. All the staff are so lovely and welcoming and I will continue to use this practice for all my dental needs from now on 🙂read more

Gemma Halse
15:07 18 Sep 23
Been a patient at Smileworks for around a year now working towards starting Invisalign, and every appointment has been fantastic. Friendly staff and always feel like I am in safe hands.Finally had my alingers fitted today with Eduardo and Helen... who were so kind, patient, and professional. I strongly reccomend them to anyone looking to start their braces journey aswell :). Thank you!read more

Sami Briggs
17:54 28 Jul 23
Yo guys i thought eduardo and faye was a one off but Kayleigh and shay was something else. 5 start treatment, 5 star teeth and ofcourse its a 5 star review.

the t man t
18:15 27 Jul 23
‹
›