Here at Smileworks we believe that everybody has the right to feel beautiful when they smile. Whether you're in the office or on the beach, your smile says everything about who you are. But for many people, you can't enjoy life to the full because you hate your teeth.
Crooked teeth can affect the way you feel about yourself, and many of our Liverpool braces patients say they don't smile on photos, hide their teeth and constantly fee self conscious. It's time to stop worrying and start thinking about getting braces today. Watch our video to see what it's like to get braces at Smileworks:
Your talented Smileworks dentists and orthodontists have the technology to straighten teeth more discreetly than ever before. We can even straighten teeth in half the time of some braces giving you more choice about how to get your teeth straightened here in Liverpool.
You may ask, 'how much are braces?' and the answers are below in our section on braces prices. Remember all our braces all come with free retainers and free whitening so you'll feel like you've had a smile makeover with your new straight, white teeth. Here at Smileworks Liverpool our braces patients say they "love everyone at Smileworks so much" and that we've "become friends." So come to the dental practice where you'll "look forward to every visit" and "never want to leave" by booking your braces assessment below.
Here at Smileworks we understand how fixing your smile can often mean fixing your entire life. And we also understand that more smiles means more perfect days and more happiness. So make an appointment with one of our braces dentists today and start living the life you imagined. It's time to start believing in the beauty of your dreams. It's time to start Smiling.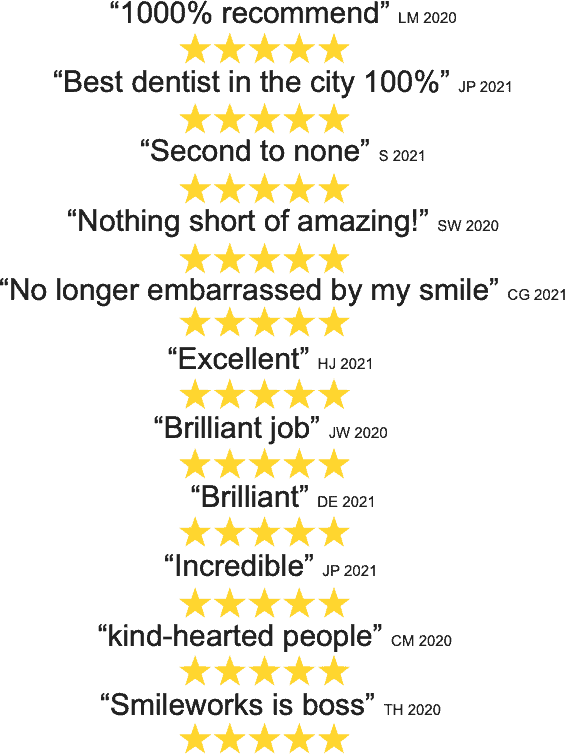 Dr MJ Rowland-Warmann and Dr Eduardo Banito's braces treatments have an average aggregate rating of 4.9 out of 5.0 based on 161 reviews from Google, Trustpilot and Facebook. Here are some of our favourites.
I would like to thank Eduardo, Delia, and Lucy for making my experience of getting braces and extractions comfortable and very easy. I was nervous at first but they were great at reassuring me and explaining the process which helped a lot.I would

...

definitely recommend Smileworks for anyone looking for any dental work in the future.Thank you guys! 💙

read more

Sydney Beard
13:30 27 May 22
That was a pleasure to spent some time in the Smileworks today. Thank you Dr Eduardo and Milena for such a nice time and good job you have done to me. I've got new braces 🤩 The staff is always smiling and friendly. I highly recommend the

...

place.

read more

I've just had my braces fitted by Eduardo and Savannah and can't recommend them enough. They made the process much easier than the last time I had braces and made sure I knew everything I needed to before I left. Definitely a great choice if you're

...

looking to get braces yourself, I think it all was just about as quick and painless as it can be.

read more

Michael Lyons
17:38 11 May 22
I'm about halfway through my treatment, Eduardo is still on with my fixed braces. I have them checked every 6-8 weeks. He says the progress is good. So i hope by the winter I will be able to have my front teeth capped and veneered and my new

...

implant done, and that my smile will be great. Eduardo is very nice, puts me at ease, and I have faith in him. He suggested my going to see Zowie the hygienist - shes also nice, to have my teeth cleaned because of staining, and that can't come round a day too soon!

read more

Pauline Lea
07:59 29 Apr 22
Dentist dodgers, these guys have you covered! Eduardo and Ashleigh put me at complete ease with my braces fitting and the process went so smoothly. My hygiene appointments with Emma and Zoe were brilliantly done as well. Professional, insightful and

...

personable all-round. I wouldn't hesitate to recommend! Looking forward to the end result 🙂

read more

I had my braces fitted on Thursday by Dr Eduardo, I am very pleased with them. Can highly recommend very professional from start to finish. Andrea was lovely and help Dr Eduardo with the process. I left felling well informed on aftercare treatment.

...

Excellent service

read more

Dawn Harrison
09:56 25 Apr 22
I found smileworks online and emailed the practise and initially wanted composite veneers, I was advised based on the photos I had sent of my teeth that braces would be the best option for my case, Eduardo was the orthodontist I dealt with and he

...

has done a fantastic job and greatly surpassed even my high expectations! I then dealt with Rebecca regards dental hygiene appointments and composite edge bonding on my 2 front teeth and she also advised further Teeth whitening treatments as I wanted a whiter smile, the work and advice she gave for my case was also exceptional! Every dealing with all members of the smileworks team have been extremely polite, professional and welcoming. I wouldn't go anywhere else for my dental treatment, they have all done an amazing job and I couldn't be happier with my new smile.

read more

Louis Claybrook
09:52 21 Apr 22
Rebecca and Nikola are awesome! First time I've ever had braces and I was so nervous but they made me feel completely at ease, were very quick and thorough and it was completely painless. I'm so happy with the braces too you can hardly notice them!

...

Thanks so much girls!

read more

Natasha Taliadoros
16:18 08 Apr 22
Had braces for just over a year with Smileworks, fitted and attended to by Eduardo and his team. He was very thorough and considered, and the result is just about as perfect as I could have asked for with the teeth all moving perfectly to be plan.

...

Very happy and highly recommended.

read more

Can Ibrahim
19:15 27 Mar 22
I recently had my treatment for braces completed. I was told it would take 6 to 9 months and I'm happy to say it only took 7months. More importantly, I could not be happier with the results! The staff have been super accommodating and I would like

...

to give a special thanks to Dr Eduardo who made the whole process fly by. He was always reassuring and transparent with the process which made me feel comfortable throughout the entire journey. No regrets at all and definitely has put a smile on my face that I'm proud of.

read more

Jack Cheung
17:53 08 Mar 22