Here at Smileworks we believe that everybody has the right to feel beautiful when they smile. Whether you're in the office or on the beach, your smile says everything about who you are. But for many people, you can't enjoy life to the full because you hate your teeth.
Crooked teeth can affect the way you feel about yourself, and many of our Liverpool braces patients say they don't smile on photos, hide their teeth and constantly fee self conscious. It's time to stop worrying and start thinking about getting braces today. Watch our video to see what it's like to get braces at Smileworks:
Your talented Smileworks dentists and orthodontists have the technology to straighten teeth more discreetly than ever before. We can even straighten teeth in half the time of some braces giving you more choice about how to get your teeth straightened here in Liverpool.
You may ask, 'how much are braces?' and the answers are below in our section on braces prices. Remember all our braces all come with free retainers and free whitening so you'll feel like you've had a smile makeover with your new straight, white teeth. Here at Smileworks Liverpool our braces patients say they "love everyone at Smileworks so much" and that we've "become friends." So come to the dental practice where you'll "look forward to every visit" and "never want to leave" by booking your braces assessment below.
Here at Smileworks we understand how fixing your smile can often mean fixing your entire life. And we also understand that more smiles means more perfect days and more happiness. So make an appointment with one of our braces dentists today and start living the life you imagined. It's time to start believing in the beauty of your dreams. It's time to start Smiling.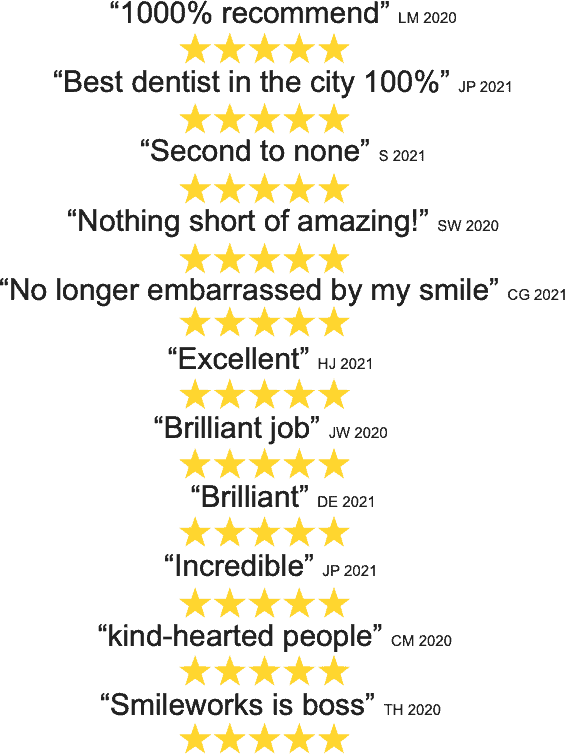 Dr MJ Rowland-Warmann and Dr Eduardo Banito's braces treatments have an average aggregate rating of 4.9 out of 5.0 based on 161 reviews from Google, Trustpilot and Facebook. Here are some of our favourites.
I was so nervous going in to get my braces fitted. As soon as I went in I felt reassured by Edwardo and Ashliegh. Could not recommend them enough. They kept asking if I was ok and the lovely music on in the background was relaxing. It was all done

...

before I knew it.Thank you to all the lovely staff who work at smilework!

read more

Hodon Noor
07:22 10 Jun 21
I had a great experience with smile works, everyone is so nice and friendly and everything inside is so bright and clean. I started my braces journey with Dr. Eduardo and Abi, they are both really nice and really caring about me being comfortable.

...

Dr. Eduardo has advised me a lot as I had several issues that would prevent me to have braces yet, but he really helped me and made sure I got what I wanted for my braces. I definitely recommend smile works for anyone, it's a really great practice with expert dentists 🙂

read more

Nada Mosllam
14:34 04 Jun 21
I had my braces fitted and some teeth removed by Dr Eduardo this week and I was incredibly well looked after. Eduardo, Nikola and Abi did a great job of making me feel comfortable and relaxed throughout the whole thing. Would highly recommend!

Joshua Wilbourn
19:54 27 May 21
I was recommended to go to Smileworks by a uni friend after expressing my desire to undergo orthodontic treatment, and I am so glad I took her advice! I just had my braces fitted with Eduardo and Nikola who are extremely attentive and made me feel

...

completely at ease throughout. The consultation process also went seamlessly and I felt that my personal and financial needs were fully understood to ensure the right course of action. I have also had some treatment with Zoe who is fabulous and has passed on some incredible dental hygiene tips that I had been completely oblivious to before treatment. Finally, all the receptionists and staff members I have come into contact with in the practice have been incredibly helpful and all radiate warm and friendly energy which is super reassuring. I would recommend Smileworks all day long! 🙂

read more

James Greaves
00:07 27 May 21
I had the best experience with my appointment of fitting braces with Eduardo and Ashleigh. 5 stars are not enough. Thank you so much!

dagmara smacka
19:56 24 May 21
So happy after my brace fitting today with Eduardo! He kept me informed the whole way through and checked throughout that I was comfortable with everything. He was very considerate of my reluctance to have my wisdom teeth out and didn't pressure me

...

at all.Also, thank you to Joanna and another young assistant (I'm sorry, I didn't catch your name!) who helped to make everything relaxing, letting me choose the music and giving advice for looking after my braces!

read more

Would just like to thank Edwardo and Nikola during my braces journey ! From my first appointment I felt so relaxed and was told about every step which just reassured me that I was in good hands! I am so happy with my final result and would highly

...

recommend to everyone! Thank you soo much!

read more

Hannah Jump
18:34 17 May 21
I had my braces fitted by Eduardo and Ashleigh today and I couldn't recommend them enough! I had 2 teeth extracted which I was nervous for but Eduardo put me at ease and I didn't feel a thing! They even let me choose the music for the appointment!

...

Reception team are also absolutely lovely, I would highly recommend!

read more

Charlie Evans
13:39 14 May 21
I had my first consultation at Smileworks with Dr MJ who was lovely and comforting, I'd previously had a negative experience when it came to medical treatment so I was feeling quite anxious but She put me at ease straightaway and was very

...

informative. On her advise I decided to have fixed metal braces that I had tightened once a month for 7 months by Rebecca. Rebecca was brilliant start to finish! She answered all of my questions, made sure my check-ins were done to fit in around my tight work schedule and always made me feel comfortable. Rebecca done an absolutely fabulous job, my teeth not only look far better but my gums are also far healthier and my teeth look spotless. Receptionist staff are also really lovely! Thank you Smileworks team for allowing me to actually smile without feeling self conscious for the first time in forever! Would highly recommend and will be returning in the future!

read more

Lauren Roberts
11:29 12 May 21
Absolutely amazing service at Smileworks! I had braces fitted by Eduardo and could not be happier with the results. I am extremely impressed with the professional service and great customer care. Eduardo really listened to my concerns and was

...

patient throughout the whole process. Thank you Eduardo and Ashleigh for giving me my dream smile!

read more