Here at Smileworks we believe that everybody has the right to feel beautiful when they smile. Whether you're in the office or on the beach, your smile says everything about who you are. But for many people, you can't enjoy life to the full because you hate your teeth.
Crooked teeth can affect the way you feel about yourself, and many of our Liverpool braces patients say they don't smile on photos, hide their teeth and constantly fee self conscious. It's time to stop worrying and start thinking about getting braces today. Watch our video to see what it's like to get braces at Smileworks:
Your talented Smileworks dentists and orthodontists have the technology to straighten teeth more discreetly than ever before. We can even straighten teeth in half the time of some braces giving you more choice about how to get your teeth straightened here in Liverpool.
You may ask, 'how much are braces?' and the answers are below in our section on braces prices. Remember all our braces all come with free retainers and free whitening so you'll feel like you've had a smile makeover with your new straight, white teeth. Here at Smileworks Liverpool our braces patients say they "love everyone at Smileworks so much" and that we've "become friends." So come to the dental practice where you'll "look forward to every visit" and "never want to leave" by booking your braces assessment below.
Here at Smileworks we understand how fixing your smile can often mean fixing your entire life. And we also understand that more smiles means more perfect days and more happiness. So make an appointment with one of our braces dentists today and start living the life you imagined. It's time to start believing in the beauty of your dreams. It's time to start Smiling.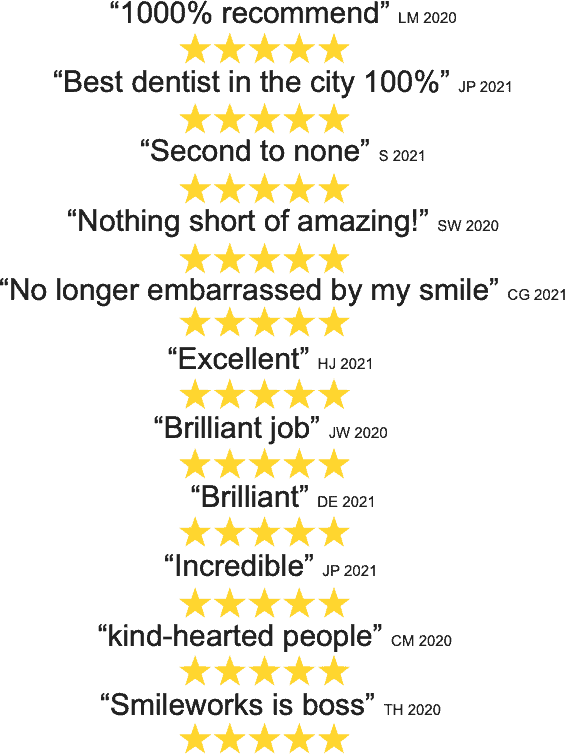 Dr MJ Rowland-Warmann and Dr Eduardo Banito's braces treatments have an average aggregate rating of 4.9 out of 5.0 based on 161 reviews from Google, Trustpilot and Facebook. Here are some of our favourites.
I had my braces fitting with Eduardo and Ashleigh today. As an extremely nervous patient, they made me feel completely calm and took everything at my own pace. Going back in three weeks for tooth extractions and I feel so much calmer knowing they're

...

with these talented two.

read more

First appointment for getting my braces on today, really friendly and took the time to explain any details and make sure you're happy with everything. Took care to make sure all personal requirements were met, couldn't ask for better treatment.

...

Thanks to Dr Eduardo & Nikola looking forward to the next appointment

read more

Jay Mullen
18:47 08 Sep 21
I am a customer of Smileworks and recommend the place to everyone.All the staff are professional kind and helpful.Ive had my braces fitted today by Eduardo and Ashleigh and i'm over the moon with their work.Also big thanks to Marnie for arranging

...

everything and making it a smooth journey.Ive also had some aesthetic work done recently by Dr MJ and i will never let anyone else near my face again. Amazing place - love it xxx

read more

haseena khan
19:10 25 Aug 21
Rebecca and Nikola are awesome! First time I've ever had braces and I was so nervous but they made me feel completely at ease, were very quick and thorough and it was completely painless. I'm so happy with the braces too you can hardly notice them!

...

Thanks so much girls!

read more

Natasha Taliadoros
15:47 20 Aug 21
I've had my braces in for about a week and the course of consultations and appointments that led to it have all been positive. I'd like to thank Marnie, Dr Ankush, Zoe, Nikola and especially Dr Eduardo for helping the process be as easy as it was

...

considering the slight anxiety I had about getting them!I've had no regrets getting braces and look forward to seeing the results when I finally take them off!

read more

Jack Cheung
10:50 13 Aug 21
Got my braces removed a few days ago after getting them fitted by Eduardo back in November. Couldn't be more happier with the service. Great expertise, friendly staff and overall a nice atmosphere. Also shout out to the lovely ladies at the

...

reception who are always so welcoming and accommodating on arrival/with appointments. Highly recommend Smileworks!

read more

Got my braces fitted yesterday with Dr Eduardo, he is very nice and helpful, always make sure that I am comfortable and not feeling any pain. Dr Eduardo was very patient in explaining what I should not be eating while having the braces on which I

...

find very helpful. Would definitely recommend Dr Eduardo to someone who looking to have their braces.

read more

Had my braces fitted today, Eduardo let me choose the music and Nikola was very helpful throughout. Lovely dentist, i couldn't recommend it more. The whole team is lovely, including the ladies at the reception xx

Stevie Lennon
22:46 04 Aug 21
Prior to getting my braces fitted last week, I had a few appointments with Aniesa who is lovely and always helpful with any questions or suggestions.I got my braces put on with Eduardo and Nikola, who are very happy to put you at ease by talking

...

you through the process and make sure you are comfortable.At no time has my treatment been painful and even a couple of days after getting my braces fitted, I am yet to feel any pain. I am very excited to see the result! Would definitely recommend!

read more

Lena McCormick
15:11 01 Aug 21
My denist Eduardo is so good at what he does! He makes the whole situation of getting braces calm and relaxing not stressful at all. Ashleigh is also a lovely girl, they literally can't do enough for you.

Louise Mutch
05:53 24 Jul 21