Implant vs Bridge?
Which is best, a Bridge or an Implant? 
A great deal of our beautiful Smileworks patients ask us; "so I want to replace this tooth, bridge vs implant, which is better?"  The answer might often be different for two different patients and we cannot stress the importance of getting a consultation so your dentist can go through all the options with you in and make you a personalised treatment plan.  But it's really important for you to be aware of the main differences between getting a bridge or implant and what these differences mean for you in the immediate and longer term.
Click here for our main article on implants Liverpool. Or to read about the different cost considerations of Implants vs bridges see our article on the cost of dental implants here.  Alternatively if you are looking to get a dental bridge from Smileworks then click the link to see our page on dental bridges in Liverpool.
How Implants Work
implants are titanium screws that are placed into the jaw using precision surgical techniques.  They are made of specially treated material that binds to the natural bone and sets solid in the jaw – just like a real tooth!  Following the healing process you'll return to our practice and see your implantologist for the restoration.  'Restoring' an implant basically means attaching the crown or replacement tooth to the implant that is now firmly in your jaw and part of your body.  We spend a great deal of time making sure the crown is beautiful.  It needs to not only be perfect but precisely the way you want it.  You'll expect an aesthetically supreme restoration from your Smileworks dentist that will be lifelike and natural-looking.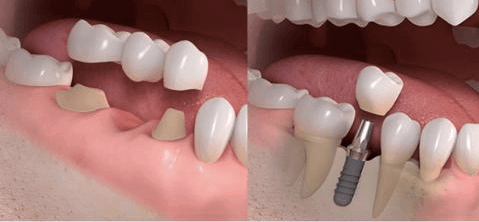 An implant is directly attached to your jaw and doesn't require attaching to the teeth either side of the tooth you lost.  This is different from a bridge that is attached to the teeth either side of the gap.  Many dentists will simply say that the answer to the dental bridge vs dental implant question is always 'Implants!' – however, it's not always that simple as you will learn below.
How Bridges Work
Bridges are three teeth fused to each-other.  There is the tooth that replaces the missing tooth (thats in the middle) and two either side.  The two teeth either side of the gap must be 'prepped'.  This means that they are drilled down to a square peg that the replacement teeth fit snugly over.  So a bridge is literally a 'bridge between two teeth' that holds the new tooth in place.
Why choose either?
Both bridges and implants are for people who've lost teeth.  Often the decision which to have is dictated by your particular situation.  For example, patients who've had a gap for a while might not be suitable for implants.  This is because when you have a gap the two teeth either side start to tip into it over time.  This happens gradually but can mean the space to put the implant in becomes smaller and smaller until it simply won't fit.  Another problem with leaving a gap is that the jawbone where the gap is will start to recede.  Do you know how astronauts who've been in space for too long start to lose bone density?  Well they do and you can read all about it here.  When there is not enough bone to place an implant, patients might need either a bone graft or sinus lift to improve the density and level of the bone in your jaw.  You can read about bone grafts and sinus lifts on our main implant page.
The reason is that in microgravity there is no stress on the bone and these natural forces are what keeps bone strong.  So when you're missing a tooth there is no force on that part of the bone when you chew your food.  This can cause the bone to shrink away and also cause:
Shifting and drifting of the teeth
Changes to your jaw joint causing headaches and other problems
Excessive wear on the adjacent teeth
Difficulty chewing
Changes to your bite
This can be problematic once we want to place an implant because there might not be enough bone left to do the procedure.  One option is to get a bone graft.  This is where some bone is taken from another part of your mouth and grafted to the implant site.  Take a look here for more information on bone grafting procedures and how tooth loss affects you – take a look at the Straumann website here.
Missing Teeth Liverpool?  Your Options
So it might be the case that an implant is not available to you.  Your dentist will tell you if this is the case and suggest a bridge as your option.  However, if you get a bridge and then want an implant, bridges also cause the same bone loss as implants.  This means you need to get along for a consultation with your dentist as soon as possible to evaluate your options.
Risks and Benefits
Both implants and Bridges have their own particular risks and benefits.  Here they are in some more detail.
Implants
Implants involve a precise surgical procedure that carry with it risks.  The lower jaw has blood vessels and nerves that can be compromised by implant surgery.  This happens very rarely indeed and there are only a few cases reported.  Furthermore, at Smileworks we have a special 3D x-ray machine.  It can make 3D models of your face so that we can be sure to avoid any complications of surgery.  There is always the risk that the implant will be rejected and this is especially the case with people who have underlying health problems.  It's very important to discuss your health with your implantologist and we will do a very comprehensive health evaluation with you prior to your surgery.  This will undoubtedly play a role in the dental bridge vs dental implant decision.
Implants are not indestructable and they can be damaged by wear and gum disease just like natural teeth.  Gum disease of an Implant is called peri-implantitis and manifests much the same way as periodontal disease.  If you would like to learn more about periodontal disease and gum disease then take a look at our main periodontal disease page here.
Bridges
The risks of dental bridges are very different to implants. The risks for implants are extremely unlikely to happen.  Whereas a bridge failing is more common.  To secure the bridge, you will need the teeth either side of the gap to be ground into a particular shape to hold the bridge in place.  Touching any tooth with the dentists drill makes it more likely to fail in the long term.  Because two teeth are required for the bridge to be secure the combined chances of each of them failing is higher. Also a bridge does not put any force on the jaw like an implant does and you will get the same bone loss as with just leaving a gap.  All these things need to be taken into account when speaking to your dentist about treatment.
Cost Implications
Fees can certainly play a part in the dental bridge vs dental implant decision.  Dental bridges are less expensive than implants.  This is for a number of reasons and we've covered them here in our blog post answering the question: how much do implants cost?  here.  Dental implants are a surgical procedure and use highly specialised tools and materials.  The cost of the implant alone is high and you should expect to pay a few thousand pounds for an implant.  Bridges are less expensive and patients can get a bridge for under £1,000 and even less in many cases.  All of our prices are available on the Smileworks website for you to take a look at.  We are up front and honest about our pricing here.  We are certainly not the cheapest but if you really care about your dental health and want a beautiful, long lasting restoration then this could be the practice for you.
All of our prices are available on the Smileworks website for you to take a look at.  We are up front and honest about our pricing here.  We are certainly not the cheapest but if you really care about your dental health and want a beautiful, long lasting restoration then this could be the practice for you.
Please call the office if you'd like to discuss the dental bridge vs dental implant question in more detail.  We have highly trained treatment coordinators and front of house on call to answer all your questions.