Inman Aligner Liverpool
Inman aligners are the gentle, safe, efficient and super quick removable braces taking Liverpool by storm in 2017.  Their popularity is due to a number of factors including the low cost, remarkable speed and the fact that patients can remove them to eat.  These factors together make the Inman Aligner appliance the most exciting development in adult orthodontics in decades.  This article covers the Inman Aligner appliance in detail.
To learn more about  braces in general  take a look at our main services page where you can make an appointment to get Braces. Alternatively if you're interested in Invisible, removable or Incognito hidden braces then take a look at our main pages here: Invisalign®, Incognito braces®.  For more information on Inman aligners like their cost, before and after pictures, the procedure and whether this cutting edge orthodontic treatment is for you, then read on!
Benefits of aligners include the following:
The Inman Aligner is a gentle, safe and extremely effective orthodontic treatment
The appliance is completely removable for eating and cleaning
Inman Aligners are much cheaper than other removable braces at just £1,200
Aligners are discreet and almost invisible when you're wearing them
Inman retainers are also versatile and flexible and work well with other treatments
Aligners are also the orthodontists choice for adult relapse cases.  This is where patients might have had treatment before but their teeth have moved out of position or 'relapsed'.  The Inman Aligner is an extremely effective treatment for these cases.  As far as the cost of Aligners is concerned, compared with Invisalign® at £4,000 they are significantly more affordable at just £1,299.  Patients typically choose to have other treatments like whitening and composite bonding with their aligners treatment.  In veneers cases aligners are used to align the teeth so the veneers can be fitted with less damage to the underlying healthy dentition.  They are also great for the lower teeth where a patient has chosen veneers for the upper arch and wants to straighten the lower teeth.
And then the number one benefit is that treatment can be over in as little as 6-16 weeks!  This is significantly shorter than even the quickest conventional braces (6-9 months) and Invisalign (18-24 months).  Obviously not every patient is suitable for the Inman Aligner and at Smileworks you have the option of being seen by a general dentist or a specialist orthodontist.  Here at Smileworks we pride ourselves on providing you with a number of choices for your braces treatment and this could include any number of conventional or specialist appliances.  But whatever you choose you can feel secure in the knowledge that you're getting the absolute best braces treatment in Liverpool from some of the most talented professionals.
How does the system work?
The Inman Aligner retainer works by applying constant and even mechanical pressure on the front and back surfaces of the teeth.  This gently and efficiently moves them into line, solving issues with crowding and misalignment.  The entire treatment takes only 6-16 weeks in total – one of the most remarkable benefits of aligners.  The appliance is removable and clips into the mouth.  The pressure is provided by a technologically advanced spring system that applies precisely the correct amount of pressure as the teeth move over time.  Orthodontists and dentists have been literally amazed by the efficiency and precision of aligners, making them one of the most exciting developments in orthodontics in a long time.
Patients are advised to wear your retainer for around 20 hours a day, removing them mainly to eat meals and to clean the appliance.  You can take the aligner out for eating drinking and even on the odd special occasion.  But remember that if you don't wear it enough then this could increase your treatment time.  Most of the retainer is hidden behind your teeth and there's just a clear band in front of the teeth that is barely visible, making the aligner almost completely invisible.  Take a look at this great video that shows how the appliance works in the mouth.
What can Aligners Accomplish?
There are a whole hose of problems that aligners can correct.  Firstly, it can align the front teeth.  This includes fixing crowding (sometimes called overcrowding) and 'protrusions' which is the dental name for teeth that stick out.  The system can also rotate teeth, something other invisible retainers are notoriously slow at.  The aligner can also correct a 'crossbite'.  This is where the bottom teeth bite down outside the top teeth.  Aside from the teeth straightening jobs of an aligner it is also an extremely versatile treatment.  It can be used with whitening and composite bonding (or composite veneers) to create a complete smile makeover!
Are Aligners right for me?
Smileworks is a specialist orthodontic practice and we have some of the most talented orthodontists and dentists helping patients feel great about their smiles.  You're treatment will begin with a full assessment of every aspect of your mouth including general health, gum health, a tooth check and assessment of your bite.  Here at Smileworks we refer to this as the 'Braces Assessment' and you'll be given the options that are best for you to reach your particular goals.  At the end of the day, only you know what you want to achieve so it's very difficult for us to say who is suitable before you come in for a braces assessment.  If you think you might have gum disease then you should come in for a braces assessment and the dentist or orthodontist will be able to offer solutions so that you can get it under control and start your braces treatment.
Aligner Reviews
Our patients love us.  We have literally hundreds of five star google reviews and below you can read a specific review for a patient who had the Inman Aligner system.
"Best investment in myself, service and stuff were amazing, I was treated not just like a simple client, I was in middle of attention, I felt like I was most important. I would recommend to everyone, the best place to come for best investment. I definitely know this is not the last visit, if I will need to see dentist this is going to be first place I am going to think of!"
Aligners cost
The cost of Inman Aligners is one of the biggest benefits for patients.  At only £1,299, this treatment is one of the least expensive types of braces systems available.  Also many patients prefer to pay for their treatment with finance and the monthly repayments can be very low indeed.
Cash Price  
£1,299
Deposit* (20%)  
£259.80
Charges  
£0
Total amount of credit  
£1,039.20
Interest Rate**   
0%
Term  
12 Months
Monthly repayment
£86.58
Smileworks is authorised by the Financial Conduct Authority and has a commercial relationship with a credit broker.  Smileworks are unable to provide financial advice and
*deposits may vary subject to status.
**Interest rates are variable at either 0% over 12 months or interest bearing over 24 months.
We have a dedicated article comparing the cost of all our removable and invisible braces systems.  You can read it here: Invisalign cost.
Patient reviews
Inman Aligners produce beautiful results.  Here at Smileworks we have literally almost 600 5 star reviews on Facebook, Trustpilot and Google. You can see some of our Inman Aligner reviews on Google by following this link: Google Reviews.  Our Inman Aligner patients are usually so happy that they choose to have other treatments here at Smileworks.  This is partly because of the versatility of treatment but also because of the low price.  Common additional treatments are teeth whitening and composite bonding or composite veneers.  This is where the shape of the teeth is improved by sculpting special composite material over broken, worn or chipped teeth to produce a wonderful 'smile makeover' type result.
Inman Aligner Before and Afters
Here are some great Inman Aligner Results: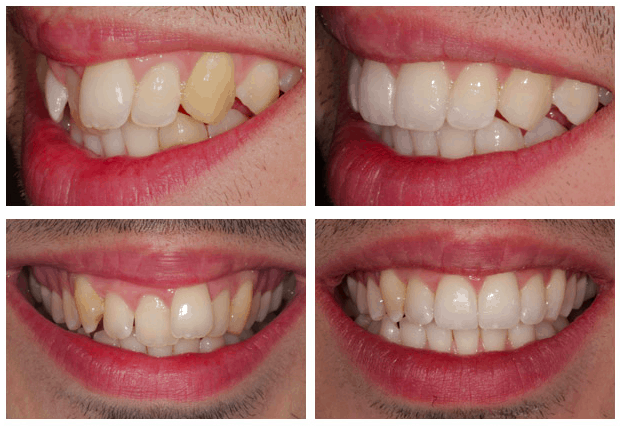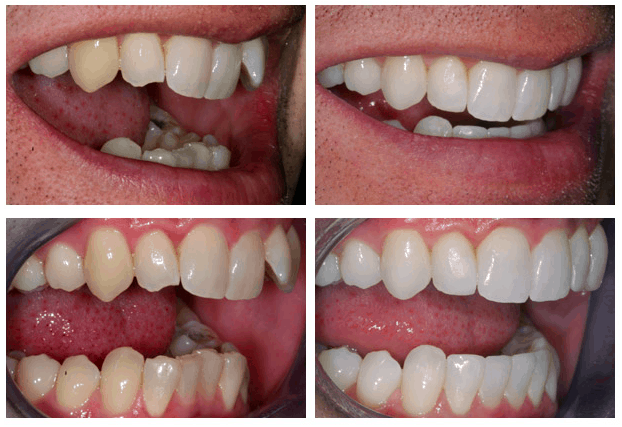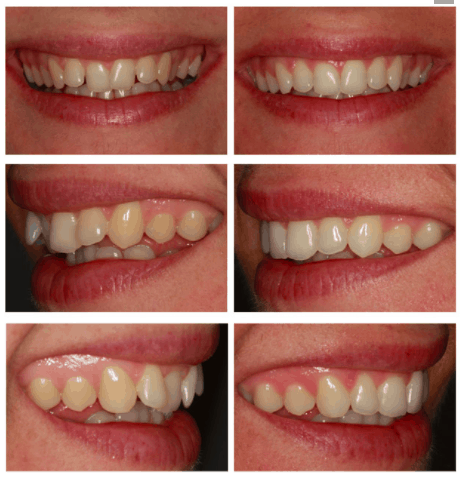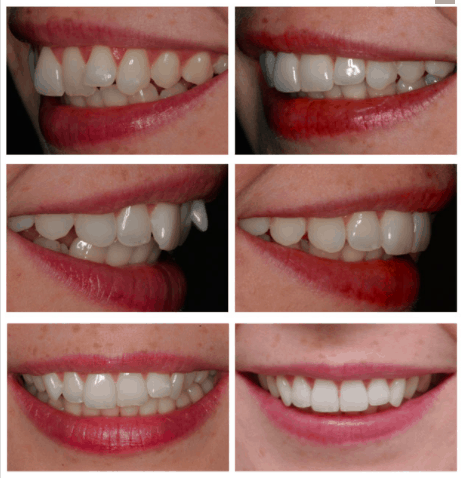 What are the risks?
The Inman aligner is one of the safest treatments we have here at Smileworks.  And Inman Aligner problems rarely occur.  In over 20,000 reported cases there have been no instances of teeth becoming damaged or root resorption.  Root resorption is a risk associated with some orthodontic treatments but has never occurred with the Inman Aligner.  Aligners feeling uncomfortable for the first few days is common.  You will get used to them.  Also your speech might be slightly affected for a few weeks but this will pass as you adapt to wearing the retainer.
Book Your Appointment Today!
To speak to one of our talented dentists or orthodontists for your braces assessment just fill in the form below or call us on 0151 236 5166.
Do you want to know what it's like at Smileworks?  Take a look at our Video and 360° tour below.