RECOVERY | AFTERCARE | PROCEDURE | PAIN ADVICE

In 2020 you shouldn't be freaking out about tooth extractions.  Here's a comprehensive article covering everything you need to know about tooth removal from some of the UK's most talented and caring team of dentists, orthodontists and oral surgeons.
Extractions are just as much science as art and everything from pain relief to minimising the trauma of the extraction is highly dependent on the skills and talents of your dentist.  So read on and we will discuss everything you need to know about this common dental procedure.
Most people will need a tooth taking out at some point in their lives.  This can happen for a variety of reasons.  One very common reason is when the wisdom teeth become impacted and need taking out.  If you think you need help with your wisdom teeth then we have a specific page dedicated to that here: wisdom teeth removal.
Good dentists will always do everything they can to keep your mouth healthy and all of your teeth in your head.  But sometimes this just isn't possible for a number of reasons and the teeth need to be removed.
This article has been independently reviewed by: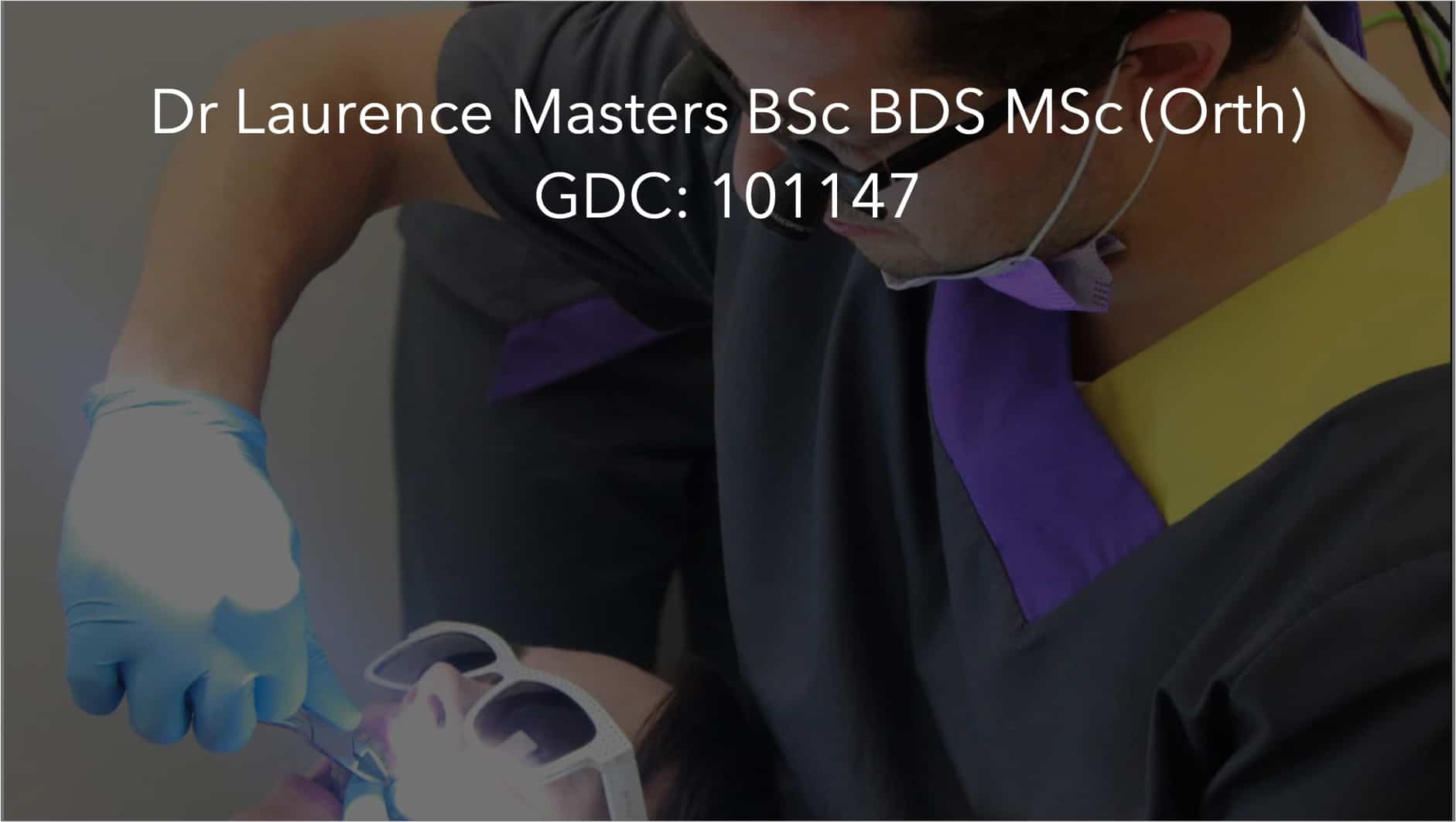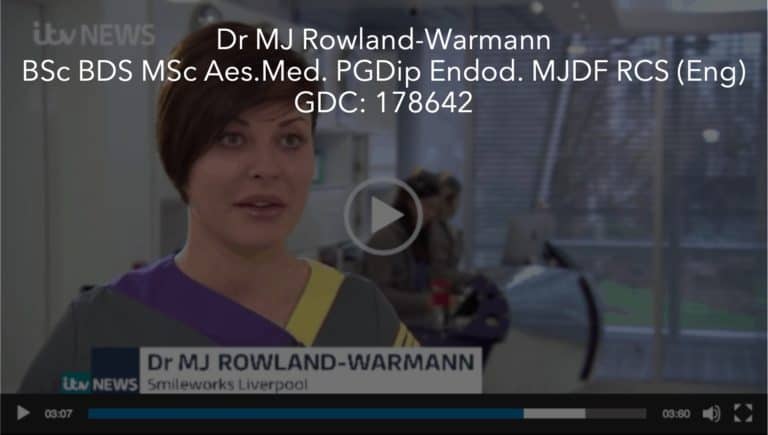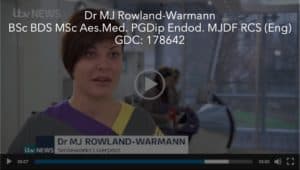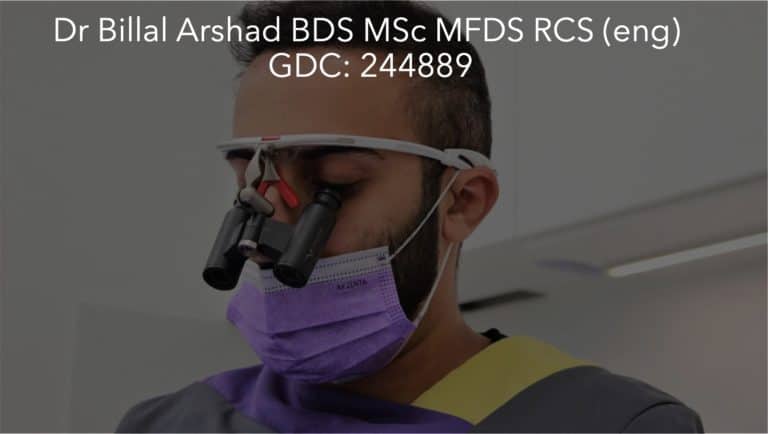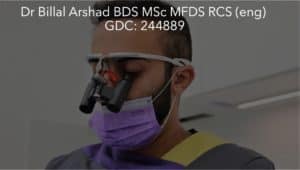 Here are the reasons dentists perform tooth extractions
The tooth is broken due to trauma or an accident

Severe decay is causing the tooth to fall apart

Gum disease may make your tooth loose and need taking out

You may have too many teeth (overcrowding)

You may need a tooth taking out to make space for braces treatment

The tooth may be impacted (like in the case of a wisdom tooth)
A tooth can be acutely painful when it's been broken, is decayed or loose. Getting patients out of pain is the main reason dentists take teeth out. Removal of the tooth often causes immediate relief because the nerve (what's causing the pain) will be removed along with it.
*If you're in pain right now then visit our emergency page*
There are many reasons that dentists might need to extract your teeth, below is a radiograph of more than one reason to extract.  There's an Abcess on a broken tooth and the tooth will likely need replacement with a dental implant.  For more info on dental implants visit our page by following the link.  Alternatives include dental bridges, crowns and just to leave the gap as is (although this brings with it specific problems such as the surrounding teeth tipping into the gap or bone loss.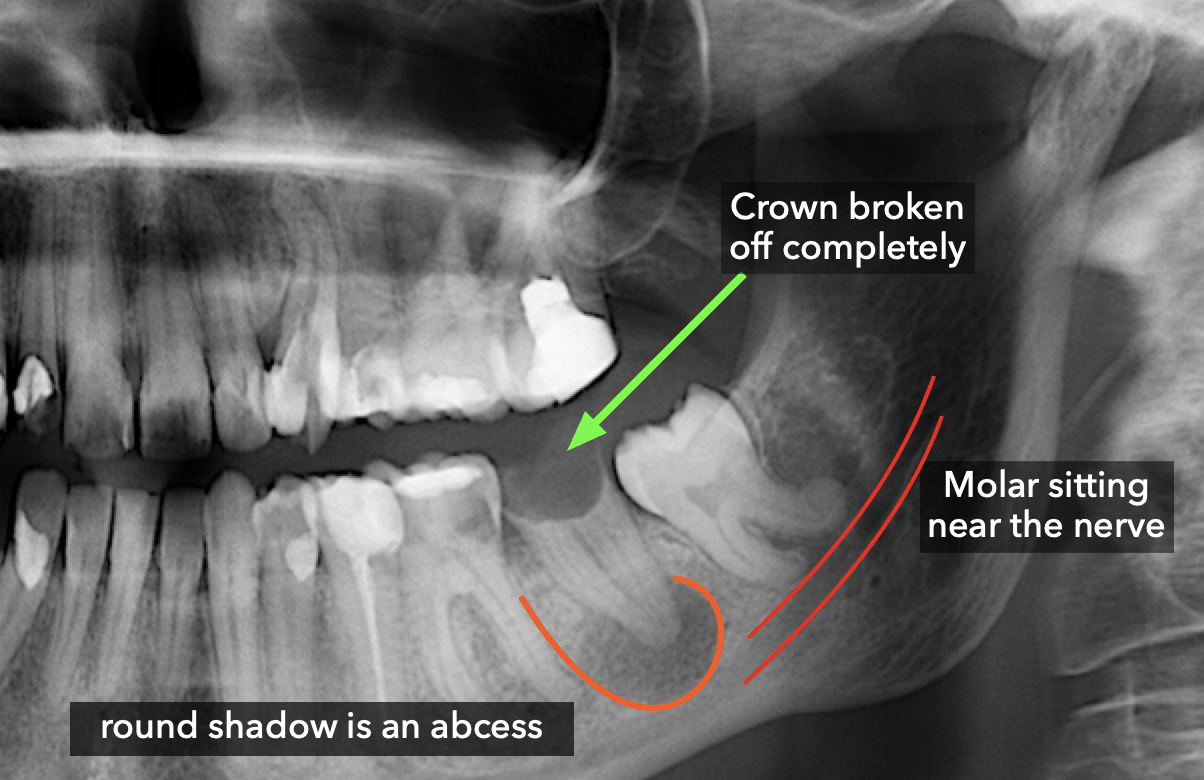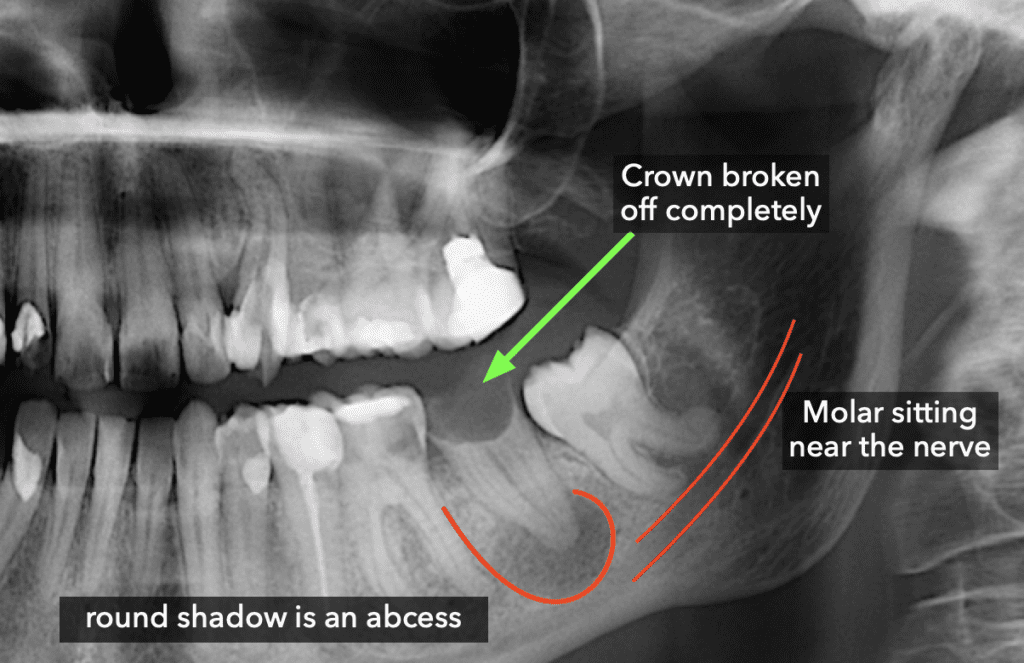 Accidents happen and especially in children or young adults who are playing contact sports. To minimise the risk of a traumatic evulsion always wear a mouthguard and practice sports such as cricket, hockey and martial arts using safety equipment.
If a tooth has not been broken but has fully come out (a traumatic evulsion) then if you get to the dentist within an hour there is a good chance that the tooth can be saved. However, when it is cracked and the crack goes through the pulp or has severely damaged the tooth then an extraction will most likely be necessary.
Here's some useful advice on what to do if you've experienced dental trauma.
Decay is tiny cracks and fissures opening up in the enamel and tooth surfaces that let in bacteria. Once in the cracks, the bacteria multiplies and produces harmful chemicals that eat away at the tooth structure and literally rot your teeth from within.
The main causes of decay are sugar, plaque and not brushing your teeth twice a day. Sometimes decay is so profound that the tooth is what dentists would call 'unrestorable'. This means it needs to be taken out to prevent the further spread of bacteria and stop any pain you may be feeling from the infection.
If the nerve of the tooth is infected (a hot tooth) then the pain can be severe and patients in this unfortunate situation often attend for emergency appointments patients and we can get them out of pain extremely quickly. For an emergency appointment follow the link.
Gum disease is another highly preventable dental disease. Over 90% of people will have some sort of gum disease at some point in their lives, the severity of which ranges from gingivitis (inflammation of the gums) to periodontal disease that can affect the ligaments and bone holding your teeth in place.
This is the reason teeth with gum disease become loose and eventually fall out. It is often better to extract them before this happens in order to treat the underlying disease and stop it spreading further throughout the mouth and body.
If you think you have gum disease and need treatment follow the link here to our gum disease page.
Some people are very special and actually are born with extra teeth in their mouths! These 'supernumary' teeth can often be asymptomatic but sometimes these extra teeth can become impacted and will need to be extracted.
If you're one of the lucky one in fifty people with an extra tooth then make sure your dentist is keeping an eye on it so it doesn't need taking out if it causes problems.
In order to make space for the teeth to move into position during orthodontic treatment, sometimes it's necessary to remove teeth to make the rest of the teeth fit together correctly. Orthodontic extractions depend on each individual case, how the teeth are to be moved and the degree of crowding.
Impacted Teeth & Wisdom Teeth
These are normally wisdom teeth and are the very back teeth which come through usually between age 18-25. In some people wisdom teeth never come through. They can come through at strange angles and because they are so far back, can be difficult to brush. This is why they often suffer decay and why the gums become inflamed and painful as they try to erupt through the gum.
Lower wisdom teeth that are painful, have pathology such as cysts, or are causing damage to adjacent teeth may require removal. There are guidelines as to when it is right to remove wisdom teeth as there are important structures such as vessels and nerves near wisdom teeth and we want to prevent these getting injured. Asymptomatic wisdom teeth will not simply be removed in the UK without reason.
Imaging for safe extractions
Here at Smileworks we have invested significantly in a state-of-the-art CBCT scanner that renders extremely accurate imaging of the impacted teeth lowering the risk of complications significantly and keeping all our patients safe.
We have an entire imaging suite which we use not only to evaluate the clinical implications of extractions (and many other procedures) but also to help patients better understand what we do and how they will look before and after their procedures.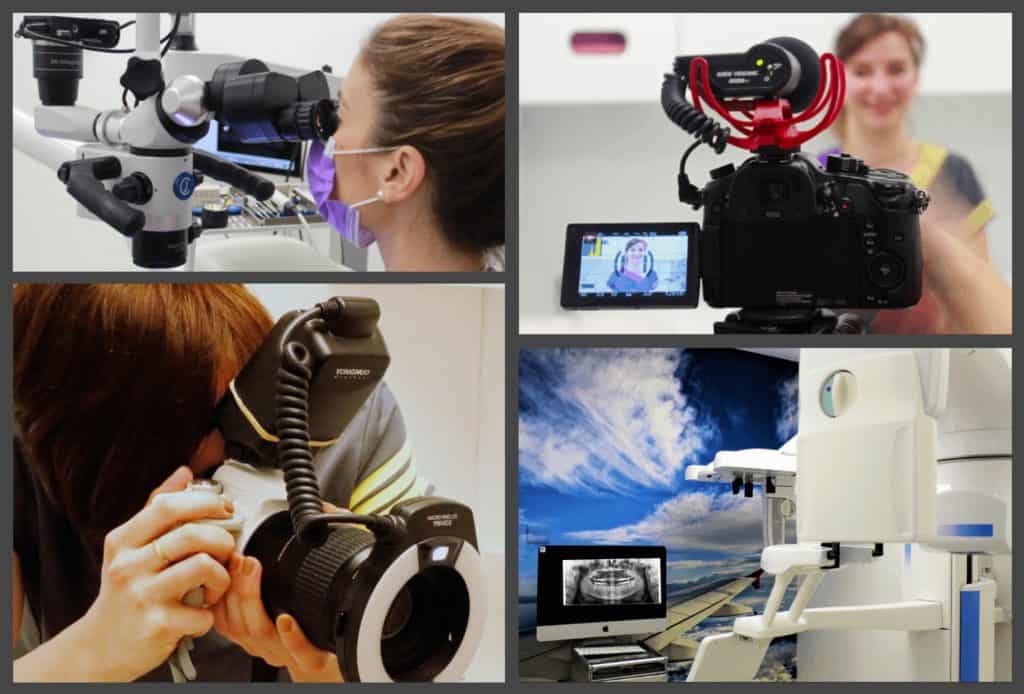 Smileworks have 36 extractions reviews with an average score of 4.9 out of 5.0.  To see what our customers think look for Dr Abd and mentions of extractions or wisdom teeth problems on Google, Trustpilot and Facebook.  Here are some of our favourites.
My brace fitting appointment with Dr Eduardo and Nikola was fantastic. I was made to feel relaxed during the fitting and they even asked to put my favourite music on! The teeth extractions were painless and both were very patient with me when I got

...

overwhelmed at times. Superb service overall even though it was getting late in the day. I was also given a really clear explanation of after-care and a care packet to take back home. Highly recommend to anyone, this was the first time I'd ever had anything major done to my teeth and I'm super glad it was with Smileworks!

read more

Pei Cing Ng
18:59 01 Dec 21
Abd & nikola are a fab team just had a tooth extraction painless top job

Brian Perris
11:16 11 Oct 21
I had an amazing experience here, had 2 wisdom teeth out. It was quick and easy, while I was nervous the doctor and Lacy did an amazing job at keeping me calm. I will definitely be using here again if I need anything else doing.

Owen Roberts
16:01 08 Oct 21
I just had wisdom tooth extraction. It was very fast everyone was profesional very friendly. I would higly recomend smileworks to everyone my experience was definetly worth the money.

Had the pleasure of seeing Dr Eduardo and his assistant Nikola today for my braces fitting and extraction. The appointment was amazing as per usual as I have been coming here a while now for hygiene appointments and implant consultation. Dr Es

...

extraction was so smooth and quick I've had a few in my time but none like that. Would happily let him remove all my teeth if needed haha.Brace fitting went without a hitch and was given clear instructions how to care for them and what to expect over the next few months.Couldn't recommend this place enough, all the staff are really friendly even if your not there to see them. We'll worth checking them out if considering dental work.

read more

I had my braces fitting with Eduardo and Ashleigh today. As an extremely nervous patient, they made me feel completely calm and took everything at my own pace. Going back in three weeks for tooth extractions and I feel so much calmer knowing they're

...

with these talented two.

read more

What a team.... I will never go anywhere else for my Dental Treatment.My Story.. I wanted the perfect smile as my wedding is coming up and I am so glad I went to Smileworks, from the very first telephone call with Marnie I was put at ease, each

...

appointment I have become less anxious to the point I was looking forward to the day of my extractions!! This was only possible with the help of the amazing Dr Clare Jones and Zoe Peters.I cannot thank you all enough for what you have done for me, I've got my confidence and with the perfect smile

read more

allensschoolofmotoring sue allen
20:12 13 Sep 21
UPDATED 7TH SEPT 21STILL THE BEST DENTISTS I'VE BEEN TO BY FAR!!!.I found this lot during the Pandemic as I was suffering from bad toothache and there was no NHS or Emergency treatment available. Their reviews seemed exceptional so I called. Got

...

an appointment in 24 hours-AMAZING!Saw DR CLARE JONES who explained everything in detail and gave me the full lowdown on my troubled tooth. Point here is that Clare gave me such detail about my tooth and the options/cost etc in a way that I felt totally informed and in safe hands. No dentist has ever gone to this extent of explanation before. A treatment plan was arranged as well as a good survey of the rest of my gnashers.Since my first visit, I have had a filling, 2 X Hygenist appointments, an extraction and a root canal.ROOT CANAL - Being a result of many drill and fills in the 1970's, a couple of my molars were on their last legs.An honest appraisal by DR PATRICIA (PATRI) LABRACA resulted in one extraction handled very professionally and calmly by DR ABD KOUZALI. The other was root canalled by DR PATRI only yesterday. I don't even feel like I've had a procedure today as there is no pain at all.This has been my first root canal treatment and I hear they have a bad reputation. I can only assume its down to where you go, who you get and how much time is allocated. My personal experience of DR PATRICIA LABRACA is that she puts that patient at ease, explains every single thing you would need to know and gets on with the job making sure you are comfortable every step of the way. No rush and no stress!If you are considering root canal treatment, or are very nervous, this place (In my personal opinion) is where you should be heading. There seems to be a culture of calm, focus, friendliness, cleanliness and overall keeping the patient comfortable and well informed. From the front of house staff to the doctors they are second to none.I cannot praise this practice enough. I felt totally relaxed and at ease throughout. I felt I was in the hands of top professionals who knew their stuff well and gave the time and consideration to the patient. Nothing was rushed.My personal opinion is that the dentists, and the practice, is by far the best I have ever experienced and I have been to many.Yes, you have to pay as its a private practice, but I feel the long term value I'll get from using them represents much better value for money than what Ive been used to with previous botch merchants.Thank you DR CLARE, DR ABD, DR PATRI and all the amazing team at Smileworks!

read more

Woody Wood
12:20 07 Sep 21
Dr Eduardo and Nikola were amazing! I had two teeth extractions in less than 15 minutes and didn't feel a thing! They are both lovely people as well! ❤

maria sakizli
10:52 04 Sep 21
A big thank you to dr abd and his assistant abi. I had top teeth bonded and was made to feel so relaxed. I have a problem with gagging at the dentist. I never gagged once. Teeth look amazing . A big 5 stars to them both. Highly recomended. Also big

...

thank you to aniesa. Had had my silver fillings changed to white. She made me feel so relaxed and again was very happy for the work she carried out. A big 5 stars to aniesa.xxxxx

read more

Lynn Doyle
10:53 20 Aug 21
The first dentist I saw at smileworks other than consultation I saw for a wisdom tooth that was infected. He told me I didn't need to remove it and should just gargle salt water. My tooth just kept getting worse and after going back several times

...

for it (and spending lots of money on appointments) he said I needed to get it extracted. Additionally, I had a negative encounter with another dentist at smileworks. I asked him if he could inject the antibiotic instead of taking it in pill form (as I have gastro issues) and he said "In your country they might give injections but they don't do this in this country" (which doesn't make sense as some patients with autism or swallowing difficulties won't be able to take any medication?) (I also didn't mention anything about my country or dentists anywhere else so I do believe this was a racist microaggression). On top of this, despite their website stating you can get emergency appointments during the week they are only available on saturdays, or at least that's what the receptionist told me.

read more

maryam mutawa
14:44 11 Aug 21
Simple Extraction (video)
A simple extraction is the taking out of any tooth for any of the reasons outlined above.  The reason it is referred to as simple is that it will usually not involve any nerves, blood vessels or difficult root positions.
A simple extraction can be carried out by a general dentist and there is no requirement for an Oral Surgeon.  To determine whether your extraction is in fact simple you must make sure that your dentist takes the appropriate radiographs and images to discover their positions of important nerves, vessels and your bone levels.
Surgical Extraction (video)
A surgical extraction is carried out by a qualified oral surgeon [link to one] and may mean cutting the gum to get to the tooth. This is also for more complex root structures which may be curved, or teeth which are impacted (on their side) or fused into in the bone
This is simply where a patient is in urgent need of an extraction because they might be in pain or they have suffered an injury. These tooth removals can be quite straight forward and booking an emergency appointment at Smileworks is simple.
Just follow the link here to our emergency dentist page or call 0151 236 5166
This is the most common question we get asked about taking teeth out; do extractions hurt?
The answer is no.
Before treatment your dentist will administer local anaesthetic that will numb the entire area so you will not feel a thing during the extraction.
For some nervous patients or more difficult cases (such as surgical extractions) you may elect to be sedated with pills for your procedure and will be unlikely to remember anything about it.  Speak to your dentist in advance about this option.
Although you won't feel pain there will be pressure applied to your mouth and you will feel the sensation of something being pulled or jiggled out of your mouth.  This is not unpleasant though and 99% of patients tolerate it just fine.

Here's the pain scale that most medical people use to determine pain levels in patients.  Following your extraction when you return home the pain levels should be no more than about three.
If they are around 4/5 then it might be a good idea to call for reassurance or visit the pharmacist for some pain relief.  Anything higher and you'll need to keep in touch so that your dentist can keep an eye on the situation.
The importance of communication
It's very important you communicate with your dentist.  Sometimes the local anaesthetic can take some time to start working.  If your dentist is in a rush they may not checked the entire area is fully numb.  This is what leads to the horror stories you sometimes hear about extractions.  Once again, the skills and how much time you get with your dentist are key to any happy dental procedure.

Minodora Z.
22:05 22 Mar 19
Had an appointment with Patri for a painful wisdom tooth. I was terrified of the extraction but she was absolutely amazing. Fantastic job! Also, if you think Smileworks might be a bit pricey, think again. I ended up paying considerably less than what another dentist would have charged me. A super happy customer 🙂
Minodora Z - 22 March 2019 - 5/5 Stars  ∗∗∗∗∗
How long should the pain last?
Another popular questions is how long should it hurt following your treatment and what type of pain is 'normal pain'.
Following your procedure, the area is numb for around 2 hours. Once the Lignocaine® (or whichever local anaesthetic your dentist deems appropriate) has worn off, there may be some discomfort but it shouldn't be painful.
How long the pain lasts and what pain is 'normal' are very difficult questions to answer and very from person to person.  Think of an extraction like a bruise.  It needs time to heal and non-surgical extractions heal on a similar timescale to other soft tissue traumas like bruises.
After 2-3 days the area should be quite comfortable and then from 3-7 days any pain should be gone.
If the pain has not resolved after a week then you may have a dry socket.  We will talk more about this in the 'complications' section below.
Bruising, swelling and bleeding can all be normal in small amounts but if they are bothering you then you might need to speak to your dentist. These are also covered in the Complications section below and could be from other unerupted teeth, wisdom teeth, trauma or infection.  Also any gum pain should be checked out by your dentist.  Any pain radiating to your ear is a sign of a possible dry socket and you must get in touch with your dentist about this type of pain.
Is throbbing pain normal?
Before your treatment the tooth might well have been throbbing or really painful at times.  This usually means the nerve of the tooth is involved or is damaged.
The extraction should remove the entirety of the nerve from the socket and the throbbing should stop.  If there is still throbbing after the extraction this could be the normal effects of the trauma of having the tooth taken out on your surrounding tissues.
However, throbbing after the extraction or any increasing pain after about 5 days is a bad sign and if the pain radiates to the ear then this could be a sign you have a dry socket which is a complication of an extraction procedure and will require you to return to the dentist.  More on dry sockets in the complications section below.
Does the type of tooth make a difference?
Different people experience pain in different ways and sometimes the type of tooth extracted can have an effect on how much pain might be associated with the procedure.
For example, if you come in with an infected tooth or big abscess then you may already be in terrible pain and the result will be a blissful absence of pain so you will likely report a painless procedure.
However, it you weren't in any pain to begin with and feel pressure and slight pain than you may report feeling some pain.  Although the two procedures could have been done precisely the same.  So things are all relative and pain – especially – is relative and different for all people.
That's not to say if you have a low pain threshold it's going to hurt because it's not.  Your dentist will make sure of that.  And if they do not.  Find another one.
You will receive aftercare instructions tailored to the type of extraction that you've had.  We've put together a helpful table to give you some advice on pain, swelling, what you can eat, what to avoid and when to call us below.
Once the procedure is over you might be feeling a little woozy from the local anaesthetic that can make some people feel drowsy and others feel on edge or worried. This is because sometimes the local anaesthetic dentists use contains a chemical similar to adrenaline that makes you feel edgy.
You may also have not eaten or not feel like eating so be aware of potential problems with low blood sugar. Try to drink something sweet with no caffeine in it like orange juice or your favourite squash.
You can combat anxious feelings by breathing deeply and sitting still for a while. You will have received comprehensive aftercare instructions from the team at Smileworks and will know precisely what to do depending on the extent of the treatment you've had.
Tooth Extraction Recovery Timetable
| | Day of Extraction | 24-48hrs | +2-5 Days | 5 Days + |
| --- | --- | --- | --- | --- |
| Pain | Anaesthetic wears off after 2 hours | Painkillers from pharmacy | If pain increasing call dentist | If pain increasing call dentist |
| Bleeding | Blood in saliva. Slight bleeding. Bite down on gauze for 15 mins if bleeding persists | No bleeding | if bleeding increases call dentist | if bleeding increases call dentist |
| Swelling | Slight swelling possible | May increase 24-48 hrs. Max at around 48-72 hrs | Swelling will begin to decrease | Swelling should be mostly gone |
| Foods | Liquid food | Soft foods & liquids | Soft foods | Eat as you feel able |
| Oral Hygiene | Avoid treated area with brush. Rinse with salt water | Avoid treated area with brush. Rinse with salt water | Brush normally avoiding extraction site | Brush around extraction site as you feel able. Best to still avoid. |
| Exercise | Rest. No gym or strenuous exercise | Rest. No gym or strenuous exercise | Hard exercise may dislodge clot | Exercise as you feel able |
| Alcohol | None | None | Drink in moderation | drink in moderation |
| Smoking | None | None | None | None |
Please don't smoke after an extraction, you just increase the chances of a complication called a dry socket. Which hurts. Not as much as lung cancer. But it still really hurts.
Itemised Tooth Extraction Prices | 2020
Preparing for a tooth extraction
Many patients ask us if there is any way they can prepare for a tooth extraction. The best way is to make sure you are under the care of a skilled and talented oral surgeon or general dentist who you trust and who explains the process to you in as much detail as you want.
Even for damaged and painful teeth it is still your choice whether to have an extraction and you must weigh the risks and benefits – more on this below.
The best advice we can give is to be calm and ask lots of questions. Sometimes this can be difficult when you are in pain which is all the more reason to make sure you are under the care of a dentist you trust.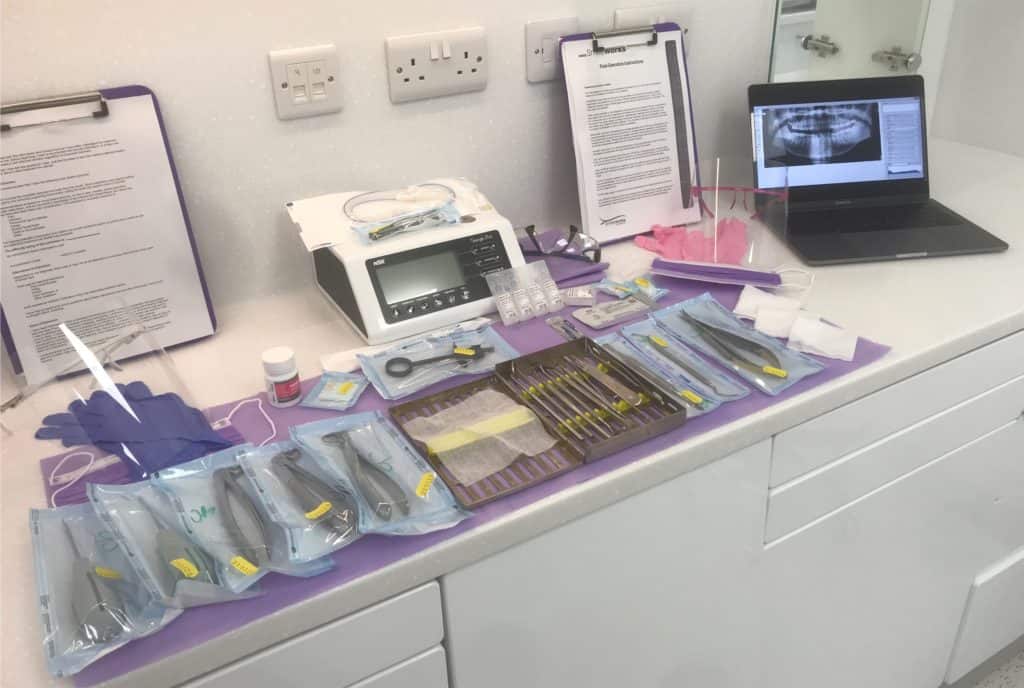 Tips to prepare for a tooth extraction
Make sure you're at a dental practice you feel comfortable in and in the care of a dentist you trust

Try to keep calm and ask lots of questions

Remember it's your decision whether to have a tooth extracted

Always make sure you are properly consented and understand what consent means

Try to eat something before the procedure to reduce the chances you might feel ill or faint

Relax and let the experts do their work

If something doesn't feel right then you have the right to say no or to wait and possibly make another appointment at a later date.
A good dentist will not mind this at all.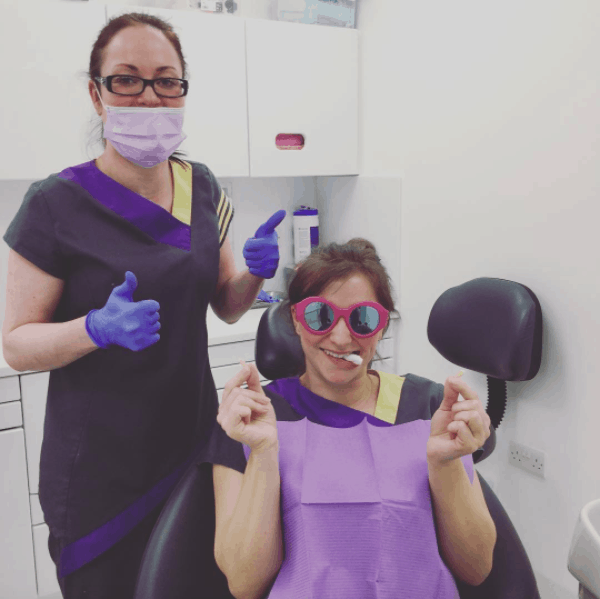 Here's how your dentist might prepare for your extraction
Home remedies and natural pain relief
The best natural remedy following an extraction is salt water.  Stir a teaspoon of normal table salt into a large glass of hot water until all the salt has dissolved away.
Leave the mixture to cool until it is just hot enough to drink and then rinse gently for around 30 seconds.
!*Do not drink the salt water*!
Spit it out and repeat if necessary. There's nothing to worry about if there's some blood in the spit. This is normal. Salt water helps fight infection and soothes the area. Some people also get pain relief from hot or cold compress to the face.
Unfortunately honey, black tea, aloe vera, vinegar, clove oil, garlic and turmeric are commonly suggested, they are more likely to give you an infection than stop one so take your advice from dentists and not quacks when deciding what you should do flowing your procedure.
Sometimes just a nice relaxing hot bath can soothe a multitude of aches and pains or some people swear by getting fresh air and going for a gentle stroll outside to calm themselves. All of these are fine. Including meditation and whatever makes you feel happy.
If you have tried a random home remedy and the pain has worsened then call your dentist immediately.
Also avoid eating sweets, hard or crispy foods or chewing on the affected side of your mouth if you are eating anything chewy.
Tooth Extraction Complications and Risks
A safe and well stocked surgery and a talented and highly experienced dental surgeon will be able to keep the risks and complications of an extraction to an absolute minimum.  Make sure you choose the right surgery, the right dentist and that you trust them implicitly.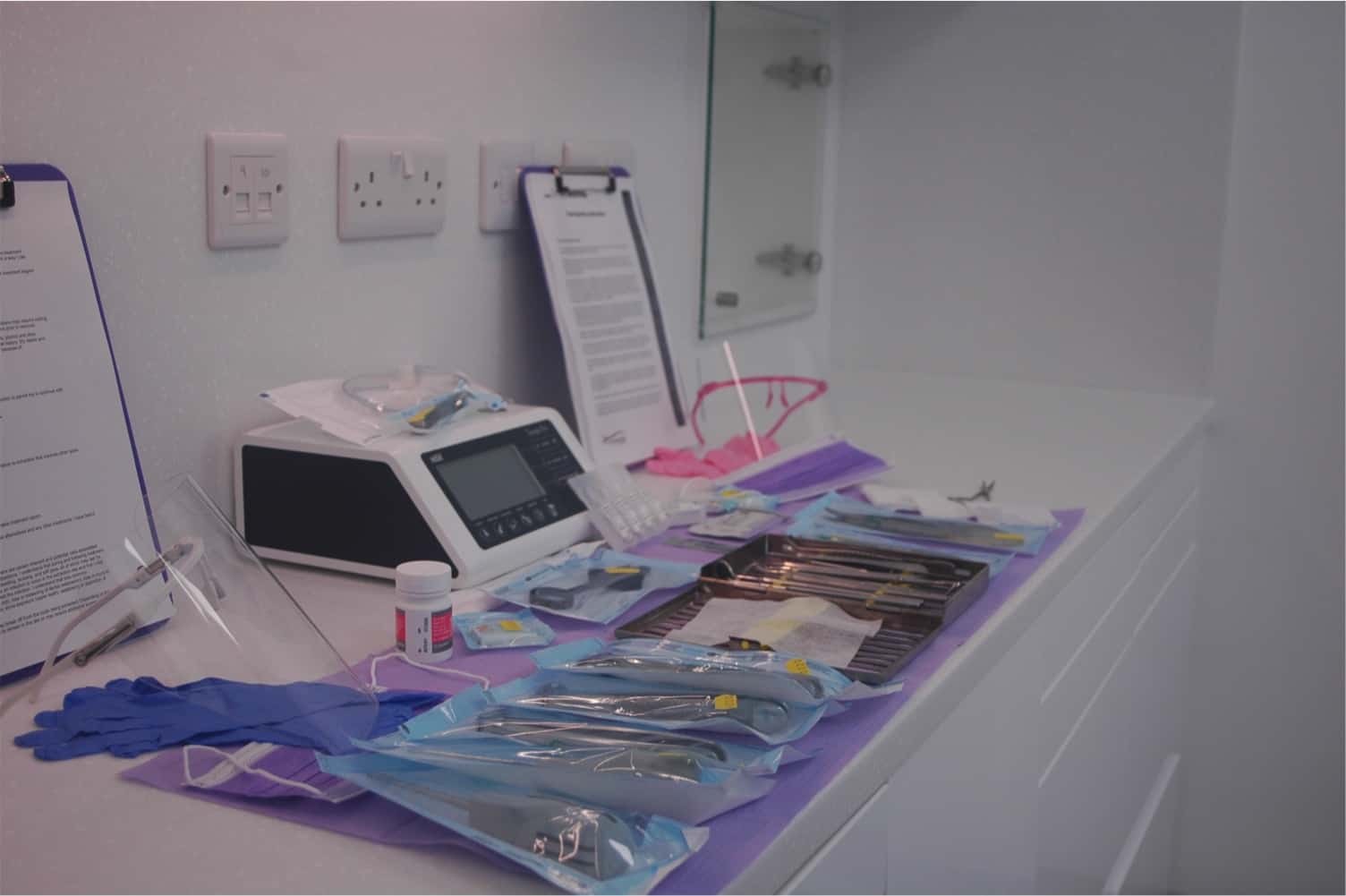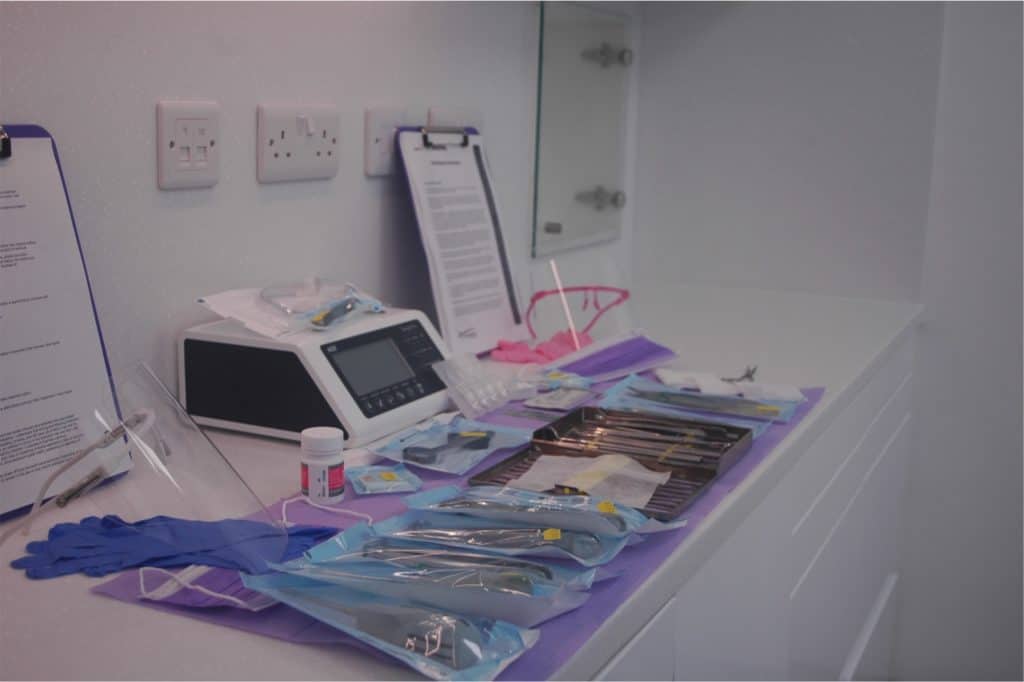 Alveolar Osteitis (Dry Socket) is a rare complication occurring in 2-5% of individuals following an extraction of an adult tooth. It most commonly happens following disintegration or loss of the blood clot that helps the wound heal.
When the bone is exposed it becomes infected causing severe pain and a foul smell from the infection. Dry socket is statistically more likely to occur following wisdom tooth extractions or a traumatic extraction (evulsion) as the hole is larger or there is more damage to the bone.
Smoking, spitting out the clot or sticking your tongue in the gap is likely to dislodge the clot in the same way as aggravating it with your toothbrush, Tepe brushes or your fingers.  So avoid doing these things following your extraction.  If you have a dry socket you'll certainly know about it and should call your dentist immediately as it is an easily treatable condition.
How do I know if I have a dry socket?
Symptoms of dry socket are:
Moderate to severe

pain

Pain increasing

after 3-5 days of your procedure
Soreness, redness

or

swelling,

Pus

, discharge and a

foul smell

You may have noticed the

clot coming out

and felt yourself swallowing it or seen that you've accidentally spat it out
You may be able to

see the hole or exposed bone

(it won't always appear white but pink, red or black)
General infection at extraction site
Infections are a potential risk of any surgical procedure and you will be properly consented and a medical history taken to minimise the chances of an infection occurring.  Following your aftercare instructions will also minimise the risk.
If you do get an infection at the site then you may feel pain increasing and swelling / hotness increasing after the normal reduction period of 24-72 hours.  Also pus, swelling and redness and a foul smell from your mouth are all signs of infection.
Call the dentist and they will be able to diagnose the problem.  Potential treatments involve salt water rinses, application of gauze  and antibiotics in severe cases.
Sometimes during an extraction the tooth may fracture or the root may fracture and small parts of each may be left in your jaw.  They may need further surgical extraction or may be stable and able to remain in place.
Your dentist will know if this complication has occurred and will be able to council you on the possible options available to you.
Damage to nerves and blood vessles
There is a very small change that impacted teeth may be lying on nerves or blood vessels in the jaw.  Having proper imaging and diagnostics should alert your dentist to these risks so that they can work appropriately and allow you to decide how you would like to proceed in the knowledge that there is an increased risk of damage to nerves or vessels.
Here's a radiograph of a nerve extremely close to an impacted wisdom tooth.  A surgeon should be extremely careful considering this radiograph, interpreting it correctly and informing the patient of the risks before proceeding with the extraction.