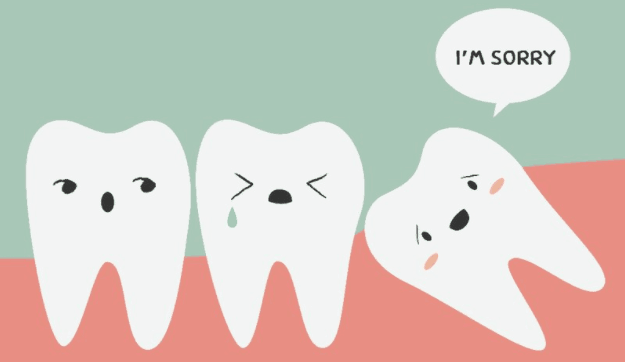 Wisdom tooth removal:  The facts
Wisdom tooth removal is having one or both of your third molars (wisdom teeth) taken out by a dentist.  Removal is required when the erupting wisdom teeth become impacted, or something is blocking them from coming through.
This can lead to toothache and sometimes an inflammation or infection of the gum.  This is what dentists call pericoronitis.  When the impacted wisdom tooth is removed, the pain, swelling and infection will go away and there will be no risk of damage to the surrounding teeth.  Wisdom tooth removal is a routine and popular dental treatment and because we use local anaesthetic you can expect the treatment to be painless and cost around £150-300 depending on the complexity.  Upper and lower teeth are different and can be more or less complicated depending on the circumstances.
Wisdom tooth removal cost uk
The wisdom tooth removal cost here in the UK depends on a number of factors.  The cost of a wisdom tooth extraction depends on the treatment required.  Different 3rd molars (upper and lower) have different anatomy and the stages of eruption, how much the tooth is impacted and whether there's infection can mean the cost varies.  The best thing to do is to speak to an expert at the practice who can give you more advice depending on your particular situation.
It's like when you take your car to the garage after a bump.  Sometimes it's just damage to the bodywork that can be easily fixed without it costing too much.  Other times the radiator or chassis might be damaged and the cost will be more.  So we can never say with certainty how much it will cost.
What we can say with certainty is that if you come for a £50 emergency appointment you will leave knowing precisely the cost, risks and implications of treatment.  It's more than likely that your case will be simple and we can get it fixed as a simple wisdom tooth extraction.  If it's more complicated then you'll probably know about it because of the severe pain and other more serious symptoms outlined below.
| | | |
| --- | --- | --- |
| Wisdom tooth extraction (simple) | | £150-£200 |
| Wisdom tooth extraction (complex) | | £280-£350 |
To see all our smileworks prices follow the link to Dental Prices.
If you need an appointment for wisdom tooth extraction then just call the office for an emergency appointment on 0151 236 5166.  We have specialist oral surgeons and general dentists who carry out this treatment daily so you can be sure that you will be in the best hands.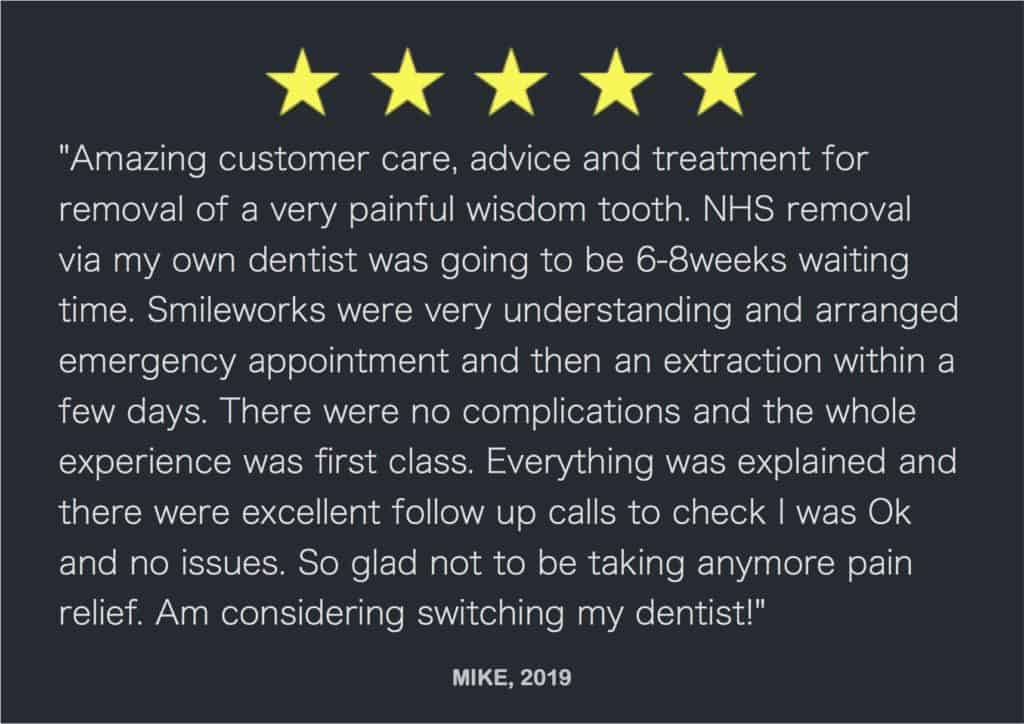 What are Wisdom Teeth?
Wisdom teeth (also called third molars) grow at the back of your gums.  Most people have four —one in each corner of the mouth—and they typically emerge during our late teens or early twenties.  Sometimes you'll need a special wisdom teeth removal procedure from your dentist if you're experiencing wisdom tooth pain – and here's why.
When the wisdom teeth come through or 'erupt' the mouth is usually full of adult teeth and there isn't always enough room for four new teeth. Because of this, wisdom teeth often surface at awkward angles, or only partially emerge due to overcrowding.  Teeth that grow abnormally are known as impacted and it's these impacted teeth that can give you pain and problems.  Surgical extraction is something your dentist or oral surgeon can do to fix the problem.  Read on for more or scroll down for our video outlining the procedure in detail.
If you have painful wisdom teeth and need an emergency dental appointment visit our emergency dentist page here:  Emergency Dentist Liverpool. If you have uncontrolled bleeding or severe pain following a wisdom tooth extraction procedure then you can get help by calling NHS 111.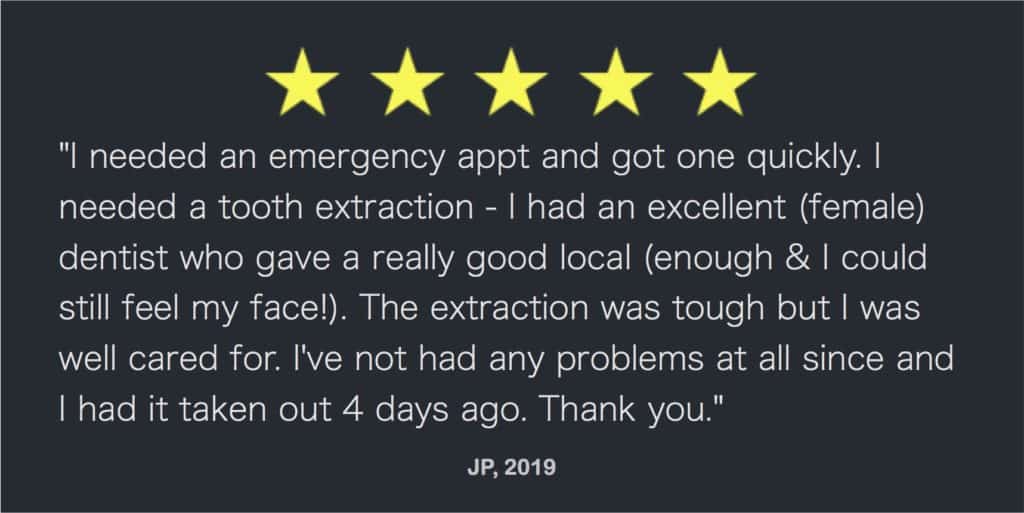 Here at Smileworks we have a specialist oral surgeon, Dr Anca Antoniu DMD, PGCert who will perform complex extractions and oral surgery.  She has a wealth of experience working in hospitals and private practice and can effortlessly handle even the most difficult impacted wisdom tooth cases.  Her patients love her and constantly amaze us by saying how much they enjoy having their teeth extracted?  Don't believe us?  Take a look at some of her extraction reviews.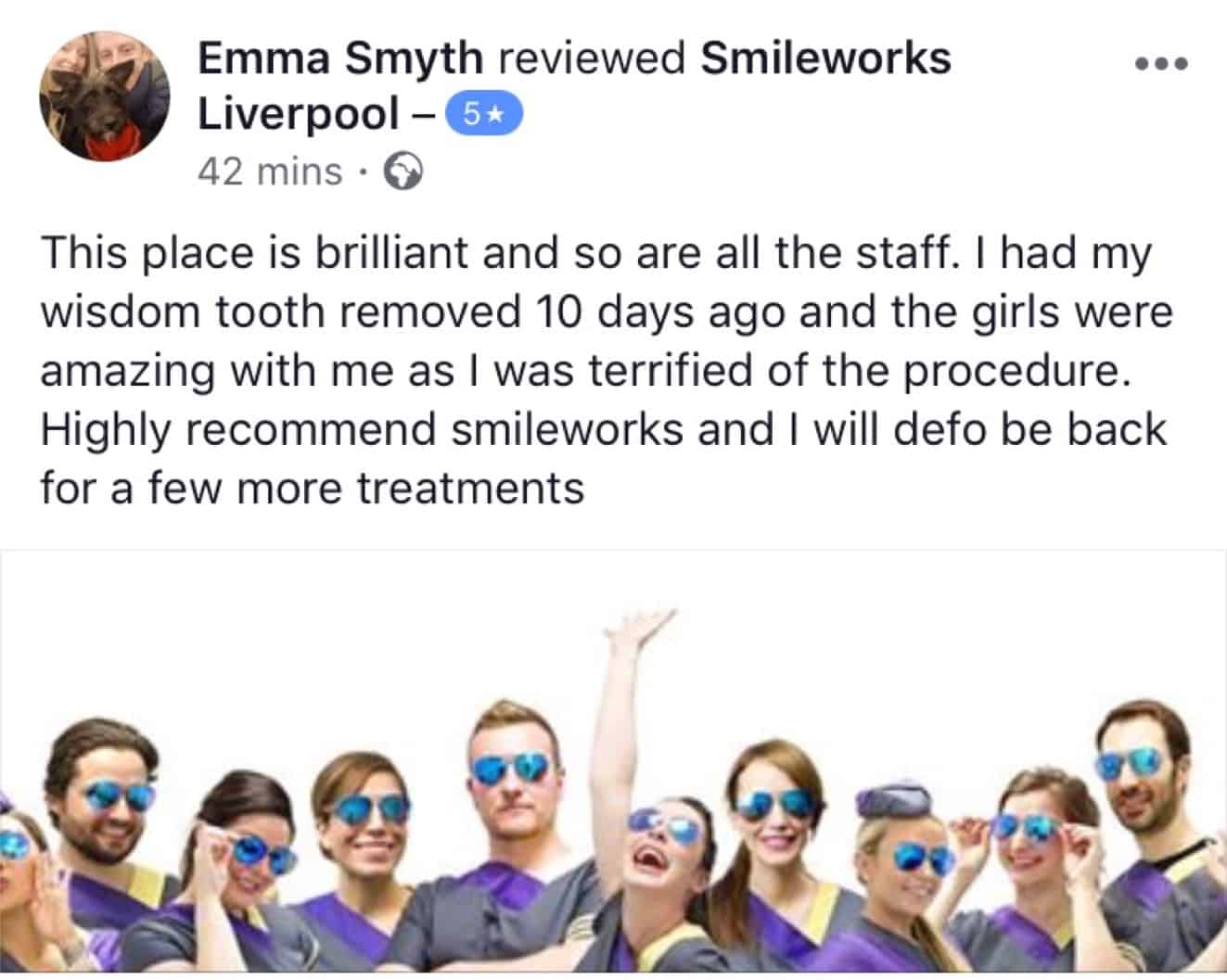 Wisdom Tooth Pain Symptoms
Impacted wisdom teeth can cause complications as the condition worsens, such as damage and realignment of the surrounding teeth, gum disease, and cysts.  You should make an appointment to see your dentist if you're experiencing severe discomfort from your wisdom teeth.
Common symptoms of impacted wisdom teeth are throbbing pain in the back of the mouth, swollen or bleeding gums, swelling around the jaw, swollen glands in the shoulder or neck, and headaches.  These symptoms can often be mistaken for Gum Disease.  If you think you might have gum disease take a look at our main gum disease treatment page here.
How to relieve wisdom tooth pain
Some impacted wisdom teeth need extracting and this is the only way to get you out of pain.  However, if there are minor flare-ups at the back of your mouth, follow this advice to help relive pain.
A simple home remedy for the pain is gargling with salt. This naturally antiseptic compound helps reduce inflammation in the gums, and even has the potential to fight infection.  However, if pain and oral distress persists, you may need to consider an extraction or removal of the teeth.
An experienced dentist will be able to remove your wisdom teeth with no problems thereby preventing inflammation and infection, overcrowding, damage to nearby teeth and cysts. Extracting impacted teeth can improve your dental hygiene significantly and lower the chance of wisdom tooth infection or pericoronitis
Wisdom teeth removal procedure video
Wisdom tooth extraction:  What are the alternatives?
Not all wisdom teeth need to be removed. If they're not causing pain or discomfort, there may not be an urgent reason to extract them.  Carefully cleaning your teeth can ease the symptoms of impacted teeth, such as soreness and swelling of the gums. Your dentist may offer antibiotics if your teeth become infected.
Wisdom tooth pain can come and go over months or even years and varies significantly in intensity from patient to patient and at different times.  What is clear, however, is that the problem rarely goes away and you may need to have them extracted if you are experiencing recurring or chronic pain in your teeth.
What does a wisdom tooth coming through look like?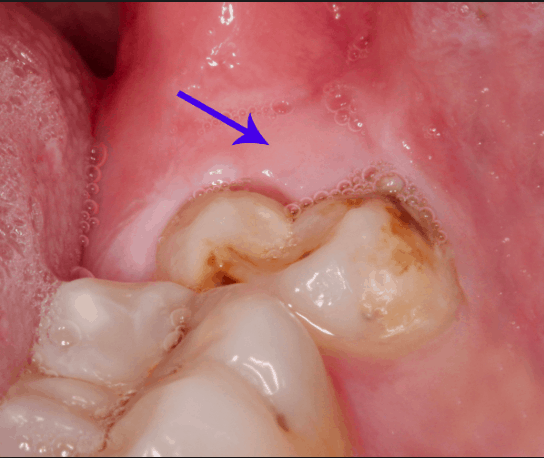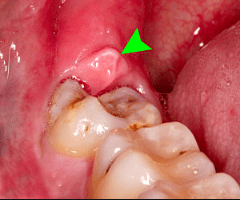 Signs that a wisdom tooth is coming through are usually:
Sore, inflamed or reddened gums at the back of your mouth
Pain or discomfort that might be constant or periodic (coming on and going away from month to month).
Headaches and neck pain
Swelling and hot feeling in the gums at the back of your mouth
Pus or discharge coming from your gum or a bad taste at the back of your mouth.  This can also lead to bad breath.
In severe cases you can experience difficulty swallowing or opening and closing your mouth – if this happens call NHS 111 or an emergency dentist immediately.
Swollen or sore lymph nodes or feeling your 'glands are swollen' like when you have a cold or flu.
Fever, shivering or flu-like symptoms.
If you just have toothache and it's not a wisdom tooth then you might need a root canal.  You can read about this treatment here: Root Canal Liverpool.
Tooth extraction at Smileworks
Before the procedure, you will be administered a local anaesthetic injection to numb the area around the tooth. The dentist or oral surgeon will then widen the tooth socket by rocking the tooth back and forth, in preparation for its removal.  Here at Smileworks we have the most advanced and talented dentists and oral surgeons in Liverpool so you are in the safest of hands.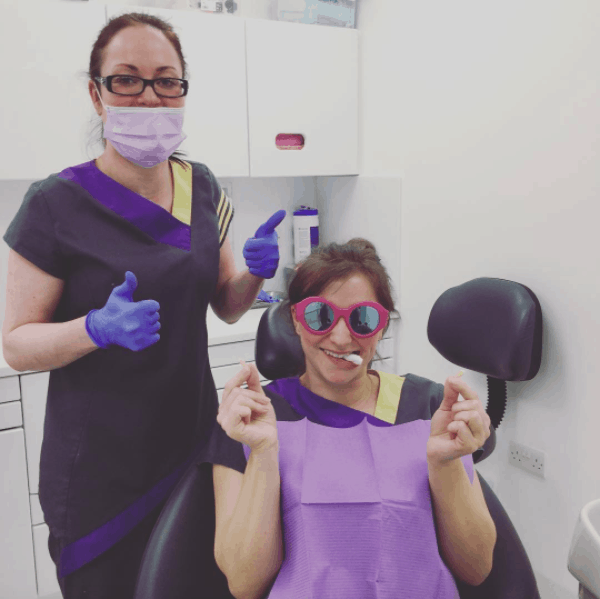 Sometimes when extracting teeth it's best to wait a few minutes after wiggling them loose.  This causes the tissue and fluids to build up around the tooth and gently push it out of the socket.  This technique is extremely gentle and also requires a highly experienced surgeon.
Does tooth extraction hurt?
In 2019 with modern techniques, highly skilled clinical teams and advanced anaesthetics, extractions do not hurt:

The days of pulling and pulling and yanking at your teeth are over and now a good dentist will use their skills to ease the tooth out of the socket in a comfortable and pain free way.  During these three or four minutes we can play your favourite song on iTunes and Smileworks dentists have been known to pass these few minutes doing a little dance for our patients in their fancy custom fit uniforms.
In some cases, a cut may be needed in your gum, and the tooth may need to be cut into smaller pieces in order to be extracted. Some procedures take only a few minutes, while others can exceed 20 minutes.  But however long it takes, you can be sure that you are in the safest of hands and that your dentists absolutely have everything under their control.
Will I need a scan?
Here at Smileworks we're lucky enough to have a 3D CBCT scanner that can be used to identify precisely where your impacted teeth are and more importantly, where the bone, vessels and nerves are before the extraction.  We never go in blind and will have an extremely accurate picture of things before the procedure if it is suspected that there may be complications that need to be considered beforehand.
Aftercare Advice
Proceeding your extraction, you may experience swelling and discomfort. A stiff, sore jaw, tingling or numbness in the face, lips or tongue, and an unpleasant taste in the mouth are also common side effects.  To reduce pain and hasten recovery, use painkillers such as paracetamol or ibuprofen, and avoid strenuous activity. It can also be helpful to:
Avoid alcohol and smoking
Eat soft food and chew with other teeth
Gently rinse the extraction site with antiseptic mouthwash after 24 hours, and repeat regularly over next few days
Recovery time
The typical recovery period is 3-4 days.  Most people don't experience problems after the procedure.  However, you should contact your dentist or speak to the NHS direct on 111 immediately if you experience any of the following:
Bleeding that doesn't stop after applying pressure, or that lasts for more than an hour or two
Severe pain or swelling that does not improve
A high temperature, which may indicate an infection
Best foods to eat
If you undergo wisdom tooth extraction, or are experiencing wisdom tooth pain, knowing what to eat after treatment can lead to a smoother recovery or cause you less pain and discomfort.  Some great foods to eat during this period include:
Apple sauce
Soup
Jelly
Mash potatoes
Yogurt
Instant oatmeal
For more information on our emergency dental procedures such as wisdom teeth removal and surgical extractions follow the link here to our emergency dentist page.  Or call 0151 236 5166 to speak to someone at the practice.
Do you want to know what it's like at Smileworks?  Take a look at our Video and 360° tour below.
Take the google 360° tour below
I had semi-permanent eyeliner with Hannah. it was a great experience I came back 3 times in all for all the top ups.(included in the price ) She made sure that I was 100 percent happy with the look and pain free. She took the time, and was extremely friendly and welcoming as well as totally professional . I will definitely come back as it fades It's amazing to not put eyeliner on and know you look good at 6.30 am at the gym!
Visited here today staff were so warm and friendly! I had an aesthetic appointment with MJ she made me feel so relaxed and at ease. I would highly recommend Smileworks!
Great place with professional staff and nice atmosphere. My appointment was with Louise and Eva who were very helpful, friendly and knowledgeable. They have explained everything clearly and made me feel relaxed. Would highly recommend.
Denise Colley
22:42 27 Jan 19
I had my lips done here in November and a quick check up in December... I was amazed at how professional it was and I love the aesthetic of the office too. MJ made me feel a home, as did the rest of the team, and I will definitely be returning when I need to!
Danielle Piper
20:12 20 Jan 19
Been coming here for the past few months, teeth are so much better since coming here, teeth whitening under way and look boss. Thanks to Zoe for sorting my pegs out and for the laughs. See ya soon gorj xxxxx
James Selsby
09:39 16 Jan 19
Probably the best visit to the dentist's ever! I would recommend without ant second thought! Keep up the good work!!!
Σοφια Αλεξιαδου
15:17 05 Jan 19
Refreshing new look of the "dentist". I found Smileworks quick with no hassle. They know what they're doing and not stuffy. Would definitely recommend.
Carolyn Wagstaff
20:07 27 Dec 18
I find myself recommending more people to these guys every day at work, I wouldn't go anywhere else now! Amazing service delivered in a friendly and welcoming environment.
Jared & Co Barbers
19:28 11 Dec 18
I absolutely love this place. Staff are amazing. And what can I say about the wonderful MJ.... Try it yourself, I guarantee you wont disappointed.
pamela Bretland
18:46 11 Dec 18
First time for lip fillers, so obviously a little nervous on the outcome but I am over the moon. A natural yet full look could not recommend smileworks anymore. MJ is unreal at what she does and puts you at ease within a few seconds of the consultation whilst also giving all the right info and questions. Excited for another ml already!
Rosa Horsley
12:13 26 Nov 18
Great experience. Very happy with my new smile. All the staff are faultless and so welcoming!!
Jessica Hudson
16:13 14 Nov 18
Can't recommend smileworks enough amazing service! Really helpful over the phone and booking my first visit was so easy. Laurence and Georgie were so friendly and discussed the different options and treatment plan in detail. Nothing was too much trouble 🙂 Thanks guys!
Sam Abbott
16:06 07 Nov 18
I feel 5 star is not enough and those guys deserve an infinite number of stars and a unicorn on top of that!I have a severe phobia if it comes to my teeth, I'm a survivor of Polish public dentist care and let me tell you that's something straight from nightmares and torture chambers. As a results my teeth are not in a great way (those that did survive), to add to the "fun" I also have major orthodontic issues.I knew I needed help and it took me about a year and a half (this is not an exaggeration) to make my way to Smileworks. In the meantime I tried two other 5-star rated places and I wasn't convinced enough to stick around. The second I called Smileworks I had a warm fuzzy feeling in my belly that this place is the right place finally,It took a few months and multiple appointment before the right treatment plan could be created, since my case is complicated to say the least. I feel that there was a LOT of thoughts put into finding a solution, which made me feel at ease and gain enough trust to go ahead with the treatment. Every time I come to visit everyone is just brilliant. All the ladies and gents are nice and bubbly, which definitely helps to relax. Their approach is very gentle, a lot of attention is given to the patients and you just get the feeling that this guys really know what they do. I feel spoiled and I stopped fearing every dentist visit as I used to in the past. I know it sounds odd, but if anyone is able to make dentist appointments as pleasurable as possible, that's the people at Smileworks!As to address the money, things like that cost a lot, that's the unfortunate reality and there's no way to avoid that. For what I've been offered i think that's worth every penny. If it comes to the plane theme, I think it's amazing and I absolutely love it, especially because of all the little details. Finally a place with a sense of humor! I get how people scared of dentist AND flying can find it disturbing, but I think that's just an edge case.I will preach the genius of this place forever and share it with anyone who is eager to listen (or is not eager to listen at all but just haven't ran fast enough from me).
Joanna Skorupa
10:24 26 Oct 18
Had my first appointment today with Paula and Jess. It was very nice, friendly and professional! I was talked through a plan for future treatments that I wanted and given a price estimate, so helpful! Appointment was also 2 days after I phoned them, so seen very quickly!
Laura Johnston
14:22 19 Oct 18
Had bad experiences with other dentists. Went to smileworks. I could not have been treated better. The staff are amazing and my dentist Susan is fantastic. She put me completely at ease. I've never said this before but I now enjoy going to see her and get work done on my teeth. Would highly recommend smileworks
Karen Wells
04:22 11 Oct 18
I went to smileworks last week for a new retainer. The service I received was great, from meeting the receptionists to when I was receiving treatment from Paula and the dental nurse. Everyone was very smiley, friendly and helpful. Paula especially took the time to explain whitening treatments to me (as I mentioned I would like whiter teeth on my patient details form) and also explained treatments such as composite bonding which could help me achieve the perfect smile I was looking for. The dental nurse helping was also very calming and patient. I would definitely recommend to others and would really like to compliment their great customer service. Thanks smileworks and all their lovely staff.
Victoria Thomas-Hui
20:33 10 Oct 18
Went to smileworks to have my eyebrows done by Hannah! From the moment you walk in everyone is super friendly and Hannah greets you like an old friend! This was my second visit as it was a top up! My eyebrows are really not easy as they pretty much non existent and what was there was super wonky! Hannah was amazing! She was so patient and spent a ridiculously long time making sure I went home happy! Would 100% recommend to everyone!! X
Bethany Sheldon
16:31 06 Oct 18
I couldn't recommend Smileworks more! All staff are so friendly and make you feel welcome. Hannah is absolutely amazing! An absolute perfectionist in semi-permanent makeup. Anyone who is considering having eyebrows/eyeliner/lips done should 100% have Hannah do them, you won't regret it!
Abby Cowdell
16:26 17 Sep 18
Very pleased with the dermal fillers administered by MJ and the semi permanent makeup from Hannah. Both took the time and effort to ensure I received the best options for treatment. In addition, the reception staff were very polite and welcoming which added to my positive experience. Would definitely recommend.
I unfortunately lost a tooth a few years ago due to a nasty abscess that too many root canal treatments could not cure. I decided at the beginning of the year that it was time to fix my smile and went for a consultation for a dental implant. I visited a couple of dental practices and decided on smileworks due to the friendliness of staff and their ability to answer all of my questions and put my mind at ease. Plus an added benefit was that they offered credit to help finance the treatment. I could not be more happy with my decision and my results. I have a perfect smile once more and dealing with the team was an absolute pleasure! I cannot recommend their services highly enough.
Grainne Mulholland
12:34 05 Sep 18
One of the best dental practice I have ever seen. Thank you all for your helping me during my emergency visit. للأخوة العرب المقيمين أو الزائرين إلى ليفربول، هذه العيادة من أفضل عيادات الأسنان التي رأيتها في حياتي بدء من الاستقبال وحتى الطبيب المعالج. اذا احتجت الى زيارة طبيب الاسنان اجعل هذي العيادة خيارك الأول!
Ali Alsolme
14:19 01 Sep 18
The best money well spent, my appointment was with Zoe. I felt welcomed, I was thoroughly advised on my options and what to expect. Very honest about the pros and cons regarding the treatment. I had one tooth pulled out and I felt nothing bearing in mind that this "thing" was "rotten" but "clinging for dear life", yet I felt nothing. Zoe made me roar with laughter with the conversations she was having with me and her colleague, whilst playing "tug of war" with the tooth. Errors made by my previous dentist Zoe corrected and I am well pleased. Very sterile, good looking business. Thankyou
Robertha Jones
12:13 27 Aug 18
Absolutely enjoyable team from nurses to doctors. No waiting, instant meetings and rapid assistance with perfect service. I highly recommend to everyone who needs professional help.
Jiri Vyborny
17:57 25 Aug 18
Absolutely lovely people that work there, great service and make you feel at home. As for the quality of braces, it's well worth it! I've had mine in only for 4 months and they look amazing! The difference already is unbelievable. Thank you so much smileworks!
Found Smileworks online Friday night when my veneer came off and was seen and sorted by lunchtime Saturday! Amazing customer service, so helpful! If you need a new dentist that opens weekends or in need of emergency treatment don't hesitate to contact Smileworks! My husband thinks my veneer looks better now than it did originally! Thanks again to the Smileworks team!
Tara Byrne
19:17 11 Aug 18
OMG! If you're looking for an outstanding consultation or just wanna make yourself prettier, then Smileworks is THE place! Excellent clinicians, very talented, and performing only at the highest possible standard! Love it 😍
Georgiana Taulea
21:39 04 Aug 18
Paula & Emily treated me very thoroughly and did a very good job at putting me at ease. The practice is very clean and modern. Dr Lawrence has also been brilliant. I have absolutely nothing negative to say, so glad I found this practice!
Jennifer Josephine
17:54 25 Jul 18
Amazing place to make yourself more confident and happy about your smile. All team are really friendly and helpful. Dr. Laurence is fantastic made me feel so comfortable and relaxed, he is so knowledgeable and explains everything!
Roma Neverdauskaitė
16:49 05 Jul 18
Amazing!In order to get braces I have done a comprehensive research and booked initial appointments in several places in Liverpool.I have found out that in many of them I wouldn't be treated by an orthodontist, but by a person who only has a certificate (and is lacking the knowledge and experience that an orthodontist has), and in some places there was a weird, cold, "we don't really care" attitude, plus I would only see a dental nurse.Smileworks keeps it's standards high, will always welcome you like an old friend, with smiles and care! Laurence, the orthodontist, very nice and very professional guy, investigated my case, went through a treatment plan with me, and I left happy, knowing I found my place and that I can trust them.My first appointment with Smileworks was 10 months ago, and since then I enjoy every visit, every conversation, every appt follow up, everything about this place! Great energy, great people and great results. It's a no brainer, I can't recommend it enough!Thank you for creating such an amazing experience for your customers!
Maja Socha
11:14 03 Jul 18
Amazing!In order to get braces I have done a comprehensive research and booked initial appointments in several places in Liverpool.I have found out that in many of them I wouldn't be treated by an orthodontist, but by a person who only has a certificate (and is lacking the knowledge and experience that an orthodontist has), and in some places there was a weird, cold, "we don't really care" attitude, plus I would only see a dental nurse.Smileworks keeps it's standards high, will always welcome you like an old friend, with smiles and care! Laurence, the orthodontist, very nice and very professional guy, investigated my case, went through a treatment plan with me, and I left happy, knowing I found my place and that I can trust them.My first appointment with Smileworks was 10 months ago, and since then I enjoy every visit, every conversation, every appt follow up, everything about this place! Great energy, great people and great results. It's a no brainer, I can't recommend it enough!Thank you for creating such an amazing experience for your customers!
Maja Socha
11:13 03 Jul 18
I booked an appointment having not been to the dentist for a while through Kerry who was very helpful. My consultation was completed by Bambi and Ewa. My appointment was very thorough and I was extremely impressed with the level of service. I would definitely recommend smileworks to my friends and family. Thank you for looking after me!
Ste Glover
18:54 27 Jun 18
Amazing customer care and advice and treatment for removal of a very painful wisdom tooth. NHS removal via my own dentist was going to be 6-8weeks waiting time. Smileworks were very understanding and arranged emergency appointment and then an extraction within a few days. There were no complications and the whole experience was first class. Everything was explained and there were excellent follow up calls to check I was Ok and no issues. So glad not to be taking anymore pain relief. Am considering switching my dentist!
Mike Whiting
14:44 27 Jun 18
The customer service at this dental practice is some of the best I have experienced in any organisation period. All staff are a credit to themselves and their employer. Friendly, bubbly, knowledgable and considerate. The treatment was top class, the facilities brilliant and the location very central and convenient. I don't often bother to leave reviews on Google, but I think it's worth the effort this time. Well done to all at Smileworks - outstanding.
Paul Gregory
21:16 13 Jun 18
Excellent treatment performed by professional dentists. I did NOT feel the dentist's hands when digging the tooth that caused a strong pain. I did NOT feel at all what happened:) smile and thanks a lot after 30 min of treatment. A narrative: The clinic gave me a fast track consultation as an emergency appointment when I call them in the early morning because of sudden and increasing pain over night after passing another clinic in a day before. Recent equipments of x-ray 4k that can take images of teeth and identity problems before handelling any treatment clearly after 5 min. The clinic is on high standards. It is highly appreciated and highly recommended. Thanks a lot.
Hany Ahmed
02:13 31 May 18
From my consultation to the end result I received the best customer service I have experienced. I was looked after by Paula and Emily who were both so welcoming, friendly and helpful and answered all of my questions. The consultation itself was so in depth and helpful and I learnt things that no other dentist had told me. I would recommend this place to anyone wanting dental treatment and I would definitely return.
Amy Robertshaw
14:23 29 Apr 18
Honestly the best customer service I have ever received. The receptionist is so friendly and helpful and the staff who looked at my teeth were very professional, always making sure that I was okay throughout. Nothing was too much trouble and they made sure that I left with full knowledge of what my teeth whitening procedure was going to be and answered all questions! Will definitely be recommending to friends and I cant wait to come back for my next appointment!
I chose Smileworks for my braces and could not be happier with my decision and have been recommending them ever since! There is always a friendly atmosphere at Smileworks and I'm always talked through what will be happening during my appointment. The late opening hours are perfect for fitting in around work and I have never had to wait longer than my given appointment time on every visit so far. In just 5 months Smileworks have managed to drastically straighten my teeth which I didn't even think was possible after expecting a minimum of 1 year treatment!
Chelsea Borrow
21:35 19 Apr 18
A superb experience! From the initial call to the reception team through to the treatment and after-care level of service, my expectations were exceeded in every aspect. This is a very smart, clean, modern and friendly dental clinic with customers at the heart of service. The team of professionals take time to understand the issue, explain possible causes, possible treatments and put you at your ease. This was a first-class experience and although I don't live near here, I am considering switching from my regular dentist to Smileworks Liverpool. Oh and for aviation geeks, the clinic has an airline theme which is refreshingly different to the traditional style of dental surgeries.
Richard Salkeld
18:47 08 Apr 18
First went for an emergency fix, then second time for root canal treatment and veneers, splendid results!! Recommended it to my friend and he got his emergency fix done and was happy with it. I would recommend this dentist to everyone! Thanks Smileworks! You made me more confident now 🙂
Great customer service and care! Friendly staff you feel home each time. I had my treatment with Billy and Eva and I'm so happy about the result. Definitely recommended
Gabriele Ganga
00:17 29 Mar 18
I was initially nervous and apprehensive. I hadn't visited this practice before but I had done my homework and went here on recommendation. I booked with MJ and went to have some work done with my upper lip & facial aesthetics. She put me at ease completely and I was expecting pain. It was so easy, straightforward, and I will definitely go back. I was a little tender the day after, but there was no discomfort on the day of treatment and it was much easier than having a dental filling 🙂 My result has been fabulous and I am very happy and would certainly recommend.
Angela Jones
18:32 27 Mar 18
I had the best first appointment. I had to change dentists because the last one was simply not fixing my issues. I was very hesitant to try a new dentist but I am glad I did. The staff are very polite and attentive. Dentist office itself is exceptionally clean. After my check up everything was explained well. Very good experience .
Shan Parke
15:56 14 Mar 18
Smileworks is easily the most professional, friendliest practice I have ever been too. All the staff are so welcoming and I would never go to another practice for any of my treatments after being see here! Smileworks is the best!
Emily Jones
22:31 08 Mar 18
Great dentist, just had my brace removed and really happy with the results. All the staff are really friendly and welcoming. The late opening hours are a bonus too, so you have lots of flexibility when booking appointments. Would highly recommend.
Chris Brady
14:11 17 Feb 18
I needed an emergency appt & got one quickly. I needed a tooth extraction - I had an excellent (female) dentist who gave a really good local (enough & I could still feel my face!). The extraction was tough but I was well cared for. I've not had any problems at all since and I had it taken out 4 days ago. Thank you.
James Piper
02:19 13 Feb 18
I've recommended Smileworks to a few people now, as I've had nothing but good experiences within the past 6 months. I decided to get my braces fitted here because I thought, with all the good reviews, I couldn't go wrong. I'm so glad I braved it because the results, only 5 months into the treatment, are amazing!!! MJ and Georgi are absolutely lovely. They're so friendly, and really just make you feel so comfortable there, which is a massive plus for nervous patients, as I was to begin with. The waiting area and reception is so fun. It makes a really nice change to what you usually see in a dentists waiting room. So, if you're thinking about going to Smileworks, do it! They're fantastic 😀
Sarah Hornby
21:05 04 Feb 18
Can't believe what I just seen!! Wanted lip fillers but was just doing my research before actually going ahead with any treatment. Came across you guys & seen the lovely reviews and was about to ring but then I seen a response of smile works saying it's " not a right it's a privilege to come to smile works" and I am very put off! I am a dental nurse and I wouldn't dream of ever saying anything like that to a patient. What happens to the patient is always right?Can I just remind you that you're not a privileged company, you should see your patients as the privilege not the other way around. Should give a big Thankyou to all the nice reviews you have and humble yourself because your good luck can change very quickly.I was actually going to apply for a job here but is it too much of a privilege to work here? How silly this practice is. Wouldn't wanna work for this place, such a shame
Amy Hollies
16:20 02 Feb 18
A very welcoming, warm, friendly and professional atmosphere. I Felt very relaxed and at ease whilst I had my treatment which was a 1ml of lip filler. MJ was very informative and listened to what I wanted and personalised my treatment. I am super happy with the results and could not have asked for a better practitioner whilst receiving this procedure. Fantastic company and would highly recommend anyone to go here!
helen murray
14:27 01 Feb 18
Normally I don't like writing bad reviews but after the experience I had today I felt like I needed too. I rang up today to register as a new patient and I was interested in both treatments smile works provide which is, braces and lip filler but I also enquired about having emergency treatment due to experiencing pain but who ever the receptionist that I spoke to at around 11:00, was incredibly rude and said "the practice is too busy right now for all these questions, ring later on" which I wasn't happy with but I understand that people can get busy. Anyway I called back around 4:00 and it sounded like the same person and she said " if you wanted an emergency appointment you should of called earlier, there's nothing I can do" which I didn't like hearing but from this experience I thought I should share this and want to put an complaint in as I'm not happy with how unprofessional this practice is. Never experienced anything like it. Please fix your staffs attitude and have better patient care!
Emily Jones
23:33 30 Jan 18
Called and obtained next day appointment. Clear instructions on how to find the surgery. Very thorough examination. X-rays and dental photos fully explained. Options for further treatment discussed. Follow up appointment arranged to check burn on my palate roof of which I was unaware and make sure nothing more serious. Dental hygiene scale and polish carried out and very pleased with outcome. Excellent service from Rebecca and Lucy. Recommended A+++++
Stephen Olive
18:39 23 Jan 18
First class customer service and care. The vibe of Smileworks is friendly yet ultimately professional. I have completed 3 sessions of PLEXR on my eyelids and the results are incredible! I will not hesitate to come back. Thank you Smileworks, you really have helped me to rebuild my confidence 😌
Sarah Parkinson
17:12 19 Jan 18
I've been going to Smileworks for all my treatments since it first opened and I have not and will not go anywhere else. Everyone is always commenting on how good my lips look, my skin. My teeth are straight after only 3 months of a brace. Everyone there is so friendly and everything is explained throughly. The surgery is so clean and modern and MJ is the most qualified person out there for anything you need. I shall be continuing to go there for the rest of my time. Amazing. Love all the team at Smileworks 💕
Keeley Cawley
00:32 17 Jan 18
I have visited MJ at Smileworks many times and I can not recommend the company any more ! All of the staff are so friendly and make you feel welcome as soon as you walk through the door. I always look forward to visiting Smileworks because the experience is always positive, the treatments provided are fantastic and I always leave feeling a million dollars.
Rebecca Zaidi
20:11 16 Jan 18