Tooth Filling
Sometimes teeth crack or get damaged.  This can be because of tooth decay, grinding or trauma.  Usually on the back teeth the reason is tooth decay or fractures caused by biting and chewing.  This is where tiny fissures in the teeth allow bacterial into the tooth and this damages its internal structures.  Dental filling material can be used to block these fissures and cracks to repair the damage.  Sometimes if this decay is left untreated the bacteria creates acids and harmful by-products that can literally eat away at the tooth causing cavities or holes in your teeth.
Dental fillings are a very common procedure and patients can choose from a variety of different materials.  In the past fillings were made of precious metals like gold and silver or a substance called amalgam.  The problem with using these materials is that they don't look like natural teeth and can be seen when you laugh, smile or eat and some patients want white fillings that are more subtle and look just like your natural teeth.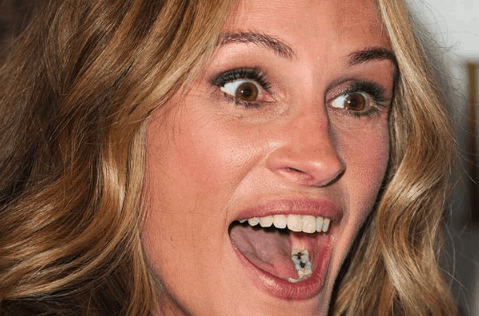 Sometimes people need fillings on their front (anterior teeth) and these will typically be made of white filling materials to give you the best aesthetic outcome.  Consult with your dentist or dental hygiene therapist to find out the best course of treatment for you bearing in mind the aesthetic outcome, health benefits and any other concerns you might have.  Our dentists and hygiene therapists are obsessed with listening to precisely what you want and getting you the result that makes you feel great every day.
Here's what it's like to be a patient at Smileworks:
Having a brace to straighten my teeth and I can honestly say serve has been outstanding and my teeth are straightening

...

so quickly! I'd like to thank Eduardo for making me feel so relaxed (I get a little nervous!) along with Lacy, Emily, Paula, Kerry, Georgie and everyone else who has made it such a lovely experience 😆

read more

After years of having hardly any eyebrows I recently decided to have semi permanent eyebrows done at Smileworks with

...

Hannah. I felt quite nervous at the first appointment but Hannah was so professional, took her time to explain the procedure and I was happy to go ahead. I felt really relaxed by the end and everything went well.I can honestly say I'm absolutely made up with my eyebrows now. It was a bit of a shock at first after having none for some time, but I love them.I have had loads of lovely comments too off people saying how great they look.I have one more top up appointment to go and I'm really looking forward to it and eventually to seeing the end results. I would definitely recommend Hannah to anyone, she done an amazing job on mine.Thanks so much again Hannah x

read more

Had my eyebrows done by Hannah and they are nothing short of amazing! I've gone from having next to no eyebrows to

...

having eyebrows I could never even dream of! She was so professional throughout the experience and genuinely wanted the best for me and my brows! Cannot thank her enough! Already had people complimenting me on them and I will be sending everyone Hannah's way! Xxx

read more

I had to seek emergency help after an incident involving some super sticky toffee...Ismail and Georgie were incredibly

...

professional, quick and efficient. As a VERY anxious patient, this has been the easiest dentist trip ever. Thank you so much!

read more

Amazing place didn't feel like a dentist. Really nice staff and a nice vibe from everybody. Were very helpful and

...

professional. Had an amazing experience with Paula and Nikola for my first check up

read more

Simply the best, I can't recommend this dental practice highly enough, visited recently as a new patient requiring

...

treatment and the advice, welcome and professionalism is second to none. An extended thank you to Dr Ahmed, Lacy, Kerry and all the supporting staff who have been fantastic from the start.

read more

I've never been so impressed with a dental practice before. All the staff are so friendly and helpful. The place is

...

very clean. I currently have braces fitted from Smileworks and have been seeing Eduardo and Emily for my follow-up appointments. The process has not been daunting at all and actually enjoyable to get my dental work done in such a friendly atmosphere. I'll be sticking with Smileworks as my regular dentist for the foreseeable future.

read more

First time coming to the surgery, I was made to feel at ease. I had followed my previous dentist (Clare) who had

...

already looked after me before, she instantly explained everything about Smileworks and how they work. After having my consultation with Clare and Tasmin, a dental plan was set up and a detailed explanation was given outlining what initial work needed to be done and a plan was set up.I would highly recommend there service if you are nervous about the dentist.

read more

I went to see Hannah for my top up microblading treatment yesterday. Hannah was very professional as always. She put

...

me at my ease and explained what she was doing throughout the treatment. She checked that I was comfortable throughout the treatment. Hannah has a lot of pride in and clearly enjoys her work and this shows in her treatment results. I am thrilled with my brows and will be back to see Hannah again for more treatments.

read more

I have had a fear of the dentist for a long time and was very anxious to go. I wanted to have a composite veneer and

...

whitening ready for my wedding. I booked an appointment for a consultation with the lovely Paula and I cannot thank her enough for putting me at ease throughout each visit. She has been professional, friendly and has done a wonderful job. I will definitely be back and can recommend smileworks to anyone who has a fear of the dentist . Thank you Paula for my new smile 🙂

read more

The staff here are always very helpful. I wouldn't go anywhere else for facial aesthetic or dental work. Dr MJ is

...

incredibly knowledgeable and I personally wouldn't use anyone else. I felt very well looked after and listened to. My outcome on both occasions has been nothing short of amazing. Would highly recommend. In very safe hands.

read more

Michelle B.
21:39 04 Jan 20
Who looks forward to going to the Dentist?... Since signing up with Smileworks...I certainly do!The experience is

...

literally second to none with a clever visual set up, including a waiting room which is designed as the interior of a plane... Random yet intriguing, and setting good first impressions of what is yet to come.I've been here now on a number of occasions and each time I am impressed with the exceptional service and professionalism of every team member. Zoe, my Dentist is warm and friendly, always making me feel at ease and happy to answer in depth any questions I have. I'm very happy with all the results I have gained since signing up with Smileworks and can not recommend this service enough!

read more

It was my first time visiting and had a brilliantly warm experience. The staff are very welcoming and professional, and

...

Dr MJ is fantastic at what she does. She's a hoot! I highly recommend Smileworks.

read more

My 1st visit here a month ago, such a professional experience from the staff at reception and of course and Dr MJ who

...

has done and absolutely amazing job on my lips.... I love them!! Would totally recommend to anyone thinking of having any kind of aesthetic work.

read more

Always a great experience from start to finish! All members of staff are friendly, helpful and professional, the

...

whole process is very easy. MJ is fantastic and always makes you feel at ease, she's very knowledgeable, personable, a good laugh and highly skilled. Highly recommended!

read more

Great experience! MJ was calming, reassuring and knowledgeable, definitely put me at ease and guided me through my

...

procedure. Staff were always helpful and friendly. I would thoroughly recommend smile works for anyone, they will take care of you 100%!

read more

Recently had some aesthetic work with MJ. Consisted of fillers to mid and lower face, chin and lips . This woman is an

...

absolute genius. She really takes her time discussing your expectations and what you would like to achieve . She is highly professional and really good fun. I never felt rushed and the results are amazing...actually better than I'd hoped. She is a true artist .Discomfort during the procedures was minimum to none. The staff are friendly and make you feel at ease .I highly recommend this lovely lady.Thank you so much

read more

Highly recommended! Had my first pro facial with Hannah, she was lovely and professional. She talked me through each

...

step on my treatment. My skin is super lovely and clean! The whole team is fabulous and it's a wonderful environment. Thank you!

read more

MJ is amazing and a big thank you to her. Her aesthetic work is second to none and she is extremely professional and is

...

willing to spend a lot of time making sure she does the best job. All the staff are exceptionally friendly and I would highly recommend Smileworks.

read more

Had scale and polish today with Zoe and Georgie couldn't be happier. They explained the procedure step by step and

...

continuously checking and making sure I was comfortable. My teeth looked noticeably whiter when they had finished this has never happened before at my previous dentist. I would definitely recommend.

read more

Had my eyebrows done today with Hannah they look amazing. Hannah had a real attention to detail and was a perfectionist

...

and also very friendly and professional the procedure didn't hurt anywhere near what I had imagined. I have previously had dental work done at the practice with Patri and Eva. Everyone is so friendly and welcoming I wouldn't go anywhere else now.

read more

Had lip fillers on Saturday by MJ and i love them! she made me feel so relaxed and comfortable, talking me through

...

everything and always asking was i okay. It was my first time so i was very nervous. She made me feel like i had nothing to worry about and it was over in no time! 🙂 Thanks again xxx

read more

Finally gained the courage to get my eyebrows done. Was pretty nervous going but soon as I entered the room Hannah made

...

me feel so relaxed with her lovely personality. She took her time creating the perfect brow shape; she was professional, caring and an absolute perfectionist 😊 Can't believe the difference my new brows have made to my face. Thank you so so so much!!! Leeanne

read more

Leeanne C.
22:41 05 Oct 19
Smileworks have certainly put a smile on my 'mysteriously youthful' face!When you're not getting any younger, and your

...

confidence needs a boost, this first class team of aesthetic art, work wonders in subtle ways. I've recently had my forehead smoothed and my lips very subtly filled to regain their shape from ten years ago! Smileworks captain's outstanding skills are her ability to actually listen to you and then produce precise, awe inspiring results - FANTASTIC!!

read more

Thegirlsopinioncounts
17:19 25 Sep 19
Clare and Georgie were the dream team. They worked together to share ideas and find the best solution to fix my broken

...

tooth. I was treated with care and respect and am so pleased with the result. I have no hesitation in recommending smileworks and all the wonderful people I met there on Saturday. Thank you so much

read more

And here are some of our favourite patient reviews in a short 30s video: