Tooth Filling
Sometimes teeth crack or get damaged.  This can be because of tooth decay, grinding or trauma.  Usually on the back teeth the reason is tooth decay or fractures caused by biting and chewing.  This is where tiny fissures in the teeth allow bacterial into the tooth and this damages its internal structures.
Dental filling material can be used to block these fissures and cracks to repair the damage.  Sometimes if this decay is left untreated the bacteria creates acids and harmful by-products that can literally eat away at the tooth causing cavities or holes in your teeth.
Dental fillings are a very common procedure and patients can choose from a variety of different materials.  In the past fillings were made of precious metals like gold and silver or a substance called amalgam.  The problem with using these materials is that they don't look like natural teeth and can be seen when you laugh, smile or eat and some patients want white fillings that are more subtle and look just like your natural teeth.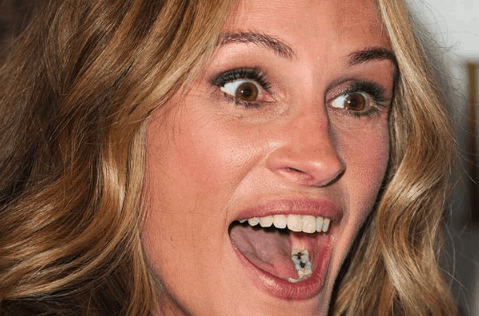 Sometimes people need fillings on their front (anterior teeth) and these will typically be made of white filling materials to give you the best aesthetic outcome.  Consult with your dentist or dental hygiene therapist to find out the best course of treatment for you bearing in mind the aesthetic outcome, health benefits and any other concerns you might have.
Our dentists and hygiene therapists are obsessed with listening to precisely what you want and getting you the result that makes you feel great every day.     Here's what it's like to be a patient at Smileworks:
As a dentist myself, I've been receiving treatment from Smileworks Liverpool and Dr. MJ since the practice's inception. To say that I have high standards when it comes to dental and facial aesthetic treatments would be an understatement, yet

...

Smileworks has consistently met and exceeded those expectations.From the moment I walk in, I'm greeted by a welcoming and friendly team that instantly puts me at ease. Over the years, I've had orthodontic treatment as well as some facial aesthetics work done, and I've been consistently impressed by the level of care and skill displayed by Dr. MJ and the entire staff.When you're in the business, you become incredibly particular about where you choose to get your own treatments done. I can confidently say that Smileworks Liverpool earns my highest recommendation. If you're looking for a place that delivers top-notch treatment and can be trusted implicitly, look no further than Smileworks.

read more

I was incredibly nervous about my treatment and wasn't sure if I would even be able to go through with it until I got there! Doctor MJ put me at ease with her expert knowledge and by talking me through everything that was happening. Amazing results

...

and I cannot recommend enough.

read more

MJ is possibly my new favourite human! I've never had any kind of aesthetic treatment before, I knew the moment I met MJ that I completely trusted her with my face. She is an absoloute MAGICIAN, her attention to detail is on another level! Across

...

two sessions she was extremely safe and kept checking in to make sure I was doing okay. I'm beyond grateful to have met such a wonderful person and cannot thank her enough for the massive confidence boost this has given me! I now don't have the fear of wedding photos! 🤣💖💖💖

read more

I had lip filler done by one of the trainees at Smileworks. She was amazing and I'm over the moon with them. She was so gentle and reassuring as it was my first time I was a bit nervous. The doctor who was training was confident and reassuring,

...

helping me feel relaxed too. The reception staff were great, shout out to Lucy who was so lovely! Would 100% recommend paying a visit! Thank you very much smileworks!!

read more

I've had filler in my nose, lips and chin by both Dr MJ and Dr Clare, and couldn't have had a more positive experience on both occasions. The results are fantastic and I felt extremely safe and assured. The facilities are extremely clean and the

...

whole team are very pleasant and well-trained!

read more

Jessica W.
09:50 03 Nov 21
After a dreadful experience with my NHS dentist, I decided to try Smileworks and I'm so glad I did. Clare is an amazing dentist, I'm so pleased with the work she's done and Tasmin does a great job assisting her. Everyone is so professional and

...

friendly, from Dr. MJ to all the girls on reception. I wouldn't go anywhere else now. Highly recommended.

read more

caroline J.
19:13 26 Sep 20
Nicky.OK, so I've never had an aesthetic treatment before. Before contacting Smileworks I spent months researching clinics trying to find somewhere trustworthy for my first treatment. I chose Smileworks because of the amazing reviews and also

...

because Dr MJ has a great reputation in her field, from what I've read online.I wanted Ellanse cheek fillers which was due to the long-lasting results and again, the online endorsements.To say I was nervous was an understatement. My main fears were having an adverse reaction to the procedure and the treatment being painful. Also, I was worried about visiting a clinic at this time, concerned about whether the treatment area was thoroughly cleaned before I attended.I have to say that when I attended the clinic everybody I saw was extremely professional. Also, I didn't need to be concerned about cleanliness as the premises were immaculate, with social distancing measures and PPE use apparent throughout my visit.Dr MJ did a great job of putting me at ease. I would say she is definitely an expert in what she does if my treatment is anything to go by. I did feel a little discomfort but nothing major and the results were immediately visible. The effects of Ellanse are continual so I hope to see further improvements along the line.One of the things I was particularly impressed about is that there was no hard sell, even when I visited for a check-up a couple of weeks after my treatment. Had another treatment been pushed onto me there is a likelihood that I would have opted to book in for another treatment. That alone speaks volumes about Smileworks in my opinion.

read more

Rippin Marvelous W.
20:02 23 Sep 20
I had a couple of 'tweakments' with Dr MJ, and she is simply brilliant at what she does- average is not in her vocabulary! She can make beautifully subtle but not TOO subtle transformations with her meticulous needlework- (and /or cannula!).Whilst

...

some injectors may rely on marketing gimmicks and follow generic insta-fads- this is NOT the case at Smileworks- Dr MJ will give you the most balanced and beautiful version of your own face.Super happy 🙂

read more

Charlotte R.
12:23 11 Sep 20
And here are some of our favourite patient reviews in a short 30s video: