What are Fastbraces®?
Fastbraces® is a fast, more affordable way to straighten teeth.  Using technological features, the system is able to correct a variety of orthodontic problems in just a few months.  The system is simple, elegant and able to handle more complex cases than many of the short term orthodontic systems available today.  At Smileworks, we love educating our patients. Here are a few FAQs to bring you up to speed on the system that's in our opinion the best for most patients.
Can Fastbraces® fix your smile faster than traditional braces?
The name 'Fastbraces®' is misleading because teeth do not move any faster no matter what wire, brackets or types of force you apply to them.  Tooth movement is a biological process and there is a great deal of literature that maintains there is a maximum biologically determined speed at which teeth can move.  The reason Fastrbraces® claim to move teeth faster is because the cases that general dentists and orthodontists choose for the treatment can be completed in less time.
There is a type of braces called Short Term Orthodontics (STO) that is designed to be used by general dentists and is also endorsed by specialist orthodontists.  If your case requires complex teeth straightening or an adjustment of the way your teeth meet (your bite) then it's advisable that you see an orthodontist for your treatment.  Here at Smileworks our specialist orthodontist is Dr Laurence Masters.  He treats complex cases and his tools and techniques are extremely wide ranging.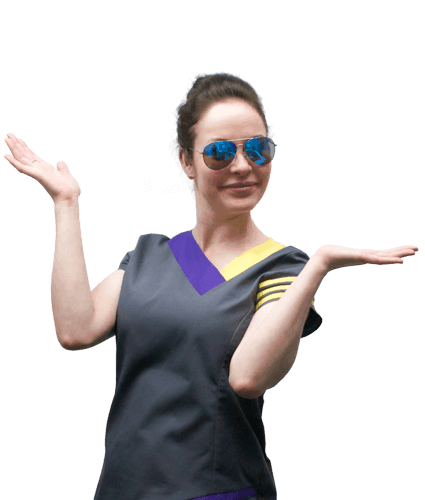 Is Fastbraces® right for me?
Ask yourself the following questions:
Do you want a straighter, whiter, more beautiful smile?
More importantly, do you want this in months, rather than years?
Do you want great results without the hassle of many appointments?

"I received Fastbraces from Smileworks which were complete in just over 6 months. I then had whitening (included in cost) and fillings and filing to complete my new smile. I am over the moon with the work undertaken and so glad I had the work done there. Everything from the consultation to the finishing touches was done brilliantly and I'm made up with the end result. The team are very friendly and approachable and have and will continue to recommended Smileworks to anyone who asks about my teeth."

Paula Carruther – 

12 March 20

17 

★★★★★ 5/5 Stars
If an affordable, comfortable, fast and effective orthodontic treatment is what you're looking for, most would agree Fastbraces® is a great option.  This is an article about Fastbraces®, one of our many different types of braces.  If you're looking for more general advice on Braces take a look at our main page here: Braces Liverpool.  And if speed is not your concern but you're looking for invisible or removable braces then check out our main article on Invisalign®.  For an in depth assessment of the cost invisible braces vs fixed, take a look here: Invisalign cost.
What do Fastbraces® look like?
Fastbraces® pictures show how this minimally invasive procedure sits in the mouth. The unique system is a fast and effective way of straightening teeth.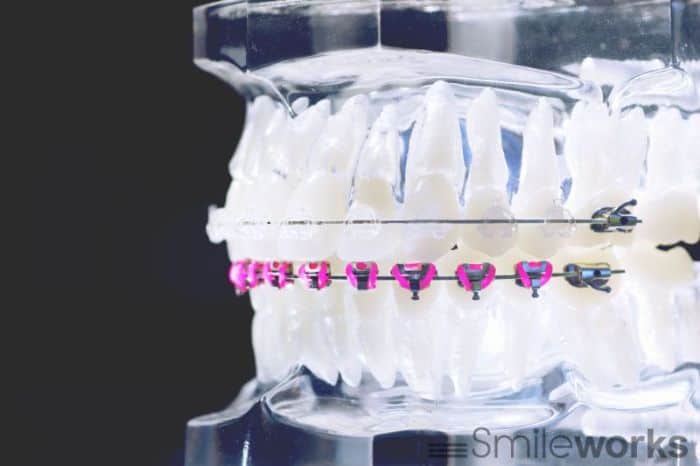 How much does Fastbraces® cost?
Fastbraces® is one of the most cost-effective orthodontic systems in the world. Because you spend less time with the braces on this means less time with the dentist and more time to enjoy doing the things you love. At Smileworks, we can offer:
Fastbraces® – From £2,500 (including retainers and whitening)
Fastbraces® upper – from £2,000 (top teeth straightening only)
Clear Brackets +£500
We have all our braces systems in stock and can start work immediately.
We offer 0% finance and immediate brace fitting after your initial consultation so you can start straightening immediately and be out of treatment in as little as 120 days!
Take a look at the price and finance calculator here and work out your monthly repayments:
I've had quite a bit of dental work done by Zoe over the last year to help me feel more confident with my smile. I

...

can't thank Zoe enough as I absolutely love my teeth now. Zoe really went above and beyond to help me and was so caring. Her attention to detail was so nice to have as you could really tell she cared about her work and making sure I was happy and also comfortable with what she was doing, nothing was too small or too big for her to help with. I highly recommend her and Smileworks to everyone. Thank you Zoe 🙂

read more

Just had braces fitted at smile works by Eduardo and his assistant Ashleigh. They were very professional, informative

...

and courteous. Procedure couldn't have went any better. The reception staff are all very welcoming and kind too. This dentist is second to none and would highly recommend to anyone.

read more

I've had composite bonding carried out at Smileworksin the past month by the brilliant Paula and Savannah. Throughout

...

the procedure staff communication was top class while they constantly make you feel relaxed. They provided in depth advice for the aesthetic nature of the bonding whilst also implementing the procedure perfectly. I'm delighted I chose Smileworks!

read more

Tracing Ireland's P.
16:55 03 Jan 21
State of the art surgery. Everyone who works there is lovely and makes you feel great. Customer care is important to

...

them as well as you . Hygiene appointment was actually fun. Lovely people. Was there 2 days ago to fit my composite veneers. Not finished yet , but omg the difference is unbelievable. Don't just think about it. Change your life and do it . Clare and Ashleigh were brilliant . Thank you so much. I've got my confidence back. I can smile without feeling self conscious.

read more

Sheila Birch (.
09:39 01 Jan 21
I went here today for the first time as an emergency patient. I'm so so happy with the treatment I've received, never

...

thought I'd be so happy to have a tooth out! Edwardo & Savannah were amazing. I cannot thank them enough for being so friendly yet thorough & professional. I get really anxious about dentists & I they couldn't have been more calming. All the staff I met were absolutely lovely & so friendly. Would highly recommend & thank you again so much

read more

jennifer P.
22:40 11 Dec 20
Everyone who works here are so lovely, kind and welcoming! I always feel comfortable receiving treatment. Zoe is my

...

dentist at the practice and she makes my treatment feel much less nerve-racking, as I tend to feel nervous when it comes to dental treatments. Would definitely and highly recommend Smileworks to anyone!

read more

"Here at Smileworks, we are pretty realistic about most people not having £2,500 sitting around in their bank accounts. Many of our Fastbraces® customers are students in Liverpool or young professionals working up in the Liverpool Commercial District. We get the odd person who has saved up but most want to pay on finance.  The application is super-quick and you can even complete it at home in your own time.  You'll get an instant result and most people get approved." – Ed Challinor (First Officer)
How does Fastbraces® work?
Traditional orthodontic systems work by moving the teeth in two stages:  Firstly, the crown of the tooth is moved into the correct position.  Then, the roots are moved to align with them.  Although this works, it can take many years to complete.  Watch this video for more great information on the benefits of Fastbraces®.  It's American and a bit cheesy but the dentists and orthodontists here at Smileworks Liverpool absolutely love it and we show it to all our Fastbraces® patients.  An Orthodontist would say that these results can be achieved with any braces system  This may be true but this system is not for orthodontists, it's for general dentists.  And as a short term orthodontic treatment we feel it lives up to the claims made on the website and by the fastbraces team.
Fastbraces® uses triangular brackets and square wire to move the crown and root simultaneously.  Because the whole tooth moves through the jaw, patients can get marvellous results within 3 months to one year. Some even see results faster!
Is Fastbraces® safe? Does it hurt?
Fastbraces® cases require less force to move the teeth than some other systems. This limits the impact on gums while protecting soft tissues.  For this reason, Fastbraces is safe and comfortable.  It certainly doesn't hurt although some patients feel some discomfort when their fastbraces have been on for a short amount of time.  They'll typically prefer to eat soft foods for a few weeks until they get used to the braces.  So no, it definitely isn't painful!
What is a retainer? Do I have to wear one?
By moving crowns and roots at the same time, we're able to quickly straighten your smile. Because teeth love moving around naturally, retainers are needed to keep teeth in their new position.  These clear plastic gum-shields only need to be worn 15-20 minutes a day. Unlike most retainers that need to be worn 24/7.  If you get Fastbraces® at Smileworks, we'll give you Enlighten whitening gel. Put it in your retainer and you can look forward to teeth that are not only straight but beautifully white too.
What's good about Fastbraces®?
Unlike some traditional braces, Fastbraces® helps preserve our natural bite, creating a more aesthetically pleasing look.
The technology works with our teeth and gums, rather than against them.
By using one wire and triangular brackets, teeth are allowed to move into position giving supreme results.
Some traditional procedures need you to keep retainers in 24/7, but Fastbraces® only needs 15-20 minutes daily.
Tooth extraction is rarely needed. Traditional braces often need tooth extraction to make space for movement, but Fastbraces ® is able to move crown and root simultaneously to realign effectively without.
What results can I expect?
Fastbraces® before and after pictures tell the story best. Here we have a video outlining our case studies:  You can also find countless examples of positive results on the official Fastbraces® website.



What happens once I get to Smileworks?
With your initial consultation with Dr Rowland-Warmann, you'll be on your way to beautiful, straight teeth. An experienced dentist, she was one of the first to offer Fastbraces® treatment in the UK.  After consultation, we'll take x-rays and put together a comprehensive treatment plan, giving you all the information you need – personalised for your smile!  Following this, the brackets are put on and you'll occasionally come back to Smileworks to make sure everything is going to plan. After teeth are realigned (normally 3 months to one year later), we'll make you a retainer and start whitening your teeth with Enlighten gel.
"Orthodontics is about diagnosis. It is about carefully assessing exactly what a patient wants and working within the limits of the technology to give them a great result." – Dr Rowland-Warmann
What do patients think of their Fastbraces treatment?
Why not take a look at our Facebook or Trustpilot to see some of our marvellous patient reviews? Some of our beautiful patients have let us know what they think of us and we are really proud of what you had to say!
Here's an 8-month case study from one of our fabulous patients: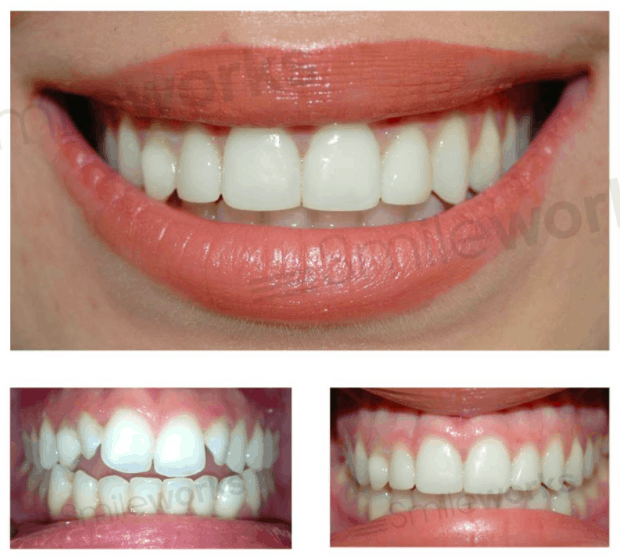 Fastbraces Reviews
June 2016
"After going to a number of dentists for consultations for fast braces I found smile works. Cannot fault the treatment I have received so far and cannot recommend them enough to anyone thinking of having dental work done. Everybody makes you feel completely at ease. I am three months into my treatment of fast braces and love how much my teeth have changed already!"
Paula C – June 2016
"I received Fastbraces from Smileworks which were complete in just over 6 months. I then had whitening (included in cost) and fillings and filing to complete my new smile. I am over the moon with the work undertaken and so glad I had the work done there. Everything from the consultation to the finishing touches was done brilliantly and I'm made up with the end result. The team are very friendly and approachable and have and will continue to recommended Smileworks to anyone who asks about my teeth."
Daniel F – July 2016
"Had fastbraces fitted here by Shirin 6 weeks ago. Consultation was great very open and honest, gave me a clear idea of what could be achieved and gave a very good price for service. Visited several other big name dentists in the city before coming here but none could compete for price. Brilliant dentists would highly recommend"
antonia j – July 2016
"I have been going to Smileworks for almost 2 years now. I initially went for a consultation on Fastbraces (on the recommendation of a friend). I was seen by MJ and she was so friendly, made me feel comfortable instantly and explained everything to me in ways I could understand (as I am not the whitest tooth in the mouth… haha…!).

I had the brace for around 7 months and I absolutely loved it (I actually miss it now). I thought I would hate wearing it, but MJ and Charlene made it so fun picking different coloured bands, like red & green at Christmas (we even tried to get glitter and glow in the dark ones), that it didn't make me feel self conscious or hide, in fact it became a great talking point, everyone was always asking about my brace! I also thought it would be really painful as I was only wearing it for a short amount of time and my teeth moved a lot but it really didn't!

I love everyone at Smileworks so much, they have become my friends and I look forward to every visit! I even made my sister go there (she had a small gap in between teeth and dentists she had been to were quoting loads of money for a tooth implant) and MJ fixed it with composite and it looks perfect!

I couldn't thank everyone at Smileworks enough, MJ, Kerry, Charlene, Ed and all the reception girls! You have changed my life and you are never getting rid of me hahahaha!

Love Antonia x"
How do I make an appointment?
Smileworks are open until 9.00pm on weeknights and 5:30pm on Saturday:
Call our office on 0151 236 5166
Email reception@sexydentistry.com to make an appointment.
Alternatively, use the form below to make a booking or come and visit us in Liverpool ONE:
Do you want to know what it's like at Smileworks?  Take a look at our Video and 360° tour below.
[google-reviews-pro place_name='Smileworks Liverpool' place_id=ChIJYcxahCghe0gRzAq3iKInT8E auto_load=true rating_snippet=true hide_avatar=true view_mode=slider max_height=1000 open_link=true]