FaceTite is a facelift without surgery. It's safe, affordable and the results are astounding. The procedure was designed for the lower face and patients are suitable if they have:
Jowls A 'Turkey neck' Sagging skin A loss of definition in your lower face Fat under your chin or a double chin Loose skin around the jawline
These age-related changes happen to us all and make us look older, tired and grumpy. FaceTite precisely targets these areas.  The results are dramatic tightening of the jawline, neck and chin for a slimmer and more defined look. Patients are awestruck by the way FaceTite restores your youthful contours, making you look refreshed, toned and young.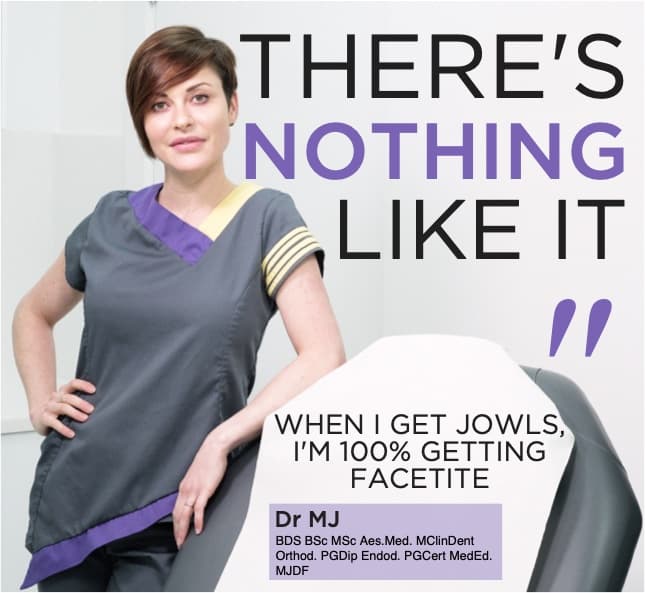 As we age our faces go through three types of changes.  These are descent, deflation and degradation (the three D's).  We can treat deflation with filler and degradation with skincare but until recently, we needed surgery to treat descent.
or call us on 0151 236 5166 to speak to an expert
"Finally we can treat descent with FaceTite. It's outrageous – it's the closest we can get to surgical results without cutting. The industry has looked at every which way of addressing descent and this is the closest you're gonna get without going under the knife."
– Dr MJ Rowland-Warmann – 2022
The proper name for the procedure is 'Radio Frequency Assisted Liposcuplting'. A cannula is put into the skin and radio waves dissolve the fat which is then removed. This has a profound contouring and remodelling effect on the fat layer. So what about the skin? This is why we call it a 'combination treatment'. The next stage is to use Morpheus8 to tighten the skin so the entire tissue is significantly reduced leaving you looking the best you've ever looked.