What are dental composite veneers?
Composite veneers are also known as 'same day veneers', 'componeers', 'resin veneers' and sometimes 'composite bonding' – although this is a different procedure –  are a less invasive way to restore your smile.
If you have worn chipped or damaged teeth then composite resin can be sculpted directly onto the teeth to produce beautiful, lifelike results.  This is a different procedure to a dental crown, dental bridge or dental fillings which, although use the same materials, are more functional than aesthetic treatments.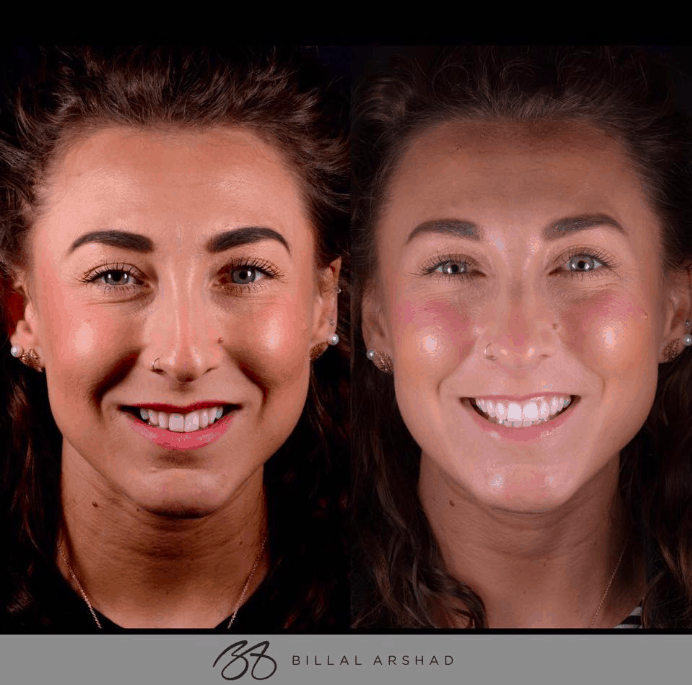 Composite veneers are a conservative alternative to porcelain and are made from translucent resin that is carefully sculpted and hardened by your dentist in a single appointment.  Composite is more versatile than porcelain, lasts 5-7 years and is much less expensive at £200-£400/tooth compared with £500-800/tooth for porcelain or what you might traditionally think of as a full smile design procedure.
This is an article about composite veneers and composite bonding. You can visit our main page veneers liverpool for more general information about all the different types of veneers.
Why do patients choose composite veneers:
Quick (treatment is all over in one sitting)
Less expensive than porcelain or other options
Less invasive (don't harm or damage the underlying teeth
Lifelike (not fake looking
You can put composite resin on as many teeth as you choose.  A full smile makeover can also be one fifth the cost of regular porcelain veneers.  Composite veneers are a great cosmetic alternative to porcelain and are used all over the world by the best dentists.  They can also correct a whole host of problems that are causing you to be self conscious about your smile.
What is composite resin?
Dental composite resin is a special material developed for dentistry.  It is a paste that is applied to the tooth and sculpted like putty.  Once the desired shape has been achieved, it is hardened with a special light (light curing) and polished.  Composite materials are extremely advanced and are continually being developed to produce more lifelike, translucent and better results for patients.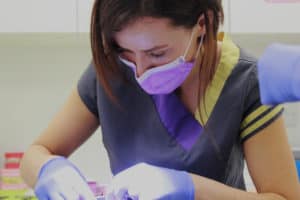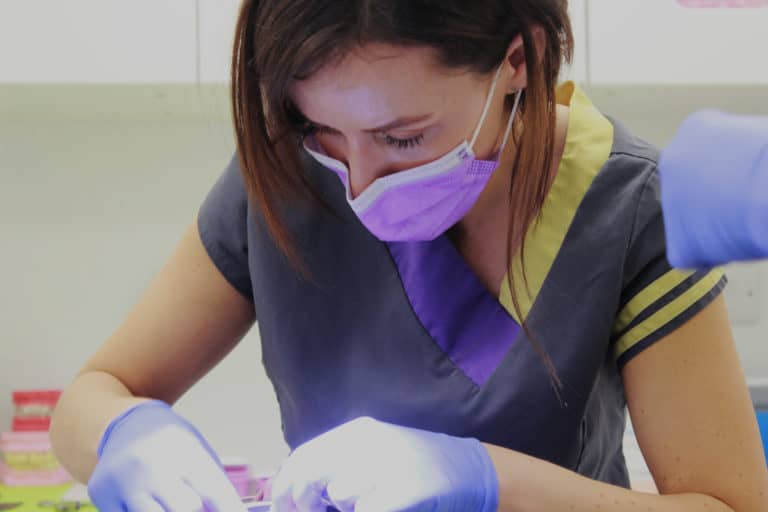 Some different types of composite are Renamel® by Cosmodent, and Filtek™ by 3M.  Composites are safe, effective and have been used in millions of cases world wide to help patients restore their smiles.  Composite bonding has not been around forever and is a relatively new dental procedure, favoured by recent generations of dentists who are interested in conserving the underlying tooth structure and keeping the patients mouth healthy.
Beware dentists who specialise in Porcelain veneers only.  You should always be given a choice whether to get your teeth prepared with a drill or not.   Full veneers can be extremely damaging (especially for younger patients) and there is literally no turning back from veneers because your underlying teeth will look like this – forever.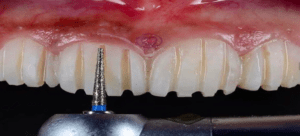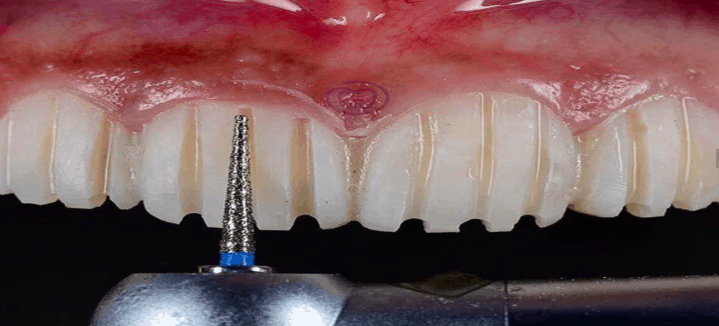 So when a dentist only offers these damaging and somewhat dated types of Veneers the reason is sometimes that they've just not updated their skills or are not comfortable with the artistic flair required to produce a lifelike restoration in resin.  At Smileworks you can choose from 3 dentists for composite veneers and four in total for composite bonding.
Composite resin veneer
A composite veneer is the result of applying the composite resin, hardening it and polishing it to produce a new tooth surface that is perfect.  This new surface hides the old one that might be worn, damaged, yellow or otherwise unaesthetic.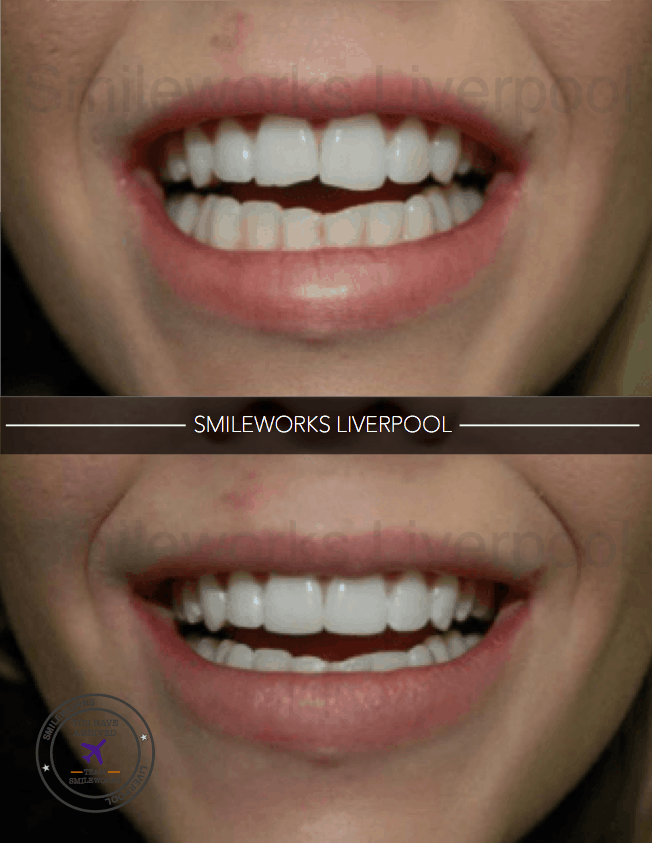 Composite veneers are very different from porcelain veneers for a number of reasons.  Here they are in detail:
Same day / single appointment
Probably the biggest difference to you is that your composite veneers can be made and finished in one visit to the dentist.  Composite veneers can take anything from under an hour to a few hours to complete and you can get beautiful results instantly.
Conversely porcelain veneers involve multiple steps and a few appointments to complete.  For your porcelain veneers you'll need to return to Smileworks a few times and have your teeth prepped and have temporaries fitted before the final veneer fitting.  We work with a master ceramist who will create your porcelain veneers in a lab which takes time and costs more money.
Take a look at our practice here in Liverpool or read more about composite veneers below…
Resin bonding cost
The Composite veneer price is significantly less than porcelain veneers.  The labwork, materials and dental work required is costly and your porcelain veneers will typically cost £400-£600 per tooth compared with £150-£200 per tooth with resin veneers.  This does not mean that composite bonding is not as good as porcelain veneers.  The two are just different.  Many people (and even some dentists!) will not be able to tell the difference between the end results of porcelain vs resin veneers.
Dental work and prep
Porcelain veneers require dental work to be carried out before they are fitted.  Your original teeth need to be drilled down into a special shape to accept the final veneer.  The veneer is basically glued on and fixed in place. As soon as you touch any teeth with the dentists drill, there is an increased chance that the tooth will be damaged or die.  The risk that you will need a root canal skyrockets when you drill a tooth and some patients will eventually need implants as time takes its toll on a 'prepped' or drilled tooth.
Teeth are living parts of your body and if you damage them with the dentists drill they have a higher likelihood of becoming problematic.  This is one of the main risks of porcelain veneers.  With composite bonding, on the other hand, there is no need to touch the teeth with the dentists drill.  You won't need any injections and the work will just involve sculpting the composite resin onto the tooth underneath.
Finish and durability – composite vs porcelain
Some dentists say that porcelain veneers look better although we would disagree with this statement.  The difference between composite and lab-produced veneers is simply who makes them.  With porcelain veneers your dentist will speak to the lab technician or ceramist and he or she will create the veneers.  They come back in a beautiful little box and everybody goes 'wow' and they are fitted to your teeth.
Only sometimes they don't fit right.  Or other times they are slightly the wrong shade or luminosity.  Things don't always go to plan with labs and although here at Smileworks we use great labs, they still sometimes don't look perfect so we need to send them back for refinements.  We would NEVER fit work that's not absolutely perfect so sometimes this process can be quite laborious and involve a bit of to-and-fro.
Finish and durability – who makes them?
Conversely composite veneers are made by your dentist.  So what does this mean?  Well it means that you need a dentist with real talent and skill who has worked with many composite resins and knows the process inside out.  You're dentist will also need to be artistic to create a lifelike and beautiful result.  After all the composite veneer is a tiny tooth-sculpture.  So here at Smileworks we say that the people who say composite veneers are not as good as lab veneers only have themselves to blame!  It's a bit like a carpenter saying, 'the cabinets I make are never as good as the ones I get from Ikea'  Well get the skills to make better cabinets then!
To request a callback from our team about getting composite veneers fill out the form below. – or read on for the rest of the article;
*Want to know if you are suitable for composite veneers? Read below to see how you can upload an image for a same day assessment of your smile by a SMileworks composite veneers dentist*
Are composite veneers safe?
Materials Safety
There are really two parts to this question.  Patients who ask the question, "are composite veneers safe" are really asking two different things.  There is firstly the question of the materials.  Composite resin is extremely safe and although they contain trace amounts of all sorts of chemicals, it's widely accepted that there's more bad stuff in what you eat than what's in the composite resin in your teeth.
There was a bunch of people on the internet telling us that dental amalgam causes all sorts of nasty diseases but this was found to be completely false.  You can read all about it here. Composite is similar.  The chemicals in composite resin are rendered almost completely inert and you're likely to get a higher dose of mercury from eating a fresh tuna steak than from your dental work.
Oral health safety
The other question is about the health and safety of your smile.  You'll read all about how porcelain veneers can 'ruin your smile' etc etc and this is to some extent true.  Like we said, each time you touch a tooth with a drill it increases it's risk of failing.  Also veneers need to be maintained and replaced a number of times in a patient's lifetime.  Composite veneers on the other hand do not carry any of these risks.
*You should be checking reviews before you choose a dentist. You can see ours here*
Amazing place. Everyone is so friendly, I have been a few times for different things and always brilliant. I recently

had semi permanent make up (eyebrows) which I love. Hannah is a perfectionist and this is reflected in all the does. Would highly recommend her!

read more

Great place and friendly staff! Currently halfway through treatment and everything is explained properly so you

understand. Great value for money I'm sorry I didn't come sooner. Can't wait for the end result!

read more

The ideal Place to visit if you have any dental fears. I needed treatment but was worried, these guys put me at ease

and the treatment has been successful and much easier than expected. A great environment to get your teeth sorted.

read more

I Visited smileworks last week for a teeth whitening consultation. I had my appointment with Bambi. She was very

welcoming and friendly as were all the staff.This place is amazing and the airline theming is great. The best dentist I've been to. I would recommend this place to Everyone.

read more

First of all I wanted to say a big thank you to all the staff at Smileworks for making me feel very welcome. I also

wanted to say a huge personal thank you MJ for her complete transparency through the consultation period. The honesty demonstrated was so valuable to me and helped me make what I believe is the best decision.I have upcoming teeth whitening treatment and wouldn't recommend anybody else other than Smileworks.

read more

Had an appointment with Patri for a painful wisdom tooth. I was terrified of the extraction but she was absolutely

amazing. Fantastic job! Also, if you think Smileworks might be a bit pricey, think again. I ended up paying considerably less than what another dentist would have charged me. A super happy customer 🙂

read more

Minodora Z.
22:05 22 Mar 19
Susan (dentist) and Eva did my composite bonding and Susan is excellent at her work! I am in love with my new smile and

can't recommend her enough! The staff at Smileworks are so professional and friendly. Thank you!

read more

Went to Smileworks for lip fillers and had a wonderful experience! I had Susan doing my fillers and she is absolutely

amazing at what she does.. She is so so lovely and easy to get on with and answered all my questions and worries before I even asked and made sure she discussed exactly the outcome I wanted. She made me feel completely safe and at ease which is what I was hoping for as it was my first time. I cant recommend Susan enough, she is an absolute gem and is truly amazing at what she does, I love my new lips! Also the girls at reception were lovely and very helpful, I even had a call from Davina the day after (who was really really lovely) to see how I was and if i had any questions. It is obvious that they care about their patients and the work that they do for them.

read more

I had semi-permanent makeup (eyebrows) done by Hannah. What can I say? I LOVE them. They have changed my face and my

confidence! Hannah is lovely and takes her time to talk you through everything. I felt at ease with her-she's friendly and approachable and doesn't make you feel silly for asking questions. She goes through the design process and makes sure you are 100% happy before continuing. She spent hours designing my brows with me until they were perfect. Seems nothing is too much trouble for her!! Would definitely recommend and I shall most definitely be back in the future! (Should also note everyone I have come into contact with at Smileworks has also been lovely!!) 😁😁

read more

I had semi-permanent eyeliner with Hannah. it was a great experience I came back 3 times in all for all the top

ups.(included in the price ) She made sure that I was 100 percent happy with the look and pain free. She took the time, and was extremely friendly and welcoming as well as totally professional .I will definitely come back as it fades It's amazing to not put eyeliner on and know you look good at 6.30 am at the gym!

read more

Visited here today staff were so warm and friendly! I had an aesthetic appointment with MJ she made me feel so relaxed

and at ease. I would highly recommend Smileworks!

read more

Great place with professional staff and nice atmosphere. My appointment was with Louise and Eva who were very helpful,

friendly and knowledgeable. They have explained everything clearly and made me feel relaxed. Would highly recommend.

read more

I had my lips done here in November and a quick check up in December... I was amazed at how professional it was and I

love the aesthetic of the office too. MJ made me feel a home, as did the rest of the team, and I will definitely be returning when I need to!

read more

Danielle P.
20:12 20 Jan 19
Been coming here for the past few months, teeth are so much better since coming here, teeth whitening under way and

look boss. Thanks to Zoe for sorting my pegs out and for the laughs. See ya soon gorj xxxxx

read more

Probably the best visit to the dentist's ever! I would recommend without ant second thought! Keep up the good work!!!

Refreshing new look of the "dentist". I found Smileworks quick with no hassle. They know what they're doing and not

stuffy. Would definitely recommend.

read more

Carolyn W.
20:07 27 Dec 18
I find myself recommending more people to these guys every day at work, I wouldn't go anywhere else now! Amazing

service delivered in a friendly and welcoming environment.

read more

Jared & Co B.
19:28 11 Dec 18
I absolutely love this place. Staff are amazing. And what can I say about the wonderful MJ....Try it yourself, I

guarantee you wont disappointed.

read more

First time for lip fillers, so obviously a little nervous on the outcome but I am over the moon. A natural yet full

look could not recommend smileworks anymore. MJ is unreal at what she does and puts you at ease within a few seconds of the consultation whilst also giving all the right info and questions. Excited for another ml already!

read more

Great experience. Very happy with my new smile. All the staff are faultless and so welcoming!!

Jessica H.
16:13 14 Nov 18
Can't recommend smileworks enough amazing service! Really helpful over the phone and booking my first visit was so

easy. Laurence and Georgie were so friendly and discussed the different options and treatment plan in detail. Nothing was too much trouble 🙂 Thanks guys!

read more

I feel 5 star is not enough and those guys deserve an infinite number of stars and a unicorn on top of that! I have a

severe phobia if it comes to my teeth, I'm a survivor of Polish public dentist care and let me tell you that's something straight from nightmares and torture chambers. As a results my teeth are not in a great way (those that did survive), to add to the "fun" I also have major orthodontic issues. I knew I needed help and it took me about a year and a half (this is not an exaggeration) to make my way to Smileworks. In the meantime I tried two other 5-star rated places and I wasn't convinced enough to stick around. The second I called Smileworks I had a warm fuzzy feeling in my belly that this place is the right place finally, It took a few months and multiple appointment before the right treatment plan could be created, since my case is complicated to say the least. I feel that there was a LOT of thoughts put into finding a solution, which made me feel at ease and gain enough trust to go ahead with the treatment. Every time I come to visit everyone is just brilliant. All the ladies and gents are nice and bubbly, which definitely helps to relax. Their approach is very gentle, a lot of attention is given to the patients and you just get the feeling that this guys really know what they do. I feel spoiled and I stopped fearing every dentist visit as I used to in the past. I know it sounds odd, but if anyone is able to make dentist appointments as pleasurable as possible, that's the people at Smileworks! As to address the money, things like that cost a lot, that's the unfortunate reality and there's no way to avoid that. For what I've been offered i think that's worth every penny. If it comes to the plane theme, I think it's amazing and I absolutely love it, especially because of all the little details. Finally a place with a sense of humor! I get how people scared of dentist AND flying can find it disturbing, but I think that's just an edge case.I will preach the genius of this place forever and share it with anyone who is eager to listen (or is not eager to listen at all but just haven't ran fast enough from me).

read more

Had my first appointment today with Paula and Jess. It was very nice, friendly and professional! I was talked through a

plan for future treatments that I wanted and given a price estimate, so helpful! Appointment was also 2 days after I phoned them, so seen very quickly!

read more

Had bad experiences with other dentists. Went to smileworks. I could not have been treated better. The staff are

amazing and my dentist Susan is fantastic. She put me completely at ease. I've never said this before but I now enjoy going to see her and get work done on my teeth. Would highly recommend smileworks

read more

I went to smileworks last week for a new retainer. The service I received was great, from meeting the receptionists to

when I was receiving treatment from Paula and the dental nurse. Everyone was very smiley, friendly and helpful. Paula especially took the time to explain whitening treatments to me (as I mentioned I would like whiter teeth on my patient details form) and also explained treatments such as composite bonding which could help me achieve the perfect smile I was looking for. The dental nurse helping was also very calming and patient. I would definitely recommend to others and would really like to compliment their great customer service. Thanks smileworks and all their lovely staff.

read more

Victoria T.
20:33 10 Oct 18
Sure they may chip off but you can get them bonded back on or remade for very little cost.  If you get composite bonding at Smileworks we guarantee our work and will fix your chips and cracks up for free if they are not caused by your own neglect.  So resin bonding is arguably much safer for your smile than porcelain veneers.  It's a conservative, less invasive method that is fully reversible, unlike veneers that are a huge decision and an even bigger investment that must be considered carefully.
Cost and Prices
We've already discussed this briefly but to learn more about the price of veneers see our main article on veneers cost here.  If you're interested in getting cheap veneers abroad then follow the link here.
Composite veneers last 5-10 years and cost between £200-£400 per tooth.  Porcelain lasts 10-25 years, costing between £400-£850 per tooth.  Composite is minimally invasive and doesn't damage the underlying tooth structure, making it popular with younger patients.  It's also a single appointment procedure which many find more convenient.
What's the difference between veneer types?
Visits
Procedure
Materials
Cost
Porcelain
veneers
2-3
Drilling required
that could harm
the teeth (no
turning back)
Lab made
porcelain
or EMAX
£650-£1000
Per tooth
Composite
veneers
1-2
Non invasive
Resin sculpted
onto the teeth
at your
appointment
£200-400
Per tooth
Composite
bonding
1
Non invasive
Resin sculpted
onto the teeth
at your
appointment
£115-200
Per tooth
Teeth
whitening
2
Non invasive
Trays and
whitening gel
£199
All teeth
Your procedure
The procedure for resin bonding is very simple.  First you come along for a consultation either with our treatment coordinator or a cosmetic dentist.  At your consultation your dentist will do a full assessment of your mouth.  Here they will make sure everything is healthy and good to go.  You can choose to have your veneers made straight away.  And your dentist will discuss with your dentist precisely what you would like.
Then you sit back in the chair and your cosmetic dentist gets to work.  There are no injections of any sort and your teeth are simply cleaned and prepared for the composite to go on.  This doesn't involve any drilling or filing and the composite is put straight on.  Then the magic happens as your dentist shapes and sculpts the composite to look perfect.  Then she polishes them to make them look lifelike.
And that's it.  If there are any tiny irregularities or imperfections your dentist will sort them there and then and you can start smiling and feeling great immediately.  The entire process never takes more than a couple of hours and patients are always absolutely delighted with their results.  Take a look at some of our work in the next section.
Here at Smileworks patients who have six or more composite veneers can take advantage of teeth whitening for free.  You can discuss this with your dentist at your appointment.
Before and After Gallery
Here are some Smileworks before and after pictures of what we can do with composites.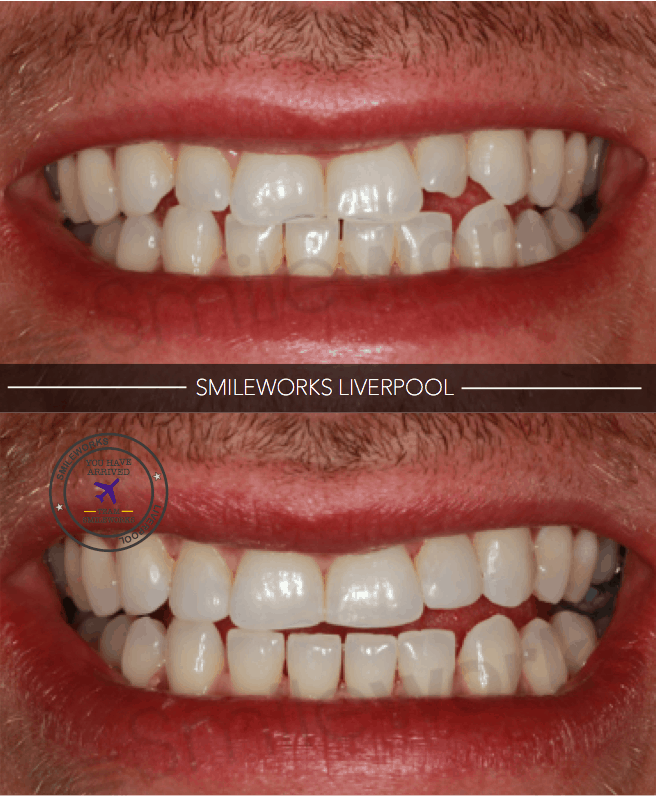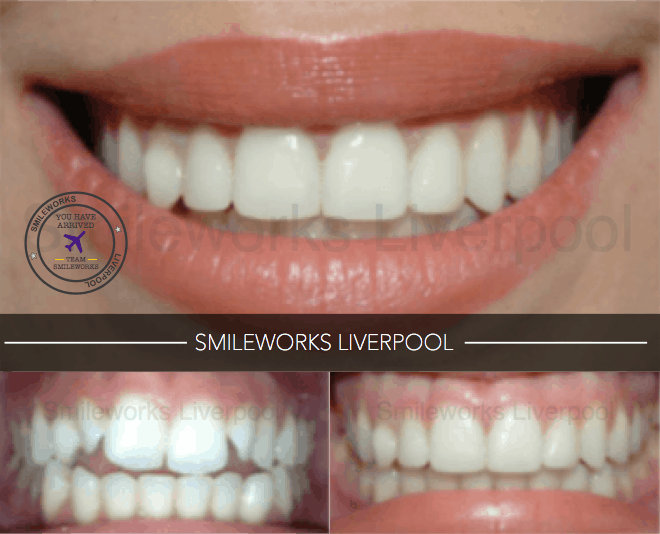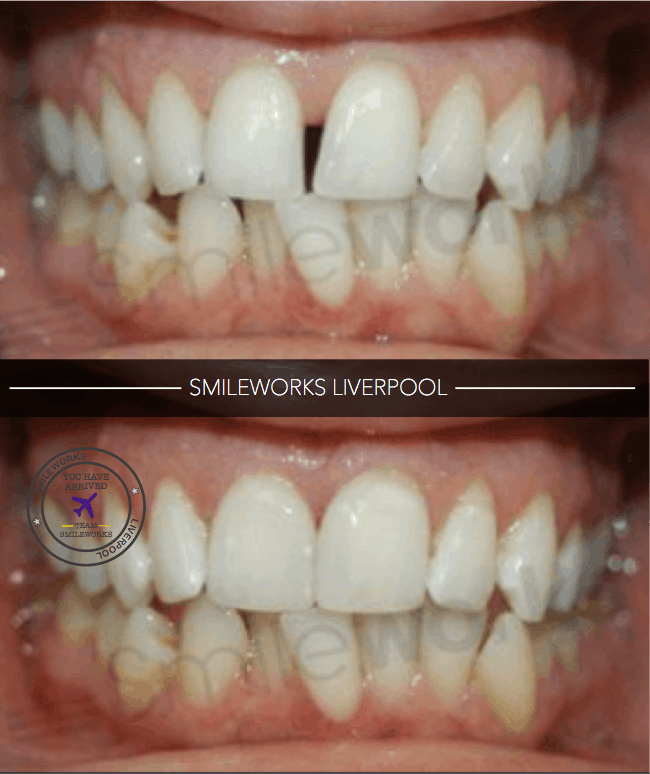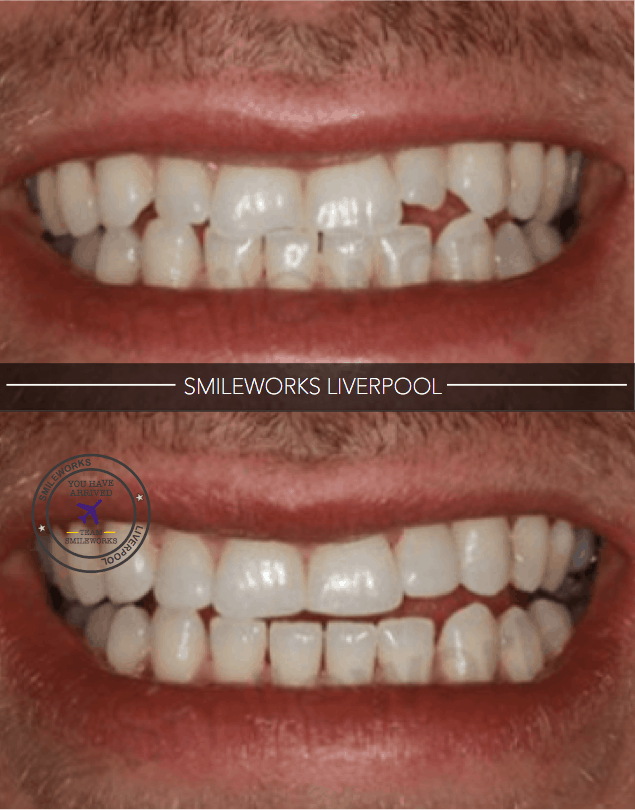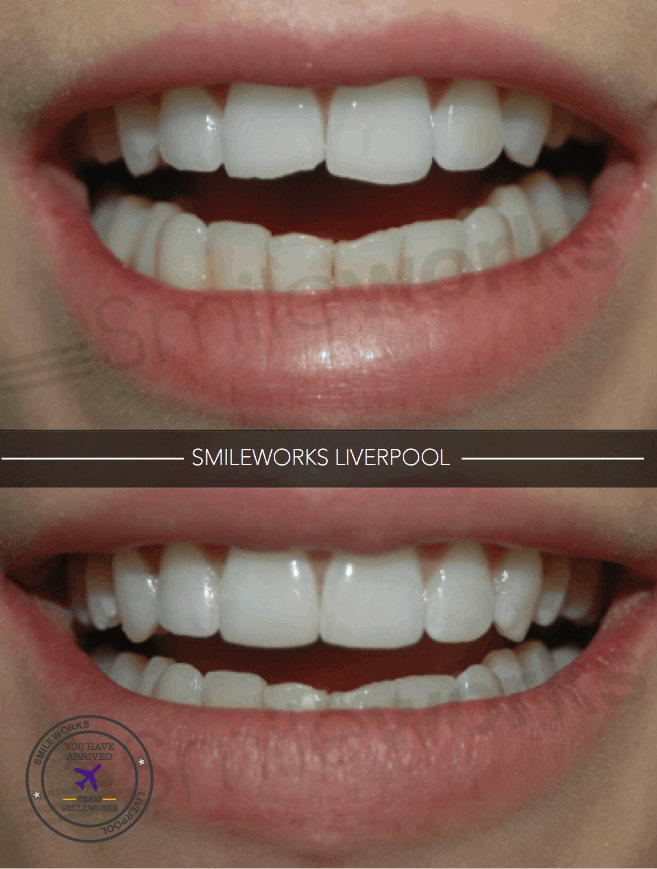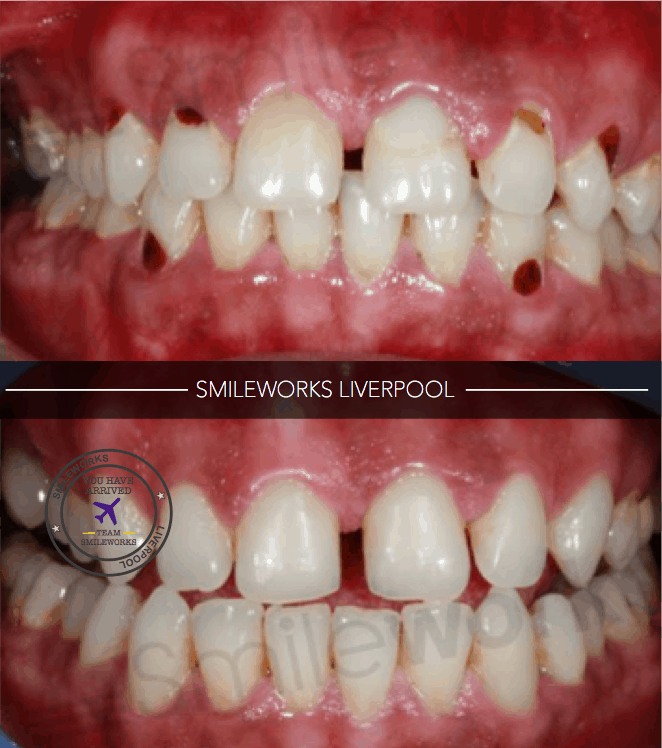 How long do composite veneers last?
This is a difficult question and is almost largely dependent on how well you look after them.  If you have bruxism (tooth grinding) then your composites will chip and crack just like your normal teeth.  Your Smileworks dentist can make you a night guard to help keep the veneers looking in tip top condition for longer.  But the way you bite your teeth together and wear and tear is unavoidable and most estimates for composite veneers are between 2-8 years.
Remember that porcelain veneers last for between 10-20 years but can be five times more expensive.  So the lifetime of composite veneers may be something that you worry about but is rarely a problem for patients.  If you keep chipping your composites and there is an underlying problem then our talented cosmetic dentists will be able to help you with it.
Here at Smileworks we have 100% happy patients – you can see our five star google reviews here.  And we'll do everything to not only guarantee the work but make sure that your smile is healthy and looking great with your resin veneers for a very long time.
FAQs
Are composite veneers safe?
Composite veneers are safe in that the resin material they are made from is inert and will not cause you harm.  They are also less invasive than porcelain because the teeth do not need to be drilled as the resin is sculpted onto the tooth surface by your dentist.
Are composite veneers better than porcelain veneers?
less invasive, better for your oral health, look just as beautiful, are cheaper and last for a long time.  But they are not better only different.  If you have significant problems or badly damaged teeth then porcelain veneers may be your only option.  But for two patents who could choose between the two and are both suitable, we'd go for composites every time.
Are composite veneers worth it?
We'd surely say yes to this question.  They are significantly better value than porcelain and some patients simply don't have £5,000 sitting around in their bank accounts.  Also if you are a younger patient and have healthy teeth, a caring dentist would be extremely reticent to start drilling them down to pegs for composite veneers.  Unfortunately we see this frequently in Liverpool and are dead against it.  No matter how much money you give us, we're not going to compromise healthy teeth.  We're not going to fit your them with a bunch of giant veneers and compromise your future dental health.  That's not how we roll here at Smileworks.
Are composite veneers any good?
Sure they are.  We've kind of gone over all the great benefits of getting composite veneers.  If you'd like to get more information why not call the office and speak to someone on 0151 236 5166.
Am I a good candidate?
Most patients are suitable for composite veneers.  Like we said before, if you have badly damaged teeth then they might not be suitable for you.  But many problems can be corrected that many patients have.  We'd say that patients who are a bit younger with healthy natural teeth are the best candidates.
Can I get them on finance?
Yes you can.  Many patients pay for their composite smile makeovers with finance and we offer 0% 12 months.  Alternatively we offer 9.9% interest bearing finance over 5 years.  This makes your treatment affordable and of course the work is guaranteed.
Call 0151 236 5166 for a consultation or to speak to someone in more detail about how composite veneers can help restore your smile and help you live a life of happiness, confidence and success!
Do you want to know what it's like at Smileworks?  Take a look at our Video and 360° tour below.