Composite veneers:  What are they?
Composite veneers, also known as 'same day veneers', are a less invasive way to restore your smile.
If you have worn chipped or damaged teeth then composite resin can be sculpted directly onto the teeth to produce beautiful, lifelike results.  This is a different procedure to a dental crown, dental bridge or dental fillings which, although use the same materials, are more functional than aesthetic treatments.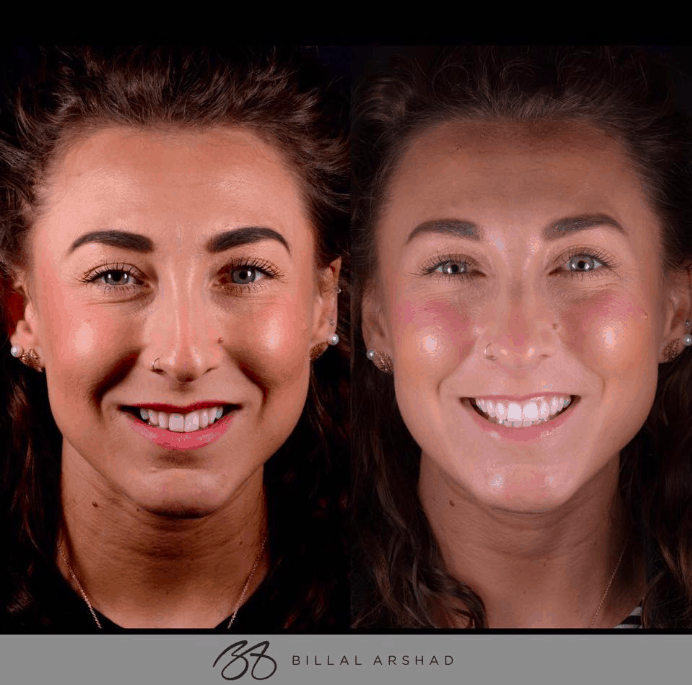 Composite veneers are a conservative alternative to porcelain and are made from translucent resin that is carefully sculpted and hardened by your dentist in a single appointment.
Composite is more versatile than porcelain, lasts 5-7 years and is much less expensive at £275-£475/tooth compared with £650-950/tooth for porcelain or what you might traditionally think of as a full smile design procedure.
This is an article about composite veneers. You can visit our main page veneers liverpool for more general information about all the different types of veneers.
Why do patients choose composite veneers:
Quick (treatment is all over in one sitting)
Less expensive than porcelain or other options
Less invasive (don't harm or damage the underlying teeth
Lifelike (not fake looking
You can put composite resin on as many teeth as you choose.  A full smile makeover can also be one fifth the cost of regular porcelain veneers.
Composite veneers are a great cosmetic alternative to porcelain and are used all over the world by the best dentists.  They can also correct a whole host of problems that are causing you to be self conscious about your smile.
What is composite resin?
Dental composite resin is a special material developed for dentistry.  It is a paste that is applied to the tooth and sculpted like putty.  Once the desired shape has been achieved, it is hardened with a special light (light curing) and polished.
Composite materials are extremely advanced and are continually being developed to produce more lifelike, translucent and better results for patients.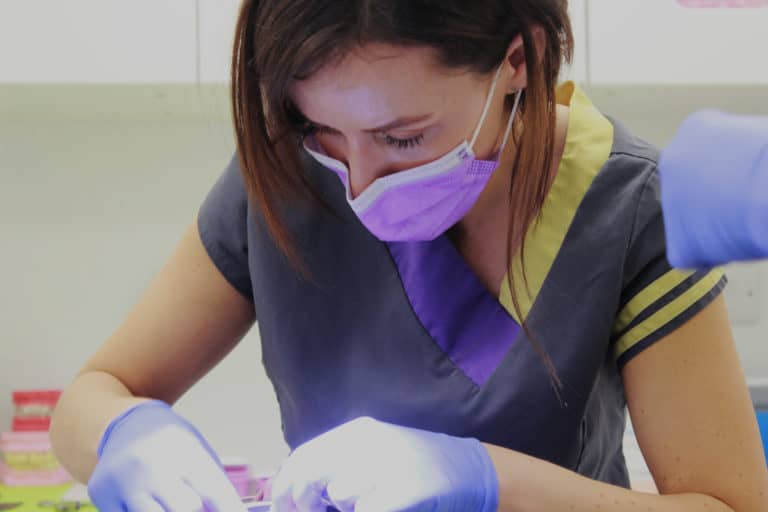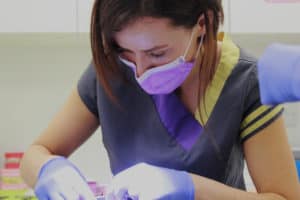 Some different types of composite are Renamel® by Cosmodent, and Filtek™ by 3M.  Composites are safe, effective and have been used in millions of cases world wide to help patients restore their smiles.
Composite bonding has not been around forever and is a relatively new dental procedure, favoured by recent generations of dentists who are interested in conserving the underlying tooth structure and keeping the patients mouth healthy.
Beware dentists who specialise in Porcelain veneers only.  You should always be given a choice whether to get your teeth prepared with a drill or not.   Full veneers can be extremely damaging (especially for younger patients) and there is literally no turning back from veneers because your underlying teeth will look like this – forever.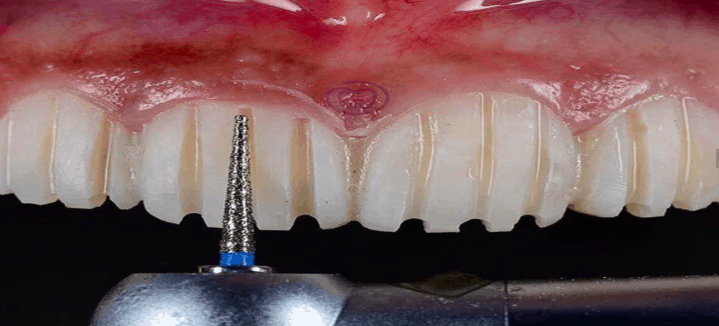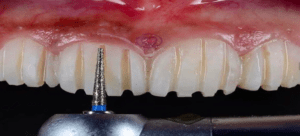 So when a dentist only offers these damaging and somewhat dated types of Veneers the reason is sometimes that they've just not updated their skills or are not comfortable with the artistic flair required to produce a lifelike restoration in resin.  At Smileworks you can choose from 3 dentists for composite veneers and four in total for composite bonding.
Composite resin
A composite veneer is the result of applying the composite resin, hardening it and polishing it to produce a new tooth surface that is perfect.  This new surface hides the old one that might be worn, damaged, yellow or otherwise unaesthetic.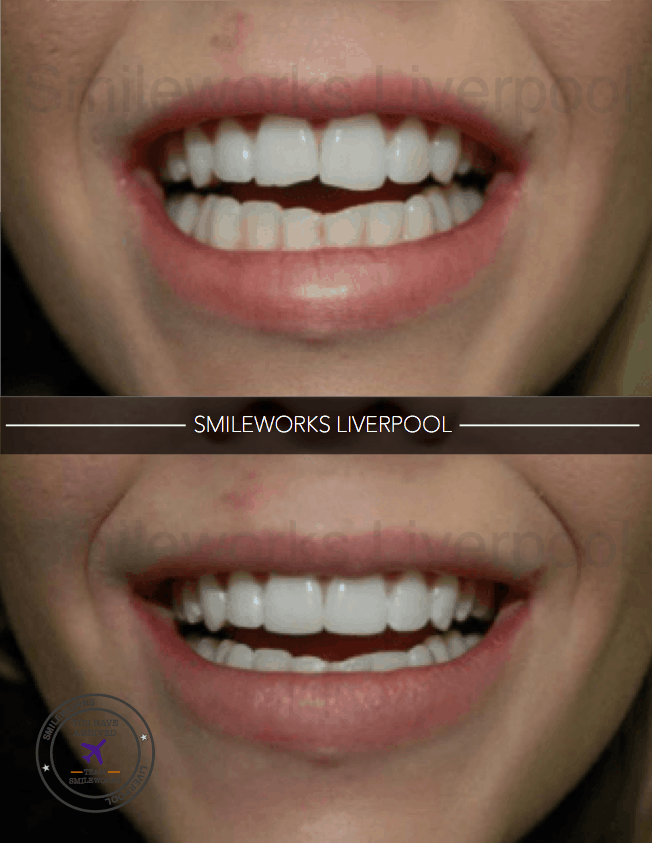 Submit a selfie and get a same-day case assessment by a professional Smileworks dentist.  It's easy, quick and you can know right away if this treatment is for you.
Composite veneers are very different from porcelain veneers for a number of reasons.  Here they are in detail:
Same day / single appointment
Probably the biggest difference to you is that your composite veneers can be made and finished in one visit to the dentist.  Composite veneers can take anything from under an hour to a few hours to complete and you can get beautiful results instantly.
Conversely porcelain veneers involve multiple steps and a few appointments to complete.  For your porcelain veneers you'll need to return to Smileworks a few times and have your teeth prepped and have temporaries fitted before the final veneer fitting.
We work with a master ceramist who will create your porcelain veneers in a lab which takes time and costs more money.
Composite veneer cost
The Composite veneer price is significantly less than porcelain veneers.  The labwork, materials and dental work required is costly and your porcelain veneers will typically cost £650-£950 per tooth compared with £275-£475 per tooth with resin veneers.  This does not mean that composite bonding is not as good as porcelain veneers.
The two are just different.  Many people (and even some dentists!) will not be able to tell the difference between the end results of porcelain vs resin veneers.
Dental work and prep
Porcelain veneers require dental work to be carried out before they are fitted.  Your original teeth need to be drilled down into a special shape to accept the final veneer.  The veneer is basically glued on and fixed in place. As soon as you touch any teeth with the dentists drill, there is an increased chance that the tooth will be damaged or die.  The risk that you will need a root canal skyrockets when you drill a tooth and some patients will eventually need implants as time takes its toll on a 'prepped' or drilled tooth.