Why get braces at all?
Invisalign® is more than just straight teeth, it's an investment in you. Smileworks Invisalign® patients almost always report dramatic improvements to their lives and lifestyles. Sometimes it's more confidence, greater happiness or finally feeling like you can smile confidently again. Some patients say their new smile has literally changed their lives and they now feel more happy, confident and successful.
Below, we answer the question, 'how much does Invisalign cost'. If you are interested in reading more generally about this amazing treatment then take a look at our main page here: Invisalign. For different types of braces take a look at our main page here: Braces Liverpool.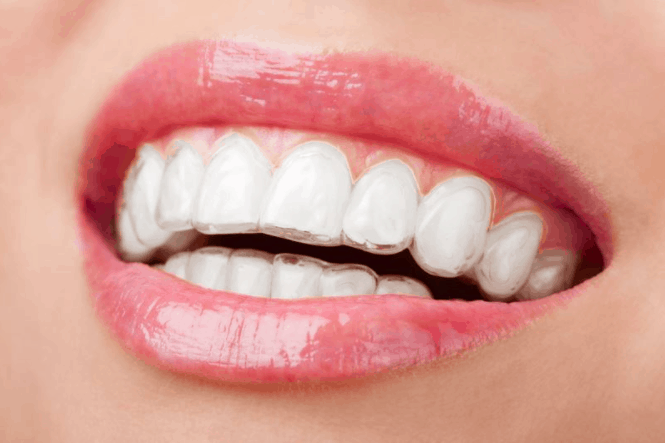 Getting braces is a pretty significant investment for most people and in this article we aim to honestly and impartially asses the cost of Invisalign® and compare it with other braces systems here at Smileworks and at other practices. We'll also look at alternative invisible systems and the cost of clear brackets for fixed braces.
Invisible braces are unique in that they are almost completely invisible and made from transparent material. They are also removable and clip in and out very easily. This means people will not notice you wearing them. It also means you can take them out to eat and clean your teeth. You can also remove them for special occasions like parties, when you go out for a meal, if you have a presentation, speech or hot date.
Invisalign® are perfect for our more image-conscious patients who want a stylish and convenient solution without a mouth full of metal. Invisalign are also more comfortable and do not dig into your cheeks like metal braces with wires and brackets.
What are the different types of invisible braces?
Here's a table explaining all the types of invisible or discreet braces. Our dentists and orthodontists here at Smileworks have rated them in order of how discreet they are, time in treatment and prices. Hopefully this should help you make your decision.
Invisible Braces Systems Compared by price, time and invisibility
| | Removable Y/N | How Discreet (1-5) | Treatment Time | Price Range |
| --- | --- | --- | --- | --- |
| Incognito® Braces | N | 5 - completely invisible | Moderately fast (12-24 months) | £5,000-£8,000 |
| Invisalign® Braces | Y | 4 - discreet | Moderately fast (6-12 months) | £3,000-£4,500 |
| Clear Braces (ceramic brackets) | N | 3 - Discreet but noticeable on photos and close up | Dependent on case (6-24 months) | £2,500-£4,700 |
| Inman Aligners | Y | 2 - Not as noticeable as metal braces but easy to see. | Fast (3-5 months) | £1,300-£1,500 |
| Metal Braces | N | 1 - Everybody will know you've got braces on. | Dependent on case (6-24 months) | £2,200-£4,000 |
Here are the braces systems in the table explained
Incognito® Braces
These are braces that attach to the backs of your teeth so are completely, 100% hidden from view. They are a little more expensive because – for clinical reasons – they have to be made from real gold. They are the Rolls Royce of braces treatments and you can read more about them here: Incognito braces®. One drawback of incognito is that they are not removable and are fixed to the backs of your teeth.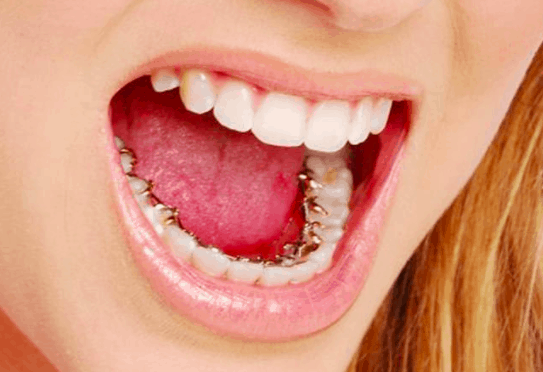 However, this doesn't affect how discreet they are because nobody will know you're wearing them! However, some people like to take Invisalign® out if they are sore in the first few weeks of treatment. This is normal and many patients do it. You must wear them for 22 hours a day. So that's two hours a day off.
Be aware though, if you don't wear your Invisalign® for the 22 hours minimum, you will not see good results and your entire treatment may be compromised.
Invisalign®
Invisalign® are the industry leading invisible braces and much more affordable than Incognito braces at almost half the price. Another major benefit of Invisalign® is that they are removable so you can take them out for parties, meals and dates!
The price of Invisalign is dependent on the severity of each case so it's important to come along for a consultation. We discuss the factors affecting the price of Invisalign below.
Invisalign are fully digital and produced with cutting edge technologies such as 3D printing and 3D rendering of your results. You can actually watch a video (called a clin-check) of how your teeth will move into position over time.
Ceramic clear brackets
Ceramic brackets are an added extra for traditional metal braces. So if you choose Fastbraces® or standard metal brackets, we can use special transparent ceramic brackets. They typically cost between £500-700 depending on whether you want just the top row or both top and bottom teeth. Most patients just get ceramic brackets on the top teeth because these are the teeth you can see when you smile.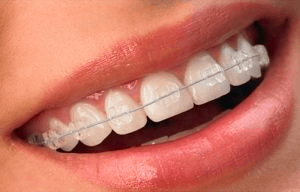 One disadvantage of clear brackets is that they are slightly more fragile than metal and more difficult to bond onto your teeth. So we do have some of instances of brackets breaking or coming off the teeth. This is not a massive problem in the grand scheme of your orthodontic treatment and they can be fixed at your next appointment.
Inman Aligners
Inman aligners are a great system but are limited in the complexity of the cases they can treat. Their main benefits are that they are the best value braces and are significantly cheaper than the other options. They are also removable, making them especially convenient for image-conscious patients who lead busy lives.
They move the teeth with a clear band that is fairly discreet but visible when you smile broadly or by anyone relatively close to you. To learn more about the Inman braces, take a look at our main article here: Inman Aligner.
Metal braces
Metal braces are not designed with discretion in mind and are attractive because they are great value and extremely effective. If your case is more complicated then you may be better off with metal brackets than going for invisible® options. To read about our most popular brad of metal braces, follow the link to our main article on Fast braces.
What factors affect the cost of Invisalign®?
Invisalign prices are pretty stable up and down the UK with costs being dependent on how much teeth straightening your orthodontist and the Invisalign® system has to do. To compare prices in your region you can find practitioners using the Invisalign DocLocator tool here.
Simple cases are cheaper whereas more complicated straightening can cost more. This is simply because as well as the price of the materials, we have to pay our orthodontists. So it makes sense that longer and more complicated cases will cost more money.
It also matters what type of dentist or orthodontist you want to be treated by, how straight forward you want the process to be and how enjoyable you want the experience to be. Here at Smileworks we take results very seriously and also have a practice designed with your comfort in mind. Take a look at some of our patient testimonials to get a feel for the type of practice we are.