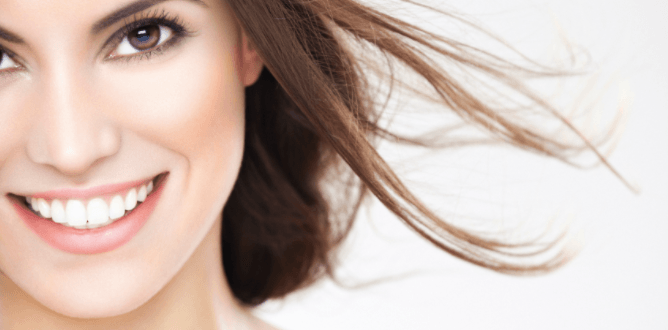 Composite resin bonding – what is it?
Composite bonding is the process of applying a material called dental composite to the teeth to make them look better.  Patients who come in for composite bonding often feel that their natural teeth are slightly crooked, not as white as they want, cracked or chipped.  Composite bonding is different from composite veneers in that they fix smaller problems in just a few of the teeth or even just one tooth.  Composite veneers or a composite veneer 'smile makeover' is where composite resin is applied to all the teeth or all of the front teeth.  We're talking here about composite bonding for the front teeth rather than 'composite fillings' which are for the back teeth or dental crowns which cover all of the surfaces of the tooth not just the visible parts.
If you're looking for something more dramatic than single tooth bonding – or fixing a couple of damaged teeth then you can visit our main porcelain veneers page. Or to discover how you can get a smile makeover without breaking the bank then take a look at our composite veneers here.  Follow the link here to learn about veneers cost. Or about getting a full smile makeover.  Also composite can be used for patients with small teeth whit show too much gum wen they smile and you can read all about gummy smiles here: gummy smile Liverpool.
Advantages & disadvantages of teeth bonding
Composite bonding is a great fix for many patients for a number of reasons.  Firstly it's a quick appointment and patients only need to visit the dentist once to have the treatment completed.  This is unlike porcelain veneers that take a number of appointments and can take up to three weeks to complete.  Another advantage of composite or resin bonding is that it doesn't damage the underlying tooth.  The composite material is sculpted onto the teeth and there is no need to drill or file your existing teeth.  Many patients don't understand the risks of having teeth drilled prior to getting porcelain veneers fitted.  The process – no matter how talented your dentist is – will always increase the risk your healthy teeth may become damaged or die off.  This could lead to you needing a root canal or eventually implant treatment.
What to watch out for!
If you are young and have healthy teeth, watch out for your dentist getting all 'gung-ho' and recommending you have all your teeth replaced with porcelain veneers.  Porcelain veneers are a huge decision and your underlying teeth will be permanently damaged in the procedure.  Composite bonding, on the other hand, is a reversible procedure and causes no harm at all.
Composite bonding vs porcelain veneers
There are a number of important differences between dental composite bonding and porcelain veneers.  Porcelain veneers are an invasive dental procedure.  This means injections, the dentists drill and irreversible 'prepping' or drilling of your existing teeth.  As we've said, this can cause them to become damaged or fail.  Patients who have porcelain veneers go through the 'tooth prep' procedure where some enamel is drilled away to make space for the veneer.  Many younger patients or patients with more healthy teeth will not want to take this risk.
The second major difference is the time.  With composite tooth bonding the procedure takes about an hour.  You'll be in and out of the chair before you know it.  And the difference between the before and after leaves many patients amazed!  Conversely, porcelain veneers are a much more involved procedure.  There's the prepping of the teeth in the first appointment.  Then your dentist will work with a lab or ceramist to get your veneers made just how you want them.  During this time you'll be given 'temporaries'.
These are temporary veneers while you wait for the final work to come back from the lab.  Once the veneers arrive, they are fitted n another appointment.  Then a follow up appointment is needed to make sure they fit perfectly.  Your dentist also must make sure they haven't interfered with your bite in any way.  The procedure can take up to a month and is much more involved than tooth bonding.
What to watch out for!
Many dentists are not familiar with or have much experience with composite resin or bonding materials.  Thy have been fitting veneers for their whole careers and are uninterested in this fabulous breakthrough in dental technology and materials science.  So be careful if anyone says to you that they 'don't do resin bonding' or 'you'd be better off getting veneers'.  They may be giving great advice but they also may be compromising your natural teeth because they haven't gotten to grips with composite science.  Here at Smileworks we use a beautifully lifelike and translucent composite material called Renamel® by cosmodent.  It gets us some truly beautiful results but it's tricky to use and there's as much art as science in a beautiful Renamel case.
Is resin bonding right for you
Composite bonding is all about selecting the right patient for the procedure.  Not everyone is suitable and your dentist will need to assess your mouth fully to determine whether you are right for composite bonding.  That said, most people are suitable for composite bonding.  Especially if you have healthy natural teeth.  Remember healthy does not necessarily mean they look the way you want!  Many patients have beautifully healthy teeth and gums but they might be misshapen, gappy or crooked.  If this sounds like you then composite resin bonding might be the perfect treatment.  If you think your gums aren't as healthy as they should be – take a look here at our gum disease treatment page.
What to watch out for!
When assessing a composite bonding case its important to find out what has caused the problems in the first place.  If you grind your teeth, bite your nails or have other habits like biting pens or – god forgive you – opening bottles with your teeth, then composite bonding might not be right.  This is because the composites will soon suffer the same fate as your natural teeth.  You need to make sure your dentist does a full and detailed assessment of your bite.  Also any habits that you might have need to be considered.  Furthermore, any underlying health issues need to be assessed to make sure you're a good candidate and your composites will stay looking great for a long time.
Composite bonding price and costs
Composite bonding is much less expensive than porcelain veneers, braces or most other ways we dentists can fix your tooth problems.  This is one of the reasons it's such a popular procedure here at Smileworks.  Dental composite bonding of a single tooth can cost between £75-150.  This is pretty amazing when you look at the before and afters and see that a massive difference has been made to the patients smile for just a few hundred pounds.
This is compared to porcelain veneers that can cost five times the amount of composites and carry all the risks we've discussed.  Many patients will choose to have composite bonding after they've finished their braces treatment to produce really perfect and beautiful results.  This is because sometimes when we move the teeth with braces their edges might not line up correctly.
Dental composite bonding is a great fix for this and adds just a few hundred pounds onto the bill.  But the best way to spend your money at Smileworks (in our opinion) is with whitening and composite bonding.  This is where the teeth are whitened to the correct brightness and then composite bonding perfects the edges making them look really beautiful.  This is a HUGELY popular treatment here at Smileworks and patients absolutely love the results and, of course, tell all of their friends.
For more information specifically about the price of all sorts of different veneers, take a look here: Veneers cost.
Most Patients pay for their treatment on finance and composite bonding is no different.  Click here to ope the calculator and see how much your monthly repayments would work out to.
Before and After Gallery
The one treatment our patients can not get enough of is composite bonding, or composite veneers to some (they are the same thing). We have performed hundreds, if not thousands, of composite cases. Treating patients who just want to fix a chip or gap, to others who want a full makeover. It is our aim to make every patient beam with confidence and change their life for the better. So just to prove to you what an amazing and versatile treatment composite bonding is we've put together a beautiful before and after gallery for you!
The beauty of composite bonding is you can use it with other treatments to perfect your smile in ways you've never thought about. An amazing example is after braces treatment to even out the shape or length of a tooth to create that super even Hollywood smile. Interested in straightening your teeth? Have a look at our amazing braces page for more information about all the different systems we have to offer!
One of the first steps we normally take with patients before composite bonding treatment is whitening! We can colour match to your desired shade. Composite veneers don't change colour if you try to whiten them. If you are happy with the shade of your teeth, AMAZING! It just means we can skip this step. If you want a brighter smile we would recommend whitening first. We offer only the best whitening to produce stunning results, starting at only £169! Head over to our Professional Teeth Whitening page to check out your different options!
And now for the stunning results of our wonderful cosmetic dentists!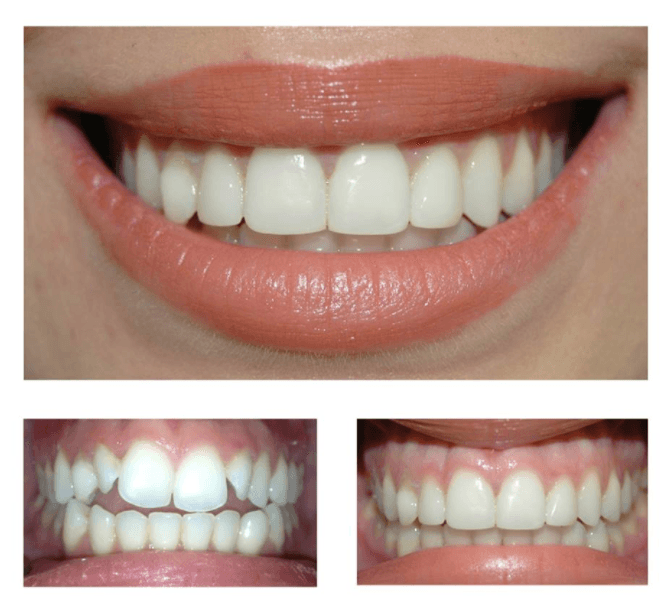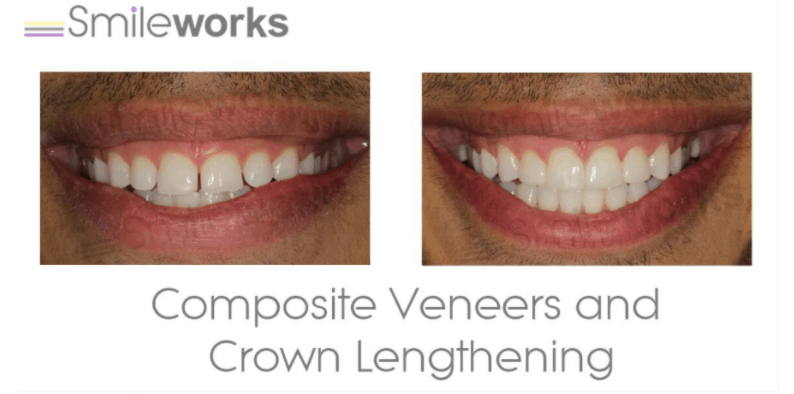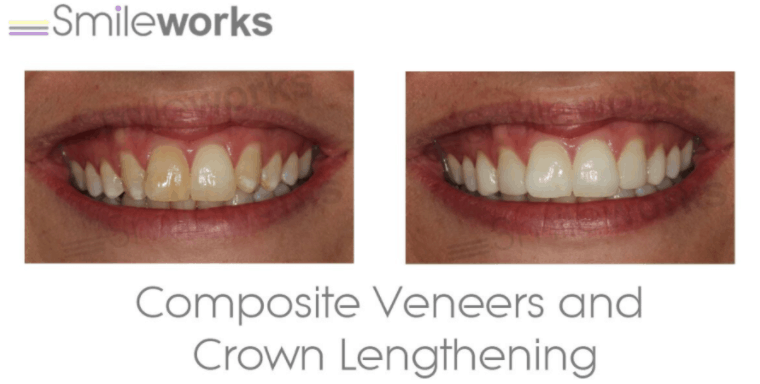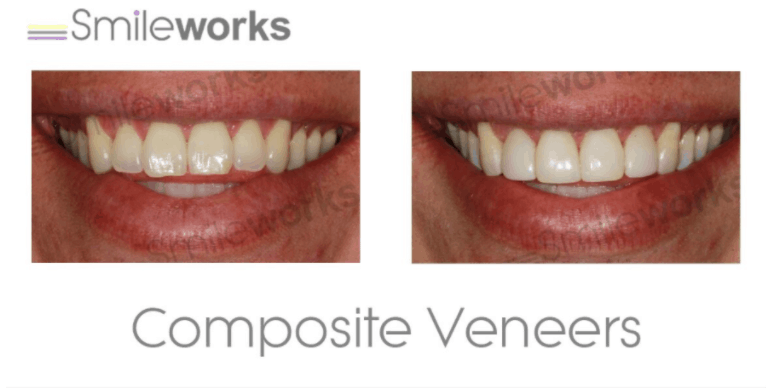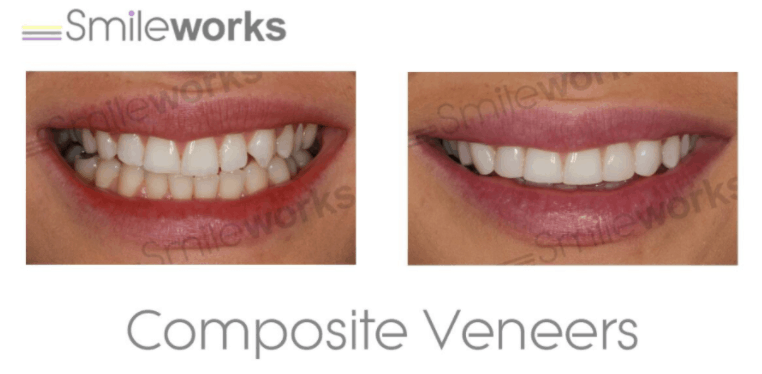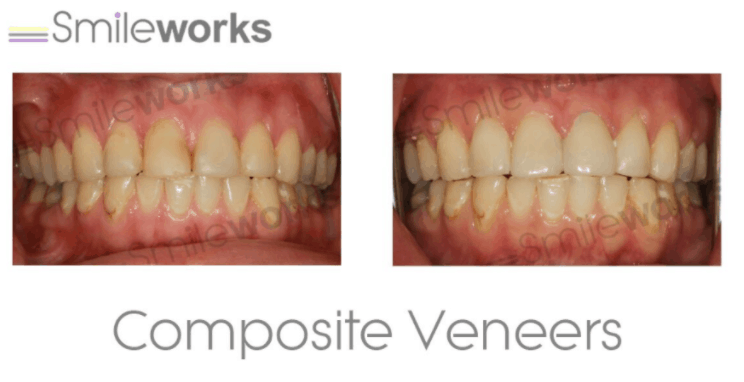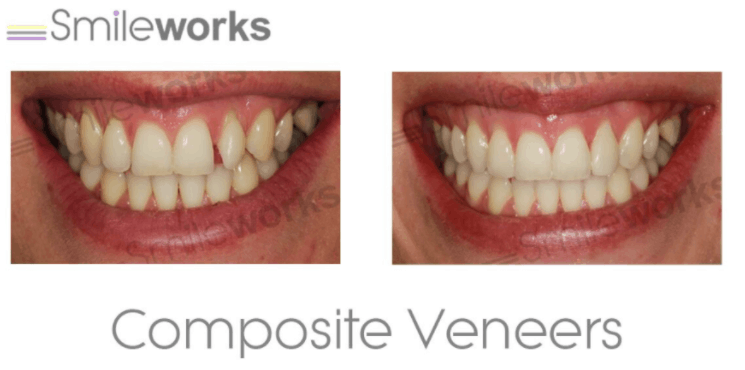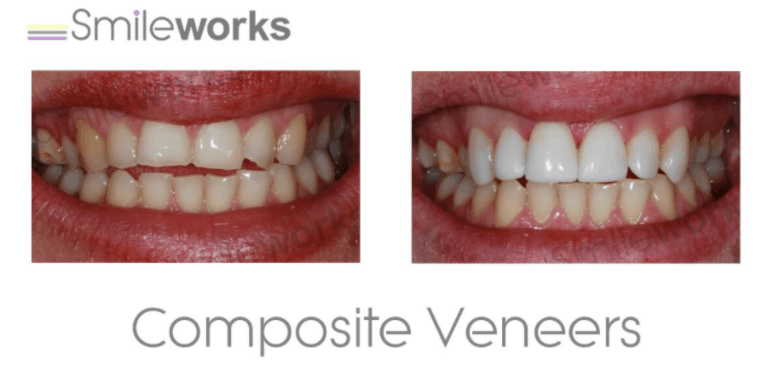 How long does tooth bonding last?
How long your bonding lasts will be largely dependent on you.  That said, correct diagnosis, talented hands and a great relationship with your dentist will help your composites last for longer.  We usually say they last between 5-8 years.  Composite resin is not indestructible and will be subject to wear and tear.  Like everything, if you look after them they will last longer.
Smileworks dentists guarantee all of their work.  Your composites will be under guarantee for longer if you join one of our dental plans.  Strangely enough the question, 'how long does it last' is one we get asked a lot.  It's also a really popular question people ask google.  However, we rarely have any patients complaining that their composites have not lasted.  We rate ourselves here at Smileworks and we will only treat responsible patients who will look after them.  So we have few if any complaints.
If you've broken or chipped a composite restoration or veneer and need it fixing in an emergency then follow the link here to our main page emergency dental page here: emergency dentist Liverpool.  Call the office and a member of the team will be able to see you and fix your problem the same day.
Is dental bonding worth it & Reviews
This would be a resounding YES!  Composite bonding is one of the less risky, less expensive and less hassle treatments available.  Combined with whitening or braces it produces some really stunning results.  Sadly many patients are not aware of this fabulous procedure and this is why we write you articles just like this so that you can consider all the options for your ongoing dental health.
Here at Smileworks we're a conservative bunch of dentists.  This doesn't mean any particular political affiliation but more that we don't mess with healthy teeth.  It saddens us when young patients come to us with dreadful 'toilet-bowl' white porcelain veneers that have permanently damaged the health of their mouth.  It's not how we roll and shame on you dentists in Liverpool for taking advantage of your patients!  Composite bonding is a much better solution for many patients and one that we'd love to talk to you about more.
To book an appointment or speak to someone about this wonderful procedure fill out the form below – or read on for more on tooth bonding and to find out what it's like at Smileworks in our 30 second introduction video.
Do you want to know what it's like at Smileworks?  Take a look at our Video and 360° tour below.
Visit Smileworks