Here's Rebecca Newbold, Smileworks' newest Dental Hygiene Therapist with a insightful, data-driven approach to some of the differences between working in the NHS and Private Practice and how this distinction can impact the career of an aspiring DHT.  If you think you need help with your oral health then visit our main page all about gum disease treatment.  Or if you're interested in her talents in resin bonding or white fillings then follow the links.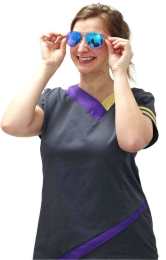 Rebecca Newbold 
SMILEWORKS DENTAL HYGIENE THERAPIST 
BSc Medical Microbiology, University of Leeds, 2006
Dental Hygiene and Therapy, University of Teeside, 2015 (first class honours)
Have you got a First Class Honours Degree and want to join Rebecca at Team Smileworks?  Apply here for Dental Hygiene therapist Jobs in Liverpool.  Likewise if you're interest in learning aesthetic medicine then take a look at the Smileworks Aesthetic hub for training in Botox and Filler that's just for dentists and dental therapists. Launch your career in aesthetic medicine today.
Private or NHS? The choice for the Dental Hygiene Therapist comes down to your ambitions.
Who employs Dental Hygiene Therapists (DHTs) and why?
From 2003 to 2009, the employment of dental hygiene and therapists (DHTs) in dental practices in the UK increased from 0 to around half (Ref 2). However, most of these DHTs reported that they are mostly used for hygiene duties, and so run the risk of losing their skills over time.  In 2004, a survey published in the BDJ showed only 21% of dentists recommended adult patients see a dental therapist (Ref 1). This is still the approach of many dentists now, and as such there is not much call for therapists within the NHS.
In 2007, only 9% of dentists surveyed in Wales employed a DHT, and 60% preferred to hire an associate rather than a DHT to fill spare capacity.  Interestingly, respondents showed a clear lack of knowledge about the cost effectiveness of hygiene therapists (Ref 3). The truth is, it is financially beneficial for dentists to employ dental therapists in a private practice as they can perform essential procedures just as well as a dentist, and so leave the dentists free to focus on more complex treatments if they want to.
The cost effectiveness for any dental practice of having of a DHT is a long standing issue.  In 2009, the financial aspects of dental therapy were assessed and only 9% were found to be receiving NHS performance related pay (Ref 1) (Ref 5). This may have changed in the private sector, but within the NHS, the financial benefits of employing a DHT are limited.
The main differences between private and NHS
In 2013, direct access for DHTs was introduced.  Since then, the differences between working in a private practice and working in an NHS practice have increased.  One of the key issues is that the NHS still has restrictions on DHTs being able to have a performer number.  Though this seems trivial, the impact is considerable, as a performer number enables DHTs to independently open a course of treatment or set up a patient group directive, actions that are not currently possible within the NHS.
DHTs working within the NHS have the treatment plan for patients dictated to them before seeing the patient.  For some, this may be an advantage but for others, like myself, it may be a barrier. If a DHT is not fortunate enough to work in an environment where a treatment plan can be discussed as part of a team, together with other dental care professionals, this can create differences in opinion, which may affect a patient's dental experience, as well as your own sense of job satisfaction.
In a recent survey of DHTs working under direct access, 73% said that their clinical working life had been enhanced as a result. However, only a small minority of the patients they saw were DA patients, and this work was mainly limited to periodontal work. It seems that negative attitudes from dentists were the main issue with this (Ref 6), and in particular, a lack of understanding by dentists of what a dental therapist can do.
The reasons for this lack of understanding could be historical.  Ten years ago, there were far more restrictions placed on a DHT and the treatment they were able to provide.  Things have moved on considerably since then and, dentists are now being trained alongside DHTs.  Hopefully, this will mean that more and more dentists will have a better understanding of our full scope of practice and how we can be utilised.  Unfortunately, in some dental practice environments, DHTs are made to feel inferior to a dentist.  An unsupportive environment can have a negative effect, and can mean that therapists don't feel confident enough to raise a query with a dentist should it be necessary.
A personal perspective
Private dental practices tend to operate on a model where there is a referral upwards to the specialist, rather than a downwards referral model, where a dentist carries out all diagnosis and treatment planning.  For the DHT, this means we are able to fully utilise all of our skills when it comes to diagnosis and treatment.  For some DHTs, this may seem daunting, however, this approach is the main reason I chose private practice.
I enjoy being able to make decisions, and being able to take responsibility for and provide the best care that I can for my patients, as an important part of a team.  The environment I work in is a multidisciplinary one, and it is very rare that a patient will only see me.  Research carried out since direct access began has found that patients have had positive experiences from being seen through direct access by DHTs (Ref 7) (Ref 8)
Having a patient group directive in place means that I am able to make decisions based on my clinical knowledge and I can be flexible should the time arise to use a POM without asking for a prescription from the dentist. Previously, the inability to prescribe meant that DHTs needed to call on the prescribing dentist to amend or write prescription.  This meant that, if they were unavailable, then the treatment could not be carried out.
A personal choice
When I was asked to write this blog, I discussed the issue with my peers who have all had different experiences since qualifying.  One commented that 'dental therapists may not feel that they are good enough to work in a private practice'.  It is important to understand that this reflects a personal lack of confidence rather than any lack of clinical skills.  Nevertheless, it is important for DHTs who want to work under direct access to look for an environment that empowers you and where you can work within a multidisciplinary team who support you.
The standards of private care and NHS care
The standards expected are no different between private and NHS, but the ability to achieve those standards do differ, simply due to the facilities and time constraints.  In the private practice I can take as much time as necessary to achieve the high standards I expect of myself.  Patients may have higher expectations coming to a private practice than they do for NHS, so management of what can and cannot be achieved is key to patient satisfaction.  Being clear about treatment options is very important and this requires a multidisciplinary team to help achieve the results the patient expects.  The patients encountered in private practice is varied and, just like within the NHS, we expect the unexpected daily.  The majority of patients come to a private practice with an idea of what they would like to achieve and it is your job to help them achieve that.
CPD and professional demands
The pressure to be the best you can be and maintain and develop your skills and professional standards is huge in private practice.  Again, this can be exciting for some therapists but may be off-putting for others – you may have graduated, but the learning does not end there. The CPD required is standard throughout DCPs, however working in a private practice I do feel the pressure to attend more advanced courses focused on aesthetics and keeping up with the latest technology in achieving this.
Work culture
To truly benefit from having a DHT in a practice, the team needs to have full knowledge of their skills and play to these strengths. Why would a principal dentist spend their time on treatments and skills that others in their team can provide?  I am very fortunate to work in an environment that respects and supports me and what I can do. I feel empowered daily and supported in my professional growth and development from my bosses.  Working in a multidisciplinary environment means the focus is on all team members working together and respecting each other's skills, knowledge and individual areas of competence. This environment of complimentary procedures and perspectives means that patients receive the best possible care, but it also enhances our job satisfaction.
Interviewing at a private practice
Preparing to work in a private practice requires confidence in your abilities as a clinician and the ability to work independently.  If you lack confidence, it may help newly qualified DHTs to remember that our training is not inferior to that of a dentist's.  We have the same hands, and use the same tools, so there is no reason that our ability is any different within the scope of our work.  So, I would say that confidence in your ability and the skill level you can bring to the practice is the most important factor when applying to a private practice.
Before beginning this post, I didn't fully understand how far DHTs have come in the last 10 -15 years. We should continue to push for more respect and be proud of what we do.
References
Ref 1 British Dental Journal 207, 477 – 483 (2009) Published online: 28 November 2009 | doi:10.1038/sj.bdj.2009.1010 Subject Categories: Finance | Team work
Dental therapy in the United Kingdom: part 3. Financial aspects of current working practices S. A. Williams1, S. Bradley2, J. H. Godson3, J. I. Csikar4 & J. S. Rowbotham5
Ref 2 British Dental Journal 207, 417 – 423 (2009) Published online: 14 November 2009 | doi:10.1038/sj.bdj.2009.962 Subject Category: Team work
A word from Smileworks
Here at Smileworks we believe everyone has the right to feel great when they smile.  I suppose you could describe us as a cosmetic dental practice because we do lots of Implants, adult orthodontics, complex restorative work and smile makeovers.  To deliver this type of complex dentistry we need to adopt a thriving internal referrals system and patients get to see a number of professionals during their journey with us.  We're known for flashy dentistry but it's the solid foundation of health-focused dentistry that sets us apart from the competition so we can do the best for our patients.
You'll probably not be surprised to hear that a great deal of our success comes from a solid foundation in hygiene therapy.  But that's not to say 'we have great hygienists' that's not what this article's about.  We have practitioners on our clinical team who are taking on more and more of the tasks that were reserved for dentists only a few short years ago.
I'm confident that great dental practices are made or broken on the strength of their therapists and Smileworks are certainly a poster-child for the evolution of the role of DHT going into the future.  On a personal note it also helps to have two of the best DHT's anywhere you're likely to find.  And it wasn't easy finding them either.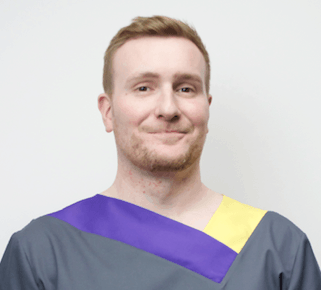 Ed Challinor Smileworks First Officer – 08 July 2017
If you're a patient looking for treatment at Smileworks then follow the link here to gum disease treatment.